\n\n\n


James Bays Single \"Hold Back The River\" und sein Debüt-Album \"Chaos And The Calm\" haben in Deutschland Gold-Status erreicht. Die Energy Live Session in Hamburg bot am 20. Oktober 2015 den perfekten Rahmen, um den Goldregen gebührend zu feiern. Bei dem Konzert von Radio NRJ im Mojo Club begeisterte der britische Sänger und Songwriter das Publikum mit dem frisch vergoldeten \"Hold Back The River\" und Tracks wie \"Let It Go\" oder \"Scars\". Zahlreiche Fotos des Abends könnt ihr euch hier ansehen.

\n
Doppel-Gold krönt James Bays Erfolgsjahr 2015
\n

Die doppelte Gold-Auszeichnung war für James Bay die Krönung eines unglaublich erfolgreichen Jahres. Mit \"Chaos And The Calm\" kletterte der Shootingstar nach der Veröffentlichung im März 2015 auf Platz drei der deutschen Album-Charts und belegte in UK sogar Platz eins. Die Single \"Hold Back The River\" lief im Radio rauf und runter. Wem das Album noch in der Plattensammlung fehlt, der kann es hier bestellen:

\n

>>> James Bay Album \"Chaos And The Calm\" CD Deluxe-Edition bei Amazon oder Saturn

\n

>>> James Bay Album \"Chaos And The Calm\" Download Deluxe-Edition bei iTunes

\n

>>> Hier das Musik-Video zu \"Hold Back The River\" und viele weitere Clips ansehen

","teaserText":"

Bei der Energy Live Session in Hamburg bekam James Bay am 20. Oktober 2015 die Gold-Auszeichnung für sein Debüt-Album und die Single \"Hold Back The River\" verliehen.

","teaserImage":{"imageUrlTemplate":"//images.universal-music.de/img/assets/355/355005/{ratio}/{width}/james-bay-2014.jpg","id":"SW1hZ2U6MzU1MDA1"},"images":[],"artists":[{"idRaw":683727,"image":{"imageUrlTemplate":"//images.universal-music.de/img/assets/397/397866/{ratio}/{width}/james-bay-2016.jpg","headline":"James Bay 2016","id":"SW1hZ2U6Mzk3ODY2"},"id":"QXJ0aXN0OjY4MzcyNw==","color":"#a98d27","urlAlias":"james-bay","screenname":"James Bay"}],"date":"2015-10-22 11:29:00","__typename":"Article","idRaw":236214,"createdDate":"2015-10-22 11:56:52","modifiedDate":"2015-10-22 13:12:23","seoKeywords":"James Bay, Chaos and the Calm, Hold Back The River, Single, Song, Album, Video, Gold, Auszeichnung, Goldstatus, Radio NRJ, Energy Live Session, Hamburg, Konzert, Fotos, Live, 2015","seoDescription":"In Hamburg bekam James Bay am 20. Oktober 2015 die Gold-Auszeichnung für sein Debüt-Album und die Single \"Hold Back The River\" verliehen. Alle Infos gibt's hier.","copyright":"","links":[]},"_artist3AtUaJ":{"idRaw":683727,"id":"QXJ0aXN0OjY4MzcyNw==","_products4cM781":{"edges":[{"node":{"id":"UHJvZHVjdDoyMzM0NzQ=","idRaw":233474,"versionTitle":"","__typename":"Product","isBackstage":false,"headline":"If You Ever Want To Be In Love","artists":[{"color":"#a98d27","urlAlias":"james-bay","screenname":"James Bay","image":{"imageUrlTemplate":"//images.universal-music.de/img/assets/397/397866/{ratio}/{width}/james-bay-2016.jpg","headline":"James Bay 2016","id":"SW1hZ2U6Mzk3ODY2"},"id":"QXJ0aXN0OjY4MzcyNw=="}],"cover":{"headline":"James Bay If You Ever Want To Be In Love","imageUrlTemplate":"//images.universal-music.de/img/assets/391/391370/{ratio}/{width}/james-bay-if-you-ever-want-to-be-in-love.jpg","id":"SW1hZ2U6MzkxMzcw"},"seoKeywords":null,"seoDescription":"Mit \"If You Ever Want To Be In Love\" veröffentlicht James Bay die dritte Single aus seinem Debüt-Album \"Chaos And The Calm\". Er überzeugt erneut mit einem","hasSoundfiles":true},"cursor":"MjMzNDc0KysrMjAxNi0wMi0yNg=="},{"node":{"id":"UHJvZHVjdDozMDYyODI=","idRaw":306282,"versionTitle":null,"__typename":"Product","isBackstage":false,"headline":"Let It Go","artists":[{"color":"#a98d27","urlAlias":"james-bay","screenname":"James Bay","image":{"imageUrlTemplate":"//images.universal-music.de/img/assets/397/397866/{ratio}/{width}/james-bay-2016.jpg","headline":"James Bay 2016","id":"SW1hZ2U6Mzk3ODY2"},"id":"QXJ0aXN0OjY4MzcyNw=="}],"cover":{"headline":"James Bay Let It Go Cover","imageUrlTemplate":"//images.universal-music.de/img/assets/373/373191/{ratio}/{width}/james-bay-let-it-go-cover.jpg","id":"SW1hZ2U6MzczMTkx"},"seoKeywords":null,"seoDescription":"Mit \"Let It Go\" veröffentlicht James Bay die zweite Single aus seinem Debüt-Album \"Chaos And The Calm\". Im Musik-Video zum Track zeigt sich der","hasSoundfiles":true},"cursor":"MzA2MjgyKysrMjAxNS0wNi0xOQ=="},{"node":{"id":"UHJvZHVjdDoyNDI1NzY=","idRaw":242576,"versionTitle":"Deluxe Edition","__typename":"Product","isBackstage":false,"headline":"Chaos And The Calm","artists":[{"color":"#a98d27","urlAlias":"james-bay","screenname":"James Bay","image":{"imageUrlTemplate":"//images.universal-music.de/img/assets/397/397866/{ratio}/{width}/james-bay-2016.jpg","headline":"James Bay 2016","id":"SW1hZ2U6Mzk3ODY2"},"id":"QXJ0aXN0OjY4MzcyNw=="}],"cover":{"headline":"Chaos And The Calm","imageUrlTemplate":"//images.universal-music.de/img/assets/361/361442/{ratio}/{width}/chaos-and-the-calm.jpg","id":"SW1hZ2U6MzYxNDQy"},"seoKeywords":null,"seoDescription":"Mit \"Chaos And The Calm\" veröffentlicht James Bay sein erstes Studioalbum. Neben der Single \"Hold Back The River\", finden sich auf der Scheibe des 24-jährigen","hasSoundfiles":true},"cursor":"MjQyNTc2KysrMjAxNS0wMy0yMA=="},{"node":{"id":"UHJvZHVjdDoyNzExMTI=","idRaw":271112,"versionTitle":null,"__typename":"Product","isBackstage":false,"headline":"Hold Back The River","artists":[{"color":"#a98d27","urlAlias":"james-bay","screenname":"James Bay","image":{"imageUrlTemplate":"//images.universal-music.de/img/assets/397/397866/{ratio}/{width}/james-bay-2016.jpg","headline":"James Bay 2016","id":"SW1hZ2U6Mzk3ODY2"},"id":"QXJ0aXN0OjY4MzcyNw=="}],"cover":{"headline":"James Bay Hold Back The River Cover","imageUrlTemplate":"//images.universal-music.de/img/assets/358/358500/{ratio}/{width}/james-bay-hold-back-the-river-cover.jpg","id":"SW1hZ2U6MzU4NTAw"},"seoKeywords":"","seoDescription":"\"Hold Back The River\" ist die Lead-Single aus James Bays Debüt-Album \"Chaos And The Calm\". Die gleichnamige EP wartet im Gegensatz zur Single mit drei","hasSoundfiles":true},"cursor":"MjcxMTEyKysrMjAxNS0wMy0xMw=="}],"pageInfo":{"hasNextPage":false,"hasPreviousPage":false}},"_productsZBJev":{"edges":[{"node":{"id":"UHJvZHVjdDoyNDI1NzY=","idRaw":242576},"cursor":"MjQyNTc2KysrMjAxNS0wMy0yMA=="}],"pageInfo":{"hasNextPage":false,"hasPreviousPage":false}}}}}},{"query":{"calls":[{"kind":"Call","name":"channel","metadata":{"type":"Int!"},"value":{"kind":"CallValue","callValue":10000}}],"children":[{"children":[{"calls":[{"kind":"Call","name":"urlAlias","metadata":{"type":null},"value":{"kind":"CallValue","callValue":"james-bay"}}],"children":[{"calls":[],"children":[],"fieldName":"urlAlias","kind":"Field","metadata":{},"type":"String"},{"calls":[],"children":[],"fieldName":"screenname","kind":"Field","metadata":{},"type":"String"},{"calls":[],"children":[],"fieldName":"color","kind":"Field","metadata":{},"type":"String"},{"calls":[],"children":[],"fieldName":"themeType","kind":"Field","metadata":{},"type":"String"},{"calls":[],"children":[{"calls":[],"children":[],"fieldName":"name","kind":"Field","metadata":{},"type":"String"},{"calls":[],"children":[],"fieldName":"id","kind":"Field","metadata":{"isGenerated":true,"isRequisite":true},"type":"ID"}],"fieldName":"divisions","kind":"Field","metadata":{"canHaveSubselections":true,"isPlural":true},"type":"Division"},{"calls":[],"children":[{"calls":[],"children":[{"calls":[],"children":[],"fieldName":"name","kind":"Field","metadata":{},"type":"String"},{"calls":[],"children":[],"fieldName":"id","kind":"Field","metadata":{"isGenerated":true,"isRequisite":true},"type":"ID"}],"fieldName":"parentCategory","kind":"Field","metadata":{"canHaveSubselections":true},"type":"Category"},{"calls":[],"children":[],"fieldName":"id","kind":"Field","metadata":{"isGenerated":true,"isRequisite":true},"type":"ID"}],"fieldName":"subgenres","kind":"Field","metadata":{"canHaveSubselections":true,"isPlural":true},"type":"Category"},{"calls":[],"children":[],"fieldName":"id","kind":"Field","metadata":{"isGenerated":true,"isRequisite":true},"type":"ID"},{"children":[{"calls":[],"children":[],"fieldName":"screenname","kind":"Field","metadata":{},"type":"String"},{"calls":[],"children":[{"calls":[],"children":[],"fieldName":"type","kind":"Field","metadata":{},"type":"ExternalReferenceType"},{"calls":[],"children":[],"fieldName":"value","kind":"Field","metadata":{},"type":"String"},{"calls":[],"children":[],"fieldName":"id","kind":"Field","metadata":{"isGenerated":true,"isRequisite":true},"type":"ID"}],"fieldName":"externalReferences","kind":"Field","metadata":{"canHaveSubselections":true,"isPlural":true},"type":"ExternalReference"},{"calls":[],"children":[],"fieldName":"id","kind":"Field","metadata":{"isGenerated":true,"isRequisite":true},"type":"ID"},{"children":[{"calls":[],"children":[],"fieldName":"urlAlias","kind":"Field","metadata":{},"type":"String"},{"calls":[],"children":[],"fieldName":"themeType","kind":"Field","metadata":{},"type":"String"},{"alias":"news","calls":[{"kind":"Call","name":"first","metadata":{"type":"Int"},"value":{"kind":"CallValue","callValue":1}},{"kind":"Call","name":"type","metadata":{"type":"ArticleType"},"value":{"kind":"CallValue","callValue":"NEUIGKEIT"}}],"children":[{"calls":[],"children":[{"calls":[],"children":[{"calls":[],"children":[],"fieldName":"id","kind":"Field","metadata":{"isRequisite":true},"type":"ID"}],"fieldName":"node","kind":"Field","metadata":{"canHaveSubselections":true,"isRequisite":true},"type":"Article"},{"calls":[],"children":[],"fieldName":"cursor","kind":"Field","metadata":{"isGenerated":true,"isRequisite":true},"type":"String"}],"fieldName":"edges","kind":"Field","metadata":{"canHaveSubselections":true,"isPlural":true},"type":"ArticleEdge"},{"calls":[],"children":[{"calls":[],"children":[],"fieldName":"hasNextPage","kind":"Field","metadata":{"isGenerated":true,"isRequisite":true},"type":"Boolean"},{"calls":[],"children":[],"fieldName":"hasPreviousPage","kind":"Field","metadata":{"isGenerated":true,"isRequisite":true},"type":"Boolean"}],"fieldName":"pageInfo","kind":"Field","metadata":{"canHaveSubselections":true,"isGenerated":true,"isRequisite":true},"type":"PageInfo"}],"fieldName":"articles","kind":"Field","metadata":{"canHaveSubselections":true,"isConnection":true},"type":"ArticleConnection"},{"alias":"music","calls":[{"kind":"Call","name":"first","metadata":{"type":"Int"},"value":{"kind":"CallValue","callValue":1}}],"children":[{"calls":[],"children":[{"calls":[],"children":[{"calls":[],"children":[],"fieldName":"id","kind":"Field","metadata":{"isRequisite":true},"type":"ID"}],"fieldName":"node","kind":"Field","metadata":{"canHaveSubselections":true,"isRequisite":true},"type":"Product"},{"calls":[],"children":[],"fieldName":"cursor","kind":"Field","metadata":{"isGenerated":true,"isRequisite":true},"type":"String"}],"fieldName":"edges","kind":"Field","metadata":{"canHaveSubselections":true,"isPlural":true},"type":"ProductEdge"},{"calls":[],"children":[{"calls":[],"children":[],"fieldName":"hasNextPage","kind":"Field","metadata":{"isGenerated":true,"isRequisite":true},"type":"Boolean"},{"calls":[],"children":[],"fieldName":"hasPreviousPage","kind":"Field","metadata":{"isGenerated":true,"isRequisite":true},"type":"Boolean"}],"fieldName":"pageInfo","kind":"Field","metadata":{"canHaveSubselections":true,"isGenerated":true,"isRequisite":true},"type":"PageInfo"}],"fieldName":"products","kind":"Field","metadata":{"canHaveSubselections":true,"isConnection":true},"type":"ProductConnection"},{"calls":[{"kind":"Call","name":"first","metadata":{"type":"Int"},"value":{"kind":"CallValue","callValue":1}}],"children":[{"calls":[],"children":[{"calls":[],"children":[{"calls":[],"children":[],"fieldName":"id","kind":"Field","metadata":{"isRequisite":true},"type":"ID"}],"fieldName":"node","kind":"Field","metadata":{"canHaveSubselections":true,"isRequisite":true},"type":"Video"},{"calls":[],"children":[],"fieldName":"cursor","kind":"Field","metadata":{"isGenerated":true,"isRequisite":true},"type":"String"}],"fieldName":"edges","kind":"Field","metadata":{"canHaveSubselections":true,"isPlural":true},"type":"VideoEdge"},{"calls":[],"children":[{"calls":[],"children":[],"fieldName":"hasNextPage","kind":"Field","metadata":{"isGenerated":true,"isRequisite":true},"type":"Boolean"},{"calls":[],"children":[],"fieldName":"hasPreviousPage","kind":"Field","metadata":{"isGenerated":true,"isRequisite":true},"type":"Boolean"}],"fieldName":"pageInfo","kind":"Field","metadata":{"canHaveSubselections":true,"isGenerated":true,"isRequisite":true},"type":"PageInfo"}],"fieldName":"videos","kind":"Field","metadata":{"canHaveSubselections":true,"isConnection":true},"type":"VideoConnection"},{"calls":[{"kind":"Call","name":"first","metadata":{"type":"Int"},"value":{"kind":"CallValue","callValue":1}},{"kind":"Call","name":"dateFrom","metadata":{"type":null},"value":{"kind":"CallValue","callValue":"now"}},{"kind":"Call","name":"onlyGsaCountries","metadata":{"type":null},"value":{"kind":"CallValue","callValue":true}}],"children":[{"calls":[],"children":[{"calls":[],"children":[{"calls":[],"children":[],"fieldName":"id","kind":"Field","metadata":{"isRequisite":true},"type":"ID"}],"fieldName":"node","kind":"Field","metadata":{"canHaveSubselections":true,"isRequisite":true},"type":"LiveEvent"},{"calls":[],"children":[],"fieldName":"cursor","kind":"Field","metadata":{"isGenerated":true,"isRequisite":true},"type":"String"}],"fieldName":"edges","kind":"Field","metadata":{"canHaveSubselections":true,"isPlural":true},"type":"LiveEventEdge"},{"calls":[],"children":[{"calls":[],"children":[],"fieldName":"hasNextPage","kind":"Field","metadata":{"isGenerated":true,"isRequisite":true},"type":"Boolean"},{"calls":[],"children":[],"fieldName":"hasPreviousPage","kind":"Field","metadata":{"isGenerated":true,"isRequisite":true},"type":"Boolean"}],"fieldName":"pageInfo","kind":"Field","metadata":{"canHaveSubselections":true,"isGenerated":true,"isRequisite":true},"type":"PageInfo"}],"fieldName":"liveEvents","kind":"Field","metadata":{"canHaveSubselections":true,"isConnection":true},"type":"LiveEventConnection"},{"calls":[{"kind":"Call","name":"first","metadata":{"type":"Int"},"value":{"kind":"CallValue","callValue":1}},{"kind":"Call","name":"dateFrom","metadata":{"type":null},"value":{"kind":"CallValue","callValue":"now"}}],"children":[{"calls":[],"children":[{"calls":[],"children":[{"calls":[],"children":[],"fieldName":"id","kind":"Field","metadata":{"isRequisite":true},"type":"ID"}],"fieldName":"node","kind":"Field","metadata":{"canHaveSubselections":true,"isRequisite":true},"type":"MediaEvent"},{"calls":[],"children":[],"fieldName":"cursor","kind":"Field","metadata":{"isGenerated":true,"isRequisite":true},"type":"String"}],"fieldName":"edges","kind":"Field","metadata":{"canHaveSubselections":true,"isPlural":true},"type":"MediaEventEdge"},{"calls":[],"children":[{"calls":[],"children":[],"fieldName":"hasNextPage","kind":"Field","metadata":{"isGenerated":true,"isRequisite":true},"type":"Boolean"},{"calls":[],"children":[],"fieldName":"hasPreviousPage","kind":"Field","metadata":{"isGenerated":true,"isRequisite":true},"type":"Boolean"}],"fieldName":"pageInfo","kind":"Field","metadata":{"canHaveSubselections":true,"isGenerated":true,"isRequisite":true},"type":"PageInfo"}],"fieldName":"mediaEvents","kind":"Field","metadata":{"canHaveSubselections":true,"isConnection":true},"type":"MediaEventConnection"},{"calls":[{"kind":"Call","name":"first","metadata":{"type":"Int"},"value":{"kind":"CallValue","callValue":1}}],"children":[{"calls":[],"children":[{"calls":[],"children":[{"calls":[],"children":[],"fieldName":"id","kind":"Field","metadata":{"isRequisite":true},"type":"ID"},{"calls":[],"children":[{"calls":[],"children":[],"fieldName":"id","kind":"Field","metadata":{"isRequisite":true},"type":"ID"}],"fieldName":"image","kind":"Field","metadata":{"canHaveSubselections":true},"type":"Image"}],"fieldName":"node","kind":"Field","metadata":{"canHaveSubselections":true,"isRequisite":true},"type":"Collection"},{"calls":[],"children":[],"fieldName":"cursor","kind":"Field","metadata":{"isGenerated":true,"isRequisite":true},"type":"String"}],"fieldName":"edges","kind":"Field","metadata":{"canHaveSubselections":true,"isPlural":true},"type":"CollectionEdge"},{"calls":[],"children":[{"calls":[],"children":[],"fieldName":"hasNextPage","kind":"Field","metadata":{"isGenerated":true,"isRequisite":true},"type":"Boolean"},{"calls":[],"children":[],"fieldName":"hasPreviousPage","kind":"Field","metadata":{"isGenerated":true,"isRequisite":true},"type":"Boolean"}],"fieldName":"pageInfo","kind":"Field","metadata":{"canHaveSubselections":true,"isGenerated":true,"isRequisite":true},"type":"PageInfo"}],"fieldName":"imageCollections","kind":"Field","metadata":{"canHaveSubselections":true,"isConnection":true},"type":"CollectionConnection"},{"alias":"biography","calls":[{"kind":"Call","name":"first","metadata":{"type":"Int"},"value":{"kind":"CallValue","callValue":1}},{"kind":"Call","name":"type","metadata":{"type":"ArticleType"},"value":{"kind":"CallValue","callValue":"BIOGRAFIE"}}],"children":[{"calls":[],"children":[{"calls":[],"children":[{"calls":[],"children":[],"fieldName":"id","kind":"Field","metadata":{"isRequisite":true},"type":"ID"}],"fieldName":"node","kind":"Field","metadata":{"canHaveSubselections":true,"isRequisite":true},"type":"Article"},{"calls":[],"children":[],"fieldName":"cursor","kind":"Field","metadata":{"isGenerated":true,"isRequisite":true},"type":"String"}],"fieldName":"edges","kind":"Field","metadata":{"canHaveSubselections":true,"isPlural":true},"type":"ArticleEdge"},{"calls":[],"children":[{"calls":[],"children":[],"fieldName":"hasNextPage","kind":"Field","metadata":{"isGenerated":true,"isRequisite":true},"type":"Boolean"},{"calls":[],"children":[],"fieldName":"hasPreviousPage","kind":"Field","metadata":{"isGenerated":true,"isRequisite":true},"type":"Boolean"}],"fieldName":"pageInfo","kind":"Field","metadata":{"canHaveSubselections":true,"isGenerated":true,"isRequisite":true},"type":"PageInfo"}],"fieldName":"articles","kind":"Field","metadata":{"canHaveSubselections":true,"isConnection":true},"type":"ArticleConnection"},{"calls":[{"kind":"Call","name":"first","metadata":{"type":"Int"},"value":{"kind":"CallValue","callValue":2}}],"children":[{"calls":[],"children":[{"calls":[],"children":[{"calls":[],"children":[],"fieldName":"idRaw","kind":"Field","metadata":{},"type":"Int"},{"calls":[],"children":[],"fieldName":"headline","kind":"Field","metadata":{},"type":"String"},{"calls":[],"children":[],"fieldName":"id","kind":"Field","metadata":{"isGenerated":true,"isRequisite":true},"type":"ID"}],"fieldName":"node","kind":"Field","metadata":{"canHaveSubselections":true,"isRequisite":true},"type":"Action"},{"calls":[],"children":[],"fieldName":"cursor","kind":"Field","metadata":{"isGenerated":true,"isRequisite":true},"type":"String"}],"fieldName":"edges","kind":"Field","metadata":{"canHaveSubselections":true,"isPlural":true},"type":"ActionEdge"},{"calls":[],"children":[{"calls":[],"children":[],"fieldName":"hasNextPage","kind":"Field","metadata":{"isGenerated":true,"isRequisite":true},"type":"Boolean"},{"calls":[],"children":[],"fieldName":"hasPreviousPage","kind":"Field","metadata":{"isGenerated":true,"isRequisite":true},"type":"Boolean"}],"fieldName":"pageInfo","kind":"Field","metadata":{"canHaveSubselections":true,"isGenerated":true,"isRequisite":true},"type":"PageInfo"}],"fieldName":"actions","kind":"Field","metadata":{"canHaveSubselections":true,"isConnection":true},"type":"ActionConnection"},{"alias":"merch","calls":[{"kind":"Call","name":"first","metadata":{"type":"Int"},"value":{"kind":"CallValue","callValue":1}},{"kind":"Call","name":"group","metadata":{"type":"[ProductGroup]"},"value":[{"kind":"CallValue","callValue":"MERCH"}]}],"children":[{"calls":[],"children":[{"calls":[],"children":[{"calls":[],"children":[],"fieldName":"id","kind":"Field","metadata":{"isRequisite":true},"type":"ID"}],"fieldName":"node","kind":"Field","metadata":{"canHaveSubselections":true,"isRequisite":true},"type":"Product"},{"calls":[],"children":[],"fieldName":"cursor","kind":"Field","metadata":{"isGenerated":true,"isRequisite":true},"type":"String"}],"fieldName":"edges","kind":"Field","metadata":{"canHaveSubselections":true,"isPlural":true},"type":"ProductEdge"},{"calls":[],"children":[{"calls":[],"children":[],"fieldName":"hasNextPage","kind":"Field","metadata":{"isGenerated":true,"isRequisite":true},"type":"Boolean"},{"calls":[],"children":[],"fieldName":"hasPreviousPage","kind":"Field","metadata":{"isGenerated":true,"isRequisite":true},"type":"Boolean"}],"fieldName":"pageInfo","kind":"Field","metadata":{"canHaveSubselections":true,"isGenerated":true,"isRequisite":true},"type":"PageInfo"}],"fieldName":"products","kind":"Field","metadata":{"canHaveSubselections":true,"isConnection":true},"type":"ProductConnection"},{"calls":[],"children":[],"fieldName":"id","kind":"Field","metadata":{"isGenerated":true,"isRequisite":true},"type":"ID"},{"children":[{"calls":[],"children":[],"fieldName":"screenname","kind":"Field","metadata":{},"type":"String"},{"calls":[],"children":[],"fieldName":"urlAlias","kind":"Field","metadata":{},"type":"String"},{"calls":[],"children":[],"fieldName":"id","kind":"Field","metadata":{"isGenerated":true,"isRequisite":true},"type":"ID"}],"id":"M7::client","kind":"Fragment","metadata":{"isAbstract":false,"plural":false},"name":"Index_ArtistRelayQL","type":"Artist"}],"id":"M8::client","kind":"Fragment","metadata":{"isAbstract":false,"plural":false},"name":"ArtistNavBar_ArtistRelayQL","type":"Artist"}],"id":"M9::client","kind":"Fragment","metadata":{"isAbstract":false,"plural":false},"name":"ArtistHeader_ArtistRelayQL","type":"Artist"},{"children":[{"calls":[],"children":[],"fieldName":"id","kind":"Field","metadata":{"isGenerated":true,"isRequisite":true},"type":"ID"},{"children":[{"calls":[],"children":[],"fieldName":"id","kind":"Field","metadata":{"isRequisite":true},"type":"ID"},{"calls":[],"children":[],"fieldName":"screenname","kind":"Field","metadata":{},"type":"String"},{"children":[{"calls":[],"children":[],"fieldName":"id","kind":"Field","metadata":{"isRequisite":true},"type":"ID"},{"calls":[],"children":[],"fieldName":"idRaw","kind":"Field","metadata":{},"type":"Int"}],"id":"Ma::client","kind":"Fragment","metadata":{"isAbstract":false,"plural":false},"name":"LikeUnlikeMutation_ArtistRelayQL","type":"Artist"}],"id":"Mb::client","kind":"Fragment","metadata":{"isAbstract":false,"plural":false},"name":"LikeableArtistContainer_ArtistRelayQL","type":"Artist"}],"id":"Mc::client","kind":"Fragment","metadata":{"isAbstract":false,"plural":false},"name":"AutoLikeArtist_ArtistRelayQL","type":"Artist"}],"fieldName":"artist","kind":"Field","metadata":{"canHaveSubselections":true},"type":"Artist"}],"id":"Md::client","kind":"Fragment","metadata":{"isAbstract":false,"plural":false},"name":"ArtistWrapper_ApiRelayQL","type":"UniversalMusic"}],"directives":[],"fieldName":"universalMusic","isDeferred":false,"kind":"Query","metadata":{"identifyingArgName":"channel","identifyingArgType":"Int!","isAbstract":false,"isPlural":false},"name":"Api","type":"UniversalMusic"},"response":{"universalMusic":{"_artist3AtUaJ":{"urlAlias":"james-bay","screenname":"James Bay","color":"#a98d27","themeType":"contributor","divisions":[{"name":"Universal Music International","id":"RGl2aXNpb246Mw=="}],"subgenres":[{"parentCategory":{"name":"ROCK","id":"Q2F0ZWdvcnk6MTMzMw=="},"id":"Q2F0ZWdvcnk6MjU2NQ=="}],"id":"QXJ0aXN0OjY4MzcyNw==","externalReferences":[{"type":"FACEBOOK","value":"265012963620736","id":"RXh0ZXJuYWxSZWZlcmVuY2U6ODgyMDA="}],"_articles2XqS9l":{"edges":[{"node":{"id":"QXJ0aWNsZToyNDEyMTU="},"cursor":"MjQxMjE1KysrMjAxNi0xMC0yOFQxMTowMjowMA=="}],"pageInfo":{"hasNextPage":true,"hasPreviousPage":false}},"_products2PRCo":{"edges":[{"node":{"id":"UHJvZHVjdDoyMzM0NzQ="},"cursor":"MjMzNDc0KysrMjAxNi0wMi0yNg=="}],"pageInfo":{"hasNextPage":true,"hasPreviousPage":false}},"_videos2Tn6C2":{"edges":[{"node":{"id":"VmlkZW86Mzk1MDU1"},"cursor":"Mzk1MDU1KysrMjAxNi0wNS0yNVQxNzo0MDowMA=="}],"pageInfo":{"hasNextPage":true,"hasPreviousPage":false}},"_liveEvents2n1GpM":{"edges":[],"pageInfo":{"hasNextPage":false,"hasPreviousPage":false}},"_mediaEvents1TyUCF":{"edges":[],"pageInfo":{"hasNextPage":false,"hasPreviousPage":false}},"_imageCollections3eCGj7":{"edges":[{"node":{"id":"Q29sbGVjdGlvbjozNDM2Mw==","image":null},"cursor":"MzQzNjMrKysyMDE1LTAxLTIwVDExOjM2OjA4"}],"pageInfo":{"hasNextPage":true,"hasPreviousPage":false}},"_articlesAy9tt":{"edges":[{"node":{"id":"QXJ0aWNsZToyMzE3OTM="},"cursor":"MjMxNzkzKysrMjAxNi0wMi0xOFQxMTo0NjowMA=="}],"pageInfo":{"hasNextPage":false,"hasPreviousPage":false}},"_actions3OWk1f":{"edges":[],"pageInfo":{"hasNextPage":false,"hasPreviousPage":false}},"_productsdx8Oq":{"edges":[],"pageInfo":{"hasNextPage":false,"hasPreviousPage":false}},"idRaw":683727}}}}]
James Bay | News | James Bay feiert in Hamburg seine doppelte Gold-Auszeichnung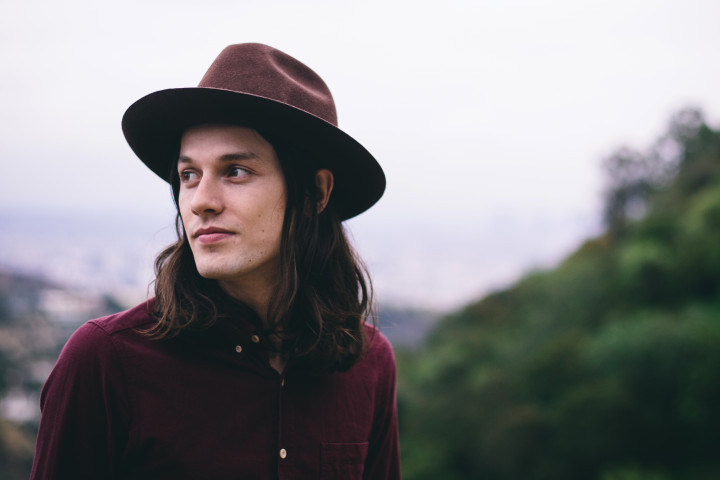 22.10.2015
James Bay feiert in Hamburg seine doppelte Gold-Auszeichnung
GLD HBTR & GLD ALBUM IN GERMANY!!! DANKE!!!
Posted by
James Bay
on 
Tuesday, 20 October 2015

James Bays Single
"
Hold Back The River
" und sein
Debüt-Album
"
Chaos And The Calm
" haben in Deutschland Gold-Status erreicht. Die
Energy Live Session
 in
Hamburg
bot am
20. Oktober 2015
den perfekten Rahmen, um den Goldregen gebührend zu feiern. Bei dem Konzert von
Radio NRJ
im
Mojo Club
 begeisterte der britische Sänger und Songwriter das Publikum mit dem frisch vergoldeten "Hold Back The River" und Tracks wie "
Let It Go
" oder "
Scars
". Zahlreiche Fotos des Abends
könnt ihr euch hier ansehen
.
Doppel-Gold krönt James Bays Erfolgsjahr 2015
Die doppelte Gold-Auszeichnung war für James Bay die Krönung eines unglaublich erfolgreichen Jahres. Mit "Chaos And The Calm" kletterte der Shootingstar nach der Veröffentlichung im März 2015 auf Platz drei der deutschen Album-Charts und belegte in UK sogar Platz eins. Die Single "Hold Back The River" lief im Radio rauf und runter. Wem das Album noch in der Plattensammlung fehlt, der kann es hier bestellen: