\n","teaserText":"

Nach einem ersten Vorgeschmack folgt nun ein weiterer Making-Of Clip zu Rihannas Video \"Where Have You Been\". Die Spannung steigt. Schaut euch jetzt das Making-of – Teil 2 an!

","teaserImage":{"imageUrlTemplate":"//images.universal-music.de/img/assets/265/265061/{ratio}/{width}/talkthattalk-webgrafik-2.jpg","id":"SW1hZ2U6MjY1MDYx"},"images":[{"imageUrlTemplate":"//images.universal-music.de/img/assets/265/265061/{ratio}/{width}/talkthattalk-webgrafik-2.jpg","headline":"TalkThatTalk_webgrafik_2","id":"SW1hZ2U6MjY1MDYx"}],"artists":[{"idRaw":525338,"image":{"imageUrlTemplate":"//images.universal-music.de/img/assets/449/449987/{ratio}/{width}/rihanna-2016.jpg","headline":"Rihanna 2016","id":"SW1hZ2U6NDQ5OTg3"},"id":"QXJ0aXN0OjUyNTMzOA==","color":"#e32026","urlAlias":"rihanna","screenname":"Rihanna"}],"date":"2012-04-23 17:40:00","__typename":"Article","idRaw":206745,"createdDate":"2012-04-23 16:25:18","modifiedDate":"2012-05-03 11:33:02","seoKeywords":null,"seoDescription":"Letzte Woche haben wir euch den ersten Teil vom Making-of zu Rihannas neuer Hit-Single \"Where Have You Been\" schon gezeigt. Spätestens seit diesem Clip wisst","copyright":"","links":[]},"_artist1Ey3Tg":{"idRaw":525338,"id":"QXJ0aXN0OjUyNTMzOA==","_products4cM781":{"edges":[{"node":{"id":"UHJvZHVjdDozNTEyOTU=","idRaw":351295,"versionTitle":null,"__typename":"Product","isBackstage":false,"headline":"Sledgehammer","artists":[{"color":"#e32026","urlAlias":"rihanna","screenname":"Rihanna","image":{"imageUrlTemplate":"//images.universal-music.de/img/assets/449/449987/{ratio}/{width}/rihanna-2016.jpg","headline":"Rihanna 2016","id":"SW1hZ2U6NDQ5OTg3"},"id":"QXJ0aXN0OjUyNTMzOA=="}],"cover":{"headline":"Sledgehammer","imageUrlTemplate":"//images.universal-music.de/img/assets/405/405166/{ratio}/{width}/sledgehammer.jpg","id":"SW1hZ2U6NDA1MTY2"},"seoKeywords":null,"seoDescription":"Für den Kino-Blockbuster \"Star Trek Beyond\" liefert Superstar Rihanna mit \"Sledgehammer\" den Titelsong ab. Der Track zum Film mit Chris Pine, Zachary Quinto,","hasSoundfiles":true},"cursor":"MzUxMjk1KysrMjAxNi0wNi0yOQ=="},{"node":{"id":"UHJvZHVjdDozNDg3NDQ=","idRaw":348744,"versionTitle":"","__typename":"Product","isBackstage":false,"headline":"Needed Me","artists":[{"color":"#e32026","urlAlias":"rihanna","screenname":"Rihanna","image":{"imageUrlTemplate":"//images.universal-music.de/img/assets/449/449987/{ratio}/{width}/rihanna-2016.jpg","headline":"Rihanna 2016","id":"SW1hZ2U6NDQ5OTg3"},"id":"QXJ0aXN0OjUyNTMzOA=="}],"cover":{"headline":"RIhanna Needed Me Cover","imageUrlTemplate":"//images.universal-music.de/img/assets/405/405178/{ratio}/{width}/rihanna-needed-me-cover.jpg","id":"SW1hZ2U6NDA1MTc4"},"seoKeywords":null,"seoDescription":"Mit \"Needed Me\" veröffentlicht Rihanna einen weiteren Song aus ihrem Erfolgs-Album \"ANTI\". Im bildgewaltigen Video zum Track geizt die \"Work\"-Hitmakerin","hasSoundfiles":false},"cursor":"MzQ4NzQ0KysrMjAxNi0wNi0wMg=="},{"node":{"id":"UHJvZHVjdDozMzU5NjQ=","idRaw":335964,"versionTitle":"Deluxe-Version","__typename":"Product","isBackstage":false,"headline":"ANTI","artists":[{"color":"#e32026","urlAlias":"rihanna","screenname":"Rihanna","image":{"imageUrlTemplate":"//images.universal-music.de/img/assets/449/449987/{ratio}/{width}/rihanna-2016.jpg","headline":"Rihanna 2016","id":"SW1hZ2U6NDQ5OTg3"},"id":"QXJ0aXN0OjUyNTMzOA=="}],"cover":{"headline":"Anti (Ltd. Deluxe Edt.)","imageUrlTemplate":"//images.universal-music.de/img/assets/393/393304/{ratio}/{width}/anti-ltd-deluxe-edt.jpg","id":"SW1hZ2U6MzkzMzA0"},"seoKeywords":null,"seoDescription":"Rihanna präsentiert ihr achtes Studio-Album \"ANTI\". Die Platte beinhaltet Songwriting und Produktionen von The Weeknd, Timbaland, The-Dream, Travis Scott, DJ","hasSoundfiles":true},"cursor":"MzM1OTY0KysrMjAxNi0wMi0wNQ=="},{"node":{"id":"UHJvZHVjdDozMzU5NjM=","idRaw":335963,"versionTitle":"Standard-Version","__typename":"Product","isBackstage":false,"headline":"ANTI","artists":[{"color":"#e32026","urlAlias":"rihanna","screenname":"Rihanna","image":{"imageUrlTemplate":"//images.universal-music.de/img/assets/449/449987/{ratio}/{width}/rihanna-2016.jpg","headline":"Rihanna 2016","id":"SW1hZ2U6NDQ5OTg3"},"id":"QXJ0aXN0OjUyNTMzOA=="}],"cover":{"headline":"Anti","imageUrlTemplate":"//images.universal-music.de/img/assets/393/393299/{ratio}/{width}/anti.jpg","id":"SW1hZ2U6MzkzMjk5"},"seoKeywords":null,"seoDescription":"Rihanna präsentiert ihr achtes Studio-Album \"ANTI\". Die Platte beinhaltet Songwriting und Produktionen von The Weeknd, Timbaland, The-Dream, Travis Scott, DJ","hasSoundfiles":true},"cursor":"MzM1OTYzKysrMjAxNi0wMi0wNQ=="},{"node":{"id":"UHJvZHVjdDozMzU0NzE=","idRaw":335471,"versionTitle":null,"__typename":"Product","isBackstage":false,"headline":"Work featuring Drake","artists":[{"color":"#e32026","urlAlias":"rihanna","screenname":"Rihanna","image":{"imageUrlTemplate":"//images.universal-music.de/img/assets/449/449987/{ratio}/{width}/rihanna-2016.jpg","headline":"Rihanna 2016","id":"SW1hZ2U6NDQ5OTg3"},"id":"QXJ0aXN0OjUyNTMzOA=="},{"color":"#d2a77d","urlAlias":"drake","screenname":"Drake","image":{"imageUrlTemplate":"//images.universal-music.de/img/assets/417/417300/{ratio}/{width}/drake.jpg","headline":"Drake","id":"SW1hZ2U6NDE3MzAw"},"id":"QXJ0aXN0OjY1MzA5MQ=="}],"cover":{"headline":"Rihanna Work Singlecover","imageUrlTemplate":"//images.universal-music.de/img/assets/393/393165/{ratio}/{width}/rihanna-work-singlecover.jpg","id":"SW1hZ2U6MzkzMTY1"},"seoKeywords":null,"seoDescription":"Rihanna präsentiert mit \"Work\" feat. Drake einen Vorboten aus ihrem achten Studio-Album \"ANTI\". Mit der Kollaboration knüpfen Rihanna und Drake an den Erfolg","hasSoundfiles":true},"cursor":"MzM1NDcxKysrMjAxNi0wMS0yNw=="},{"node":{"id":"UHJvZHVjdDoyOTQzOTE=","idRaw":294391,"versionTitle":null,"__typename":"Product","isBackstage":false,"headline":"American Oxygen","artists":[{"color":"#e32026","urlAlias":"rihanna","screenname":"Rihanna","image":{"imageUrlTemplate":"//images.universal-music.de/img/assets/449/449987/{ratio}/{width}/rihanna-2016.jpg","headline":"Rihanna 2016","id":"SW1hZ2U6NDQ5OTg3"},"id":"QXJ0aXN0OjUyNTMzOA=="}],"cover":{"headline":"Rihanna American Oxygen Cover","imageUrlTemplate":"//images.universal-music.de/img/assets/366/366249/{ratio}/{width}/rihanna-american-oxygen-cover.jpg","id":"SW1hZ2U6MzY2MjQ5"},"seoKeywords":null,"seoDescription":"Mit der Single \"American Oxygen\" liefert Rihanna einen weiteren Vorgeschmack auf ihr achtes Studioalbum. Der Song ist weitaus politischer als die bereits","hasSoundfiles":true},"cursor":"Mjk0MzkxKysrMjAxNS0wNC0yMQ=="},{"node":{"id":"UHJvZHVjdDoyNzgyMzE=","idRaw":278231,"versionTitle":null,"__typename":"Product","isBackstage":false,"headline":"Bitch Better Have My Money","artists":[{"color":"#e32026","urlAlias":"rihanna","screenname":"Rihanna","image":{"imageUrlTemplate":"//images.universal-music.de/img/assets/449/449987/{ratio}/{width}/rihanna-2016.jpg","headline":"Rihanna 2016","id":"SW1hZ2U6NDQ5OTg3"},"id":"QXJ0aXN0OjUyNTMzOA=="}],"cover":{"headline":"Rihanna BBHMM Cover","imageUrlTemplate":"//images.universal-music.de/img/assets/365/365233/{ratio}/{width}/rihanna-bbhmm-cover.jpg","id":"SW1hZ2U6MzY1MjMz"},"seoKeywords":"","seoDescription":"Rihanna meldet sich nach ihrer Paul-McCartney-Kanye-West-Kollaboration zu FourFiveSeconds mit dem brandneuen Titel \"Bitch Better Have My Money\"","hasSoundfiles":false},"cursor":"Mjc4MjMxKysrMjAxNS0wMy0yNg=="}],"pageInfo":{"hasNextPage":true,"hasPreviousPage":false}},"_productsZBJev":{"edges":[{"node":{"id":"UHJvZHVjdDozMzU5NjQ=","idRaw":335964},"cursor":"MzM1OTY0KysrMjAxNi0wMi0wNQ=="}],"pageInfo":{"hasNextPage":true,"hasPreviousPage":false}}}}}},{"query":{"calls":[{"kind":"Call","name":"channel","metadata":{"type":"Int!"},"value":{"kind":"CallValue","callValue":10000}}],"children":[{"children":[{"calls":[{"kind":"Call","name":"urlAlias","metadata":{"type":null},"value":{"kind":"CallValue","callValue":"rihanna"}}],"children":[{"calls":[],"children":[],"fieldName":"urlAlias","kind":"Field","metadata":{},"type":"String"},{"calls":[],"children":[],"fieldName":"screenname","kind":"Field","metadata":{},"type":"String"},{"calls":[],"children":[],"fieldName":"color","kind":"Field","metadata":{},"type":"String"},{"calls":[],"children":[],"fieldName":"themeType","kind":"Field","metadata":{},"type":"String"},{"calls":[],"children":[{"calls":[],"children":[],"fieldName":"name","kind":"Field","metadata":{},"type":"String"},{"calls":[],"children":[],"fieldName":"id","kind":"Field","metadata":{"isGenerated":true,"isRequisite":true},"type":"ID"}],"fieldName":"divisions","kind":"Field","metadata":{"canHaveSubselections":true,"isPlural":true},"type":"Division"},{"calls":[],"children":[{"calls":[],"children":[{"calls":[],"children":[],"fieldName":"name","kind":"Field","metadata":{},"type":"String"},{"calls":[],"children":[],"fieldName":"id","kind":"Field","metadata":{"isGenerated":true,"isRequisite":true},"type":"ID"}],"fieldName":"parentCategory","kind":"Field","metadata":{"canHaveSubselections":true},"type":"Category"},{"calls":[],"children":[],"fieldName":"id","kind":"Field","metadata":{"isGenerated":true,"isRequisite":true},"type":"ID"}],"fieldName":"subgenres","kind":"Field","metadata":{"canHaveSubselections":true,"isPlural":true},"type":"Category"},{"calls":[],"children":[],"fieldName":"id","kind":"Field","metadata":{"isGenerated":true,"isRequisite":true},"type":"ID"},{"children":[{"calls":[],"children":[],"fieldName":"screenname","kind":"Field","metadata":{},"type":"String"},{"calls":[],"children":[{"calls":[],"children":[],"fieldName":"type","kind":"Field","metadata":{},"type":"ExternalReferenceType"},{"calls":[],"children":[],"fieldName":"value","kind":"Field","metadata":{},"type":"String"},{"calls":[],"children":[],"fieldName":"id","kind":"Field","metadata":{"isGenerated":true,"isRequisite":true},"type":"ID"}],"fieldName":"externalReferences","kind":"Field","metadata":{"canHaveSubselections":true,"isPlural":true},"type":"ExternalReference"},{"calls":[],"children":[],"fieldName":"id","kind":"Field","metadata":{"isGenerated":true,"isRequisite":true},"type":"ID"},{"children":[{"calls":[],"children":[],"fieldName":"urlAlias","kind":"Field","metadata":{},"type":"String"},{"calls":[],"children":[],"fieldName":"themeType","kind":"Field","metadata":{},"type":"String"},{"alias":"news","calls":[{"kind":"Call","name":"first","metadata":{"type":"Int"},"value":{"kind":"CallValue","callValue":1}},{"kind":"Call","name":"type","metadata":{"type":"ArticleType"},"value":{"kind":"CallValue","callValue":"NEUIGKEIT"}}],"children":[{"calls":[],"children":[{"calls":[],"children":[{"calls":[],"children":[],"fieldName":"id","kind":"Field","metadata":{"isRequisite":true},"type":"ID"}],"fieldName":"node","kind":"Field","metadata":{"canHaveSubselections":true,"isRequisite":true},"type":"Article"},{"calls":[],"children":[],"fieldName":"cursor","kind":"Field","metadata":{"isGenerated":true,"isRequisite":true},"type":"String"}],"fieldName":"edges","kind":"Field","metadata":{"canHaveSubselections":true,"isPlural":true},"type":"ArticleEdge"},{"calls":[],"children":[{"calls":[],"children":[],"fieldName":"hasNextPage","kind":"Field","metadata":{"isGenerated":true,"isRequisite":true},"type":"Boolean"},{"calls":[],"children":[],"fieldName":"hasPreviousPage","kind":"Field","metadata":{"isGenerated":true,"isRequisite":true},"type":"Boolean"}],"fieldName":"pageInfo","kind":"Field","metadata":{"canHaveSubselections":true,"isGenerated":true,"isRequisite":true},"type":"PageInfo"}],"fieldName":"articles","kind":"Field","metadata":{"canHaveSubselections":true,"isConnection":true},"type":"ArticleConnection"},{"alias":"music","calls":[{"kind":"Call","name":"first","metadata":{"type":"Int"},"value":{"kind":"CallValue","callValue":1}}],"children":[{"calls":[],"children":[{"calls":[],"children":[{"calls":[],"children":[],"fieldName":"id","kind":"Field","metadata":{"isRequisite":true},"type":"ID"}],"fieldName":"node","kind":"Field","metadata":{"canHaveSubselections":true,"isRequisite":true},"type":"Product"},{"calls":[],"children":[],"fieldName":"cursor","kind":"Field","metadata":{"isGenerated":true,"isRequisite":true},"type":"String"}],"fieldName":"edges","kind":"Field","metadata":{"canHaveSubselections":true,"isPlural":true},"type":"ProductEdge"},{"calls":[],"children":[{"calls":[],"children":[],"fieldName":"hasNextPage","kind":"Field","metadata":{"isGenerated":true,"isRequisite":true},"type":"Boolean"},{"calls":[],"children":[],"fieldName":"hasPreviousPage","kind":"Field","metadata":{"isGenerated":true,"isRequisite":true},"type":"Boolean"}],"fieldName":"pageInfo","kind":"Field","metadata":{"canHaveSubselections":true,"isGenerated":true,"isRequisite":true},"type":"PageInfo"}],"fieldName":"products","kind":"Field","metadata":{"canHaveSubselections":true,"isConnection":true},"type":"ProductConnection"},{"calls":[{"kind":"Call","name":"first","metadata":{"type":"Int"},"value":{"kind":"CallValue","callValue":1}}],"children":[{"calls":[],"children":[{"calls":[],"children":[{"calls":[],"children":[],"fieldName":"id","kind":"Field","metadata":{"isRequisite":true},"type":"ID"}],"fieldName":"node","kind":"Field","metadata":{"canHaveSubselections":true,"isRequisite":true},"type":"Video"},{"calls":[],"children":[],"fieldName":"cursor","kind":"Field","metadata":{"isGenerated":true,"isRequisite":true},"type":"String"}],"fieldName":"edges","kind":"Field","metadata":{"canHaveSubselections":true,"isPlural":true},"type":"VideoEdge"},{"calls":[],"children":[{"calls":[],"children":[],"fieldName":"hasNextPage","kind":"Field","metadata":{"isGenerated":true,"isRequisite":true},"type":"Boolean"},{"calls":[],"children":[],"fieldName":"hasPreviousPage","kind":"Field","metadata":{"isGenerated":true,"isRequisite":true},"type":"Boolean"}],"fieldName":"pageInfo","kind":"Field","metadata":{"canHaveSubselections":true,"isGenerated":true,"isRequisite":true},"type":"PageInfo"}],"fieldName":"videos","kind":"Field","metadata":{"canHaveSubselections":true,"isConnection":true},"type":"VideoConnection"},{"calls":[{"kind":"Call","name":"first","metadata":{"type":"Int"},"value":{"kind":"CallValue","callValue":1}},{"kind":"Call","name":"dateFrom","metadata":{"type":null},"value":{"kind":"CallValue","callValue":"now"}},{"kind":"Call","name":"onlyGsaCountries","metadata":{"type":null},"value":{"kind":"CallValue","callValue":true}}],"children":[{"calls":[],"children":[{"calls":[],"children":[{"calls":[],"children":[],"fieldName":"id","kind":"Field","metadata":{"isRequisite":true},"type":"ID"}],"fieldName":"node","kind":"Field","metadata":{"canHaveSubselections":true,"isRequisite":true},"type":"LiveEvent"},{"calls":[],"children":[],"fieldName":"cursor","kind":"Field","metadata":{"isGenerated":true,"isRequisite":true},"type":"String"}],"fieldName":"edges","kind":"Field","metadata":{"canHaveSubselections":true,"isPlural":true},"type":"LiveEventEdge"},{"calls":[],"children":[{"calls":[],"children":[],"fieldName":"hasNextPage","kind":"Field","metadata":{"isGenerated":true,"isRequisite":true},"type":"Boolean"},{"calls":[],"children":[],"fieldName":"hasPreviousPage","kind":"Field","metadata":{"isGenerated":true,"isRequisite":true},"type":"Boolean"}],"fieldName":"pageInfo","kind":"Field","metadata":{"canHaveSubselections":true,"isGenerated":true,"isRequisite":true},"type":"PageInfo"}],"fieldName":"liveEvents","kind":"Field","metadata":{"canHaveSubselections":true,"isConnection":true},"type":"LiveEventConnection"},{"calls":[{"kind":"Call","name":"first","metadata":{"type":"Int"},"value":{"kind":"CallValue","callValue":1}},{"kind":"Call","name":"dateFrom","metadata":{"type":null},"value":{"kind":"CallValue","callValue":"now"}}],"children":[{"calls":[],"children":[{"calls":[],"children":[{"calls":[],"children":[],"fieldName":"id","kind":"Field","metadata":{"isRequisite":true},"type":"ID"}],"fieldName":"node","kind":"Field","metadata":{"canHaveSubselections":true,"isRequisite":true},"type":"MediaEvent"},{"calls":[],"children":[],"fieldName":"cursor","kind":"Field","metadata":{"isGenerated":true,"isRequisite":true},"type":"String"}],"fieldName":"edges","kind":"Field","metadata":{"canHaveSubselections":true,"isPlural":true},"type":"MediaEventEdge"},{"calls":[],"children":[{"calls":[],"children":[],"fieldName":"hasNextPage","kind":"Field","metadata":{"isGenerated":true,"isRequisite":true},"type":"Boolean"},{"calls":[],"children":[],"fieldName":"hasPreviousPage","kind":"Field","metadata":{"isGenerated":true,"isRequisite":true},"type":"Boolean"}],"fieldName":"pageInfo","kind":"Field","metadata":{"canHaveSubselections":true,"isGenerated":true,"isRequisite":true},"type":"PageInfo"}],"fieldName":"mediaEvents","kind":"Field","metadata":{"canHaveSubselections":true,"isConnection":true},"type":"MediaEventConnection"},{"calls":[{"kind":"Call","name":"first","metadata":{"type":"Int"},"value":{"kind":"CallValue","callValue":1}}],"children":[{"calls":[],"children":[{"calls":[],"children":[{"calls":[],"children":[],"fieldName":"id","kind":"Field","metadata":{"isRequisite":true},"type":"ID"},{"calls":[],"children":[{"calls":[],"children":[],"fieldName":"id","kind":"Field","metadata":{"isRequisite":true},"type":"ID"}],"fieldName":"image","kind":"Field","metadata":{"canHaveSubselections":true},"type":"Image"}],"fieldName":"node","kind":"Field","metadata":{"canHaveSubselections":true,"isRequisite":true},"type":"Collection"},{"calls":[],"children":[],"fieldName":"cursor","kind":"Field","metadata":{"isGenerated":true,"isRequisite":true},"type":"String"}],"fieldName":"edges","kind":"Field","metadata":{"canHaveSubselections":true,"isPlural":true},"type":"CollectionEdge"},{"calls":[],"children":[{"calls":[],"children":[],"fieldName":"hasNextPage","kind":"Field","metadata":{"isGenerated":true,"isRequisite":true},"type":"Boolean"},{"calls":[],"children":[],"fieldName":"hasPreviousPage","kind":"Field","metadata":{"isGenerated":true,"isRequisite":true},"type":"Boolean"}],"fieldName":"pageInfo","kind":"Field","metadata":{"canHaveSubselections":true,"isGenerated":true,"isRequisite":true},"type":"PageInfo"}],"fieldName":"imageCollections","kind":"Field","metadata":{"canHaveSubselections":true,"isConnection":true},"type":"CollectionConnection"},{"alias":"biography","calls":[{"kind":"Call","name":"first","metadata":{"type":"Int"},"value":{"kind":"CallValue","callValue":1}},{"kind":"Call","name":"type","metadata":{"type":"ArticleType"},"value":{"kind":"CallValue","callValue":"BIOGRAFIE"}}],"children":[{"calls":[],"children":[{"calls":[],"children":[{"calls":[],"children":[],"fieldName":"id","kind":"Field","metadata":{"isRequisite":true},"type":"ID"}],"fieldName":"node","kind":"Field","metadata":{"canHaveSubselections":true,"isRequisite":true},"type":"Article"},{"calls":[],"children":[],"fieldName":"cursor","kind":"Field","metadata":{"isGenerated":true,"isRequisite":true},"type":"String"}],"fieldName":"edges","kind":"Field","metadata":{"canHaveSubselections":true,"isPlural":true},"type":"ArticleEdge"},{"calls":[],"children":[{"calls":[],"children":[],"fieldName":"hasNextPage","kind":"Field","metadata":{"isGenerated":true,"isRequisite":true},"type":"Boolean"},{"calls":[],"children":[],"fieldName":"hasPreviousPage","kind":"Field","metadata":{"isGenerated":true,"isRequisite":true},"type":"Boolean"}],"fieldName":"pageInfo","kind":"Field","metadata":{"canHaveSubselections":true,"isGenerated":true,"isRequisite":true},"type":"PageInfo"}],"fieldName":"articles","kind":"Field","metadata":{"canHaveSubselections":true,"isConnection":true},"type":"ArticleConnection"},{"calls":[{"kind":"Call","name":"first","metadata":{"type":"Int"},"value":{"kind":"CallValue","callValue":2}}],"children":[{"calls":[],"children":[{"calls":[],"children":[{"calls":[],"children":[],"fieldName":"idRaw","kind":"Field","metadata":{},"type":"Int"},{"calls":[],"children":[],"fieldName":"headline","kind":"Field","metadata":{},"type":"String"},{"calls":[],"children":[],"fieldName":"id","kind":"Field","metadata":{"isGenerated":true,"isRequisite":true},"type":"ID"}],"fieldName":"node","kind":"Field","metadata":{"canHaveSubselections":true,"isRequisite":true},"type":"Action"},{"calls":[],"children":[],"fieldName":"cursor","kind":"Field","metadata":{"isGenerated":true,"isRequisite":true},"type":"String"}],"fieldName":"edges","kind":"Field","metadata":{"canHaveSubselections":true,"isPlural":true},"type":"ActionEdge"},{"calls":[],"children":[{"calls":[],"children":[],"fieldName":"hasNextPage","kind":"Field","metadata":{"isGenerated":true,"isRequisite":true},"type":"Boolean"},{"calls":[],"children":[],"fieldName":"hasPreviousPage","kind":"Field","metadata":{"isGenerated":true,"isRequisite":true},"type":"Boolean"}],"fieldName":"pageInfo","kind":"Field","metadata":{"canHaveSubselections":true,"isGenerated":true,"isRequisite":true},"type":"PageInfo"}],"fieldName":"actions","kind":"Field","metadata":{"canHaveSubselections":true,"isConnection":true},"type":"ActionConnection"},{"alias":"merch","calls":[{"kind":"Call","name":"first","metadata":{"type":"Int"},"value":{"kind":"CallValue","callValue":1}},{"kind":"Call","name":"group","metadata":{"type":"[ProductGroup]"},"value":[{"kind":"CallValue","callValue":"MERCH"}]}],"children":[{"calls":[],"children":[{"calls":[],"children":[{"calls":[],"children":[],"fieldName":"id","kind":"Field","metadata":{"isRequisite":true},"type":"ID"}],"fieldName":"node","kind":"Field","metadata":{"canHaveSubselections":true,"isRequisite":true},"type":"Product"},{"calls":[],"children":[],"fieldName":"cursor","kind":"Field","metadata":{"isGenerated":true,"isRequisite":true},"type":"String"}],"fieldName":"edges","kind":"Field","metadata":{"canHaveSubselections":true,"isPlural":true},"type":"ProductEdge"},{"calls":[],"children":[{"calls":[],"children":[],"fieldName":"hasNextPage","kind":"Field","metadata":{"isGenerated":true,"isRequisite":true},"type":"Boolean"},{"calls":[],"children":[],"fieldName":"hasPreviousPage","kind":"Field","metadata":{"isGenerated":true,"isRequisite":true},"type":"Boolean"}],"fieldName":"pageInfo","kind":"Field","metadata":{"canHaveSubselections":true,"isGenerated":true,"isRequisite":true},"type":"PageInfo"}],"fieldName":"products","kind":"Field","metadata":{"canHaveSubselections":true,"isConnection":true},"type":"ProductConnection"},{"calls":[],"children":[],"fieldName":"id","kind":"Field","metadata":{"isGenerated":true,"isRequisite":true},"type":"ID"},{"children":[{"calls":[],"children":[],"fieldName":"screenname","kind":"Field","metadata":{},"type":"String"},{"calls":[],"children":[],"fieldName":"urlAlias","kind":"Field","metadata":{},"type":"String"},{"calls":[],"children":[],"fieldName":"id","kind":"Field","metadata":{"isGenerated":true,"isRequisite":true},"type":"ID"}],"id":"jT6::client","kind":"Fragment","metadata":{"isAbstract":false,"plural":false},"name":"Index_ArtistRelayQL","type":"Artist"}],"id":"jT7::client","kind":"Fragment","metadata":{"isAbstract":false,"plural":false},"name":"ArtistNavBar_ArtistRelayQL","type":"Artist"}],"id":"jT8::client","kind":"Fragment","metadata":{"isAbstract":false,"plural":false},"name":"ArtistHeader_ArtistRelayQL","type":"Artist"},{"children":[{"calls":[],"children":[],"fieldName":"id","kind":"Field","metadata":{"isGenerated":true,"isRequisite":true},"type":"ID"},{"children":[{"calls":[],"children":[],"fieldName":"id","kind":"Field","metadata":{"isRequisite":true},"type":"ID"},{"calls":[],"children":[],"fieldName":"screenname","kind":"Field","metadata":{},"type":"String"},{"children":[{"calls":[],"children":[],"fieldName":"id","kind":"Field","metadata":{"isRequisite":true},"type":"ID"},{"calls":[],"children":[],"fieldName":"idRaw","kind":"Field","metadata":{},"type":"Int"}],"id":"jT9::client","kind":"Fragment","metadata":{"isAbstract":false,"plural":false},"name":"LikeUnlikeMutation_ArtistRelayQL","type":"Artist"}],"id":"jTa::client","kind":"Fragment","metadata":{"isAbstract":false,"plural":false},"name":"LikeableArtistContainer_ArtistRelayQL","type":"Artist"}],"id":"jTb::client","kind":"Fragment","metadata":{"isAbstract":false,"plural":false},"name":"AutoLikeArtist_ArtistRelayQL","type":"Artist"}],"fieldName":"artist","kind":"Field","metadata":{"canHaveSubselections":true},"type":"Artist"}],"id":"jTc::client","kind":"Fragment","metadata":{"isAbstract":false,"plural":false},"name":"ArtistWrapper_ApiRelayQL","type":"UniversalMusic"}],"directives":[],"fieldName":"universalMusic","isDeferred":false,"kind":"Query","metadata":{"identifyingArgName":"channel","identifyingArgType":"Int!","isAbstract":false,"isPlural":false},"name":"Api","type":"UniversalMusic"},"response":{"universalMusic":{"_artist1Ey3Tg":{"urlAlias":"rihanna","screenname":"Rihanna","color":"#e32026","themeType":"contributor","divisions":[{"name":"Universal Music International","id":"RGl2aXNpb246Mw=="},{"name":"Universal Music Strategic Marketing","id":"RGl2aXNpb246Ng=="}],"subgenres":[{"parentCategory":{"name":"URBAN","id":"Q2F0ZWdvcnk6MTM1OQ=="},"id":"Q2F0ZWdvcnk6MTM2MA=="}],"id":"QXJ0aXN0OjUyNTMzOA==","externalReferences":[{"type":"COREMAILER_NWLT_LISTE","value":"rihanna","id":"RXh0ZXJuYWxSZWZlcmVuY2U6MjYxMDg="},{"type":"VBULLETIN","value":"http://forum.pop24.de/forum/forumdisplay.php?f=262","id":"RXh0ZXJuYWxSZWZlcmVuY2U6MjkyNzE="},{"type":"COMMUNITY","value":"http://community.rihanna.de","id":"RXh0ZXJuYWxSZWZlcmVuY2U6Mjk2MzQ="},{"type":"UMUSIC","value":"Rihanna","id":"RXh0ZXJuYWxSZWZlcmVuY2U6MzI2MDg="},{"type":"TWITTER","value":"rihanna","id":"RXh0ZXJuYWxSZWZlcmVuY2U6MzI4NTM="},{"type":"GOOGLE_ANALYTICS","value":"UA-17882460-19","id":"RXh0ZXJuYWxSZWZlcmVuY2U6NDQyMDU="},{"type":"FACEBOOK","value":"137285329652142","id":"RXh0ZXJuYWxSZWZlcmVuY2U6NDY2NjE="},{"type":"GOOGLE_PLUS_PUBLISHER_ID","value":"100083315234748249338","id":"RXh0ZXJuYWxSZWZlcmVuY2U6NDY3OTU="}],"_articles2XqS9l":{"edges":[{"node":{"id":"QXJ0aWNsZToyNDQ0OTY="},"cursor":"MjQ0NDk2KysrMjAxNy0wNy0zMVQxMDowMzowMA=="}],"pageInfo":{"hasNextPage":true,"hasPreviousPage":false}},"_products2PRCo":{"edges":[{"node":{"id":"UHJvZHVjdDozNTEyOTU="},"cursor":"MzUxMjk1KysrMjAxNi0wNi0yOQ=="}],"pageInfo":{"hasNextPage":true,"hasPreviousPage":false}},"_videos2Tn6C2":{"edges":[{"node":{"id":"VmlkZW86NDQ0ODI0"},"cursor":"NDQ0ODI0KysrMjAxNy0wNy0zMVQxMToyMTowNQ=="}],"pageInfo":{"hasNextPage":true,"hasPreviousPage":false}},"_liveEvents2n1GpM":{"edges":[],"pageInfo":{"hasNextPage":false,"hasPreviousPage":false}},"_mediaEvents1TyUCF":{"edges":[],"pageInfo":{"hasNextPage":false,"hasPreviousPage":false}},"_imageCollections3eCGj7":{"edges":[{"node":{"id":"Q29sbGVjdGlvbjozNDg5MA==","image":null},"cursor":"MzQ4OTArKysyMDE2LTAyLTE4VDE1OjExOjA1"}],"pageInfo":{"hasNextPage":true,"hasPreviousPage":false}},"_articlesAy9tt":{"edges":[{"node":{"id":"QXJ0aWNsZToyMDM5MDA="},"cursor":"MjAzOTAwKysrMjAxMS0xMS0xOFQxNDoxMzowMA=="}],"pageInfo":{"hasNextPage":true,"hasPreviousPage":false}},"_actions3OWk1f":{"edges":[],"pageInfo":{"hasNextPage":false,"hasPreviousPage":false}},"_productsdx8Oq":{"edges":[],"pageInfo":{"hasNextPage":false,"hasPreviousPage":false}},"idRaw":525338}}}}]
Rihanna | News | Watch now: Teil 2 des "Where Have You Been" Video Making-ofs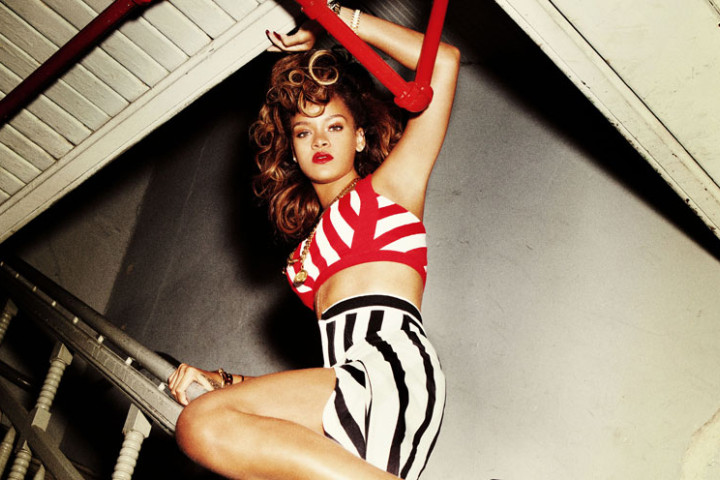 23.04.2012
Watch now: Teil 2 des "Where Have You Been" Video Making-ofs
Letzte Woche haben wir euch den ersten Teil vom Making-of zu Rihannas neuer Hit-Single "Where Have You Been" schon gezeigt. Spätestens seit diesem Clip wisst ihr, dass Rihanna erneut zeigt, wie gut sie ihr Tanzbein schwingen kann.

Um euch das Warten auf das komplette Musikvideo zu versüßen, folgt nun der zweite Making-of Teil vom Videodreh zu ihrer nächsten Singleauskopplung, in dem sie sich noch privater präsentiert. Rihanna zeigt euch mit insgesamt drei Making-of Teilen, dass sie ganz natürlich ist und sich auch mal ungeschminkt vor die Kamera stellt.
Hier also der nächste Appetithappen zu ihrem heiß erwarteten Video "Where Have You Been" – Teil 2 des Making-ofs.
Wie gefällt euch, was ihr bisher gesehen habt?