\n","teaserText":"

Zu ihrer X-Mas-Single \"I Feel It In My Bones\" haben The Killers ein nicht ganz festliches Video gedreht. Seht euch hier an, wer bei der Band an Weihnachten sein Unwesen treibt.

","teaserImage":{"imageUrlTemplate":"//images.universal-music.de/img/assets/278/278582/{ratio}/{width}/the-killers-battle-born-2012-01.jpg","id":"SW1hZ2U6Mjc4NTgy"},"images":[{"imageUrlTemplate":"//images.universal-music.de/img/assets/278/278582/{ratio}/{width}/the-killers-battle-born-2012-01.jpg","headline":"The Killers Battle Born 2012_01","id":"SW1hZ2U6Mjc4NTgy"}],"artists":[{"idRaw":521242,"image":{"imageUrlTemplate":"//images.universal-music.de/img/assets/444/444754/{ratio}/{width}/the-killers-2017.jpg","headline":"The Killers 2017","id":"SW1hZ2U6NDQ0NzU0"},"id":"QXJ0aXN0OjUyMTI0Mg==","color":"#73b5e0","urlAlias":"the-killers","screenname":"The Killers"}],"date":"2012-12-05 10:40:00","__typename":"Article","idRaw":211218,"createdDate":"2012-12-05 11:02:04","modifiedDate":"2012-12-05 11:43:47","seoKeywords":"The Killers, I Feel It In My Bones, Video","seoDescription":"Zu ihrer X-Mas-Single \"I Feel It In My Bones\" haben The Killers ein nicht ganz festliches Video gedreht. Seht euch hier an, wer bei der Band an Weihnachten sein Unwesen treibt.","copyright":"","links":[]},"_artist1UzDDj":{"idRaw":521242,"id":"QXJ0aXN0OjUyMTI0Mg==","_products4cM781":{"edges":[{"node":{"id":"UHJvZHVjdDo0MDk3Nzk=","idRaw":409779,"versionTitle":"Deluxe Version","__typename":"Product","isBackstage":false,"headline":"Wonderful Wonderful","artists":[{"color":"#73b5e0","urlAlias":"the-killers","screenname":"The Killers","image":{"imageUrlTemplate":"//images.universal-music.de/img/assets/444/444754/{ratio}/{width}/the-killers-2017.jpg","headline":"The Killers 2017","id":"SW1hZ2U6NDQ0NzU0"},"id":"QXJ0aXN0OjUyMTI0Mg=="}],"cover":{"headline":"The Killers Wonderful Wonderful","imageUrlTemplate":"//images.universal-music.de/img/assets/444/444747/{ratio}/{width}/the-killers-wonderful-wonderful.jpg","id":"SW1hZ2U6NDQ0NzQ3"},"seoKeywords":"","seoDescription":"Fünf Jahre nach ihrem letzten Studioalbum \"Battle Born\" bringen The Killers \"Wonderful Wonderful\" auf den Markt und veröffentlichten damit auf der Deluxe","hasSoundfiles":true},"cursor":"NDA5Nzc5KysrMjAxNy0wOS0yMg=="},{"node":{"id":"UHJvZHVjdDo0MDk0MTE=","idRaw":409411,"versionTitle":null,"__typename":"Product","isBackstage":false,"headline":"Run For Cover","artists":[{"color":"#73b5e0","urlAlias":"the-killers","screenname":"The Killers","image":{"imageUrlTemplate":"//images.universal-music.de/img/assets/444/444754/{ratio}/{width}/the-killers-2017.jpg","headline":"The Killers 2017","id":"SW1hZ2U6NDQ0NzU0"},"id":"QXJ0aXN0OjUyMTI0Mg=="}],"cover":{"headline":"Run For Cover","imageUrlTemplate":"//images.universal-music.de/img/assets/444/444695/{ratio}/{width}/run-for-cover.jpg","id":"SW1hZ2U6NDQ0Njk1"},"seoKeywords":null,"seoDescription":"Es ist ein Fußstampf-Track in epischer The Killers-Manier: \"Run For Cover\" ist nach \"The Man\" die zweite Auskopplung aus dem Album \"Wonderful Wonderful\", das","hasSoundfiles":true},"cursor":"NDA5NDExKysrMjAxNy0wNy0yOA=="},{"node":{"id":"UHJvZHVjdDozOTk4MDI=","idRaw":399802,"versionTitle":null,"__typename":"Product","isBackstage":false,"headline":"The Man","artists":[{"color":"#73b5e0","urlAlias":"the-killers","screenname":"The Killers","image":{"imageUrlTemplate":"//images.universal-music.de/img/assets/444/444754/{ratio}/{width}/the-killers-2017.jpg","headline":"The Killers 2017","id":"SW1hZ2U6NDQ0NzU0"},"id":"QXJ0aXN0OjUyMTI0Mg=="}],"cover":{"headline":"The Man","imageUrlTemplate":"//images.universal-music.de/img/assets/439/439566/{ratio}/{width}/the-man.jpg","id":"SW1hZ2U6NDM5NTY2"},"seoKeywords":null,"seoDescription":"The Killers veröffentlichen mit \"The Man\" das erste neue Material seit ihrem Album \"Battle Born\" im Jahr 2012. Es stammt aus ihrem fünften Studioalbum,","hasSoundfiles":true},"cursor":"Mzk5ODAyKysrMjAxNy0wNi0xNA=="},{"node":{"id":"UHJvZHVjdDozNjgzMDI=","idRaw":368302,"versionTitle":null,"__typename":"Product","isBackstage":false,"headline":"Don't Waste Your Wishes","artists":[{"color":"#73b5e0","urlAlias":"the-killers","screenname":"The Killers","image":{"imageUrlTemplate":"//images.universal-music.de/img/assets/444/444754/{ratio}/{width}/the-killers-2017.jpg","headline":"The Killers 2017","id":"SW1hZ2U6NDQ0NzU0"},"id":"QXJ0aXN0OjUyMTI0Mg=="}],"cover":{"headline":"Don't Waste Your Wishes","imageUrlTemplate":"//images.universal-music.de/img/assets/420/420183/{ratio}/{width}/dont-waste-your-wishes.jpg","id":"SW1hZ2U6NDIwMTgz"},"seoKeywords":null,"seoDescription":"Mit \"Don't Waste Your Wishes\" veröffentlichen The Killers ein ganz besonderes Weihnachts-Album: Die Platte umfasst die zehn Christmas Songs, die die Band","hasSoundfiles":true},"cursor":"MzY4MzAyKysrMjAxNi0xMS0xOA=="},{"node":{"id":"UHJvZHVjdDoxOTQ3MjM=","idRaw":194723,"versionTitle":null,"__typename":"Product","isBackstage":false,"headline":"Christmas in L.A. (Feat. Dawes)","artists":[{"color":"#73b5e0","urlAlias":"the-killers","screenname":"The Killers","image":{"imageUrlTemplate":"//images.universal-music.de/img/assets/444/444754/{ratio}/{width}/the-killers-2017.jpg","headline":"The Killers 2017","id":"SW1hZ2U6NDQ0NzU0"},"id":"QXJ0aXN0OjUyMTI0Mg=="},{"color":null,"urlAlias":"dawes","screenname":"Dawes","image":{"imageUrlTemplate":"//images.universal-music.de/img/assets/326/326046/{ratio}/{width}/dawes-2013.jpg","headline":"Dawes 2013","id":"SW1hZ2U6MzI2MDQ2"},"id":"QXJ0aXN0OjQwMjIzMg=="}],"cover":{"headline":"The Killers - Christmas in L.A.","imageUrlTemplate":"//images.universal-music.de/img/assets/333/333104/{ratio}/{width}/the-killers-christmas-in-la.jpg","id":"SW1hZ2U6MzMzMTA0"},"seoKeywords":null,"seoDescription":"The Killers präsentieren ihren Charity Song \"Christmas in L.A.\". Bei der neuen Single handelt es sich um den nunmehr achten Song, den The Killers für (RED)","hasSoundfiles":false},"cursor":"MTk0NzIzKysrMjAxMy0xMi0wMg=="},{"node":{"id":"UHJvZHVjdDoxOTM2NTM=","idRaw":193653,"versionTitle":"Limited Deluxe Edition","__typename":"Product","isBackstage":false,"headline":"Direct Hits","artists":[{"color":"#73b5e0","urlAlias":"the-killers","screenname":"The Killers","image":{"imageUrlTemplate":"//images.universal-music.de/img/assets/444/444754/{ratio}/{width}/the-killers-2017.jpg","headline":"The Killers 2017","id":"SW1hZ2U6NDQ0NzU0"},"id":"QXJ0aXN0OjUyMTI0Mg=="}],"cover":{"headline":"The Killers - Direct Hits","imageUrlTemplate":"//images.universal-music.de/img/assets/329/329872/{ratio}/{width}/the-killers-direct-hits.jpg","id":"SW1hZ2U6MzI5ODcy"},"seoKeywords":"","seoDescription":"The Killers präsentieren ihr erstes Best Of-Album \"Direct Hits\": Die neue Platte, die am 08. November 2013 erscheint, sammelt das Beste vom Besten aus vier Top","hasSoundfiles":true},"cursor":"MTkzNjUzKysrMjAxMy0xMS0wOA=="},{"node":{"id":"UHJvZHVjdDoxODMxNjA=","idRaw":183160,"versionTitle":null,"__typename":"Product","isBackstage":false,"headline":"Battle Born","artists":[{"color":"#73b5e0","urlAlias":"the-killers","screenname":"The Killers","image":{"imageUrlTemplate":"//images.universal-music.de/img/assets/444/444754/{ratio}/{width}/the-killers-2017.jpg","headline":"The Killers 2017","id":"SW1hZ2U6NDQ0NzU0"},"id":"QXJ0aXN0OjUyMTI0Mg=="}],"cover":{"headline":"Cover Battle Born","imageUrlTemplate":"//images.universal-music.de/img/assets/279/279359/{ratio}/{width}/cover-battle-born.jpg","id":"SW1hZ2U6Mjc5MzU5"},"seoKeywords":null,"seoDescription":"Vor knapp 150 Jahren, am 31. Oktober 1864, ging aus den Trümmern des amerikanischen Bürgerkriegs der US-Staat Nevada hervor. Die Gründung dieses neuen Staats","hasSoundfiles":true},"cursor":"MTgzMTYwKysrMjAxMi0wOS0xNA=="}],"pageInfo":{"hasNextPage":true,"hasPreviousPage":false}},"_productsZBJev":{"edges":[{"node":{"id":"UHJvZHVjdDo0MDk3Nzk=","idRaw":409779},"cursor":"NDA5Nzc5KysrMjAxNy0wOS0yMg=="}],"pageInfo":{"hasNextPage":true,"hasPreviousPage":false}}}}}}]
The Killers | News | Videopremiere: "I Feel It In My Bones" von The Killers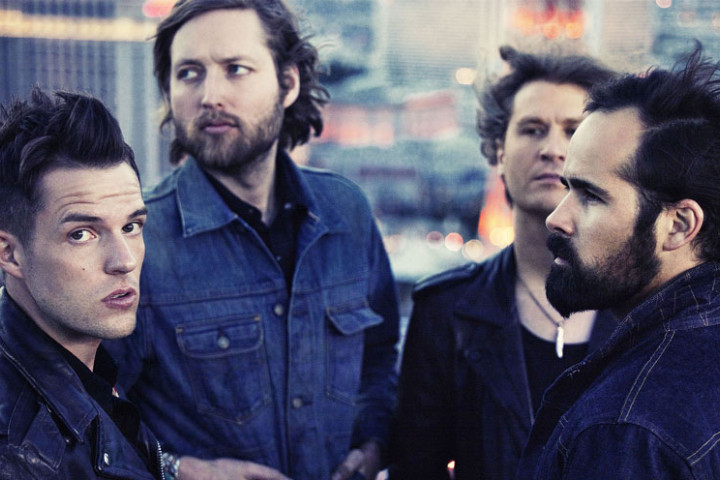 05.12.2012
Videopremiere: "I Feel It In My Bones" von The Killers
The Killers haben die Weihnachtszeit mit ihrer X–Mas Single "I Feel It In My Bones" eingeläutet. Ab heute gibt es bei uns auch das passende Video, in dem sich natürlich alles um die schönste Zeit des Jahres dreht.
Dabei geht es in dem neuen Clip alles andere als festlich zu. The Killers plagt ein böser Albtraum, in dem ein irrer Weihnachtsmann nicht mit Geschenken, sondern mit Schnaps bewaffnet, auf einem Rachefeldzug gegen die Band antritt.
The Killers haben zu Weihnachten allerdings auch Gutes im Sinn, denn der Erlös der Single geht an die AIDS–Hilfe der (RED) Stiftung. Bringt euch in Weihnachtsstimmung und seht euch hier das neue Video an.