\n

\n

\n
Slim Shady LP\n

Go back to when I first didn't give F's with the #SSLP Cassette Re-issue: http://shady.sr/SSLPBundleIf these are gone before you cop one, its not My Fault...

\nPosted by Eminem on Monday, 7 March 2016
\n

\n

\n


Das Tape, auf dem sich Hits wie \"My Name Is\" oder \"Role Model\" finden, ist lila. Auf der Hülle prangt ein 3D-Wackelbild. Für einen Gesamtpreis von 40 US-Dollar plus Versandkosten erhaltet ihr außerdem ein cooles T-Shirt mit einem ikonischen \"Slim Shady\"-Aufdruck. Da es sich um eine stark limitierte Auflage handelt, solltet ihr schnell zuschlagen und euch die Kassette für eure Sammlung bestellen.

\n\n

\n

\n
\n

#SSLP Cassette re-issue coming soon shady.sr/SSLP

\nPosted by Eminem on Friday, 4 March 2016
\n

\n

\n


>>> Eminem \"The Slim Shady LP\" Kassette + T-Shirt

\n

Eminem präsentiert sein 1999 erschienenes zweites Studio-Album \"The Slim Shady LP\" noch einmal - auf Kassette. Erfahrt hier alles über die Wiederveröffentlichung des Rap-Klassikers.

","teaserImage":{"imageUrlTemplate":"//images.universal-music.de/img/assets/260/260236/{ratio}/{width}/2011-2.jpg","id":"SW1hZ2U6MjYwMjM2"},"images":[{"imageUrlTemplate":"//images.universal-music.de/img/assets/260/260236/{ratio}/{width}/2011-2.jpg","headline":"2011 2","id":"SW1hZ2U6MjYwMjM2"}],"artists":[{"idRaw":443379,"image":{"imageUrlTemplate":"//images.universal-music.de/img/assets/410/410297/{ratio}/{width}/eminem-2011.jpg","headline":"Eminem 2011","id":"SW1hZ2U6NDEwMjk3"},"id":"QXJ0aXN0OjQ0MzM3OQ==","color":"#c80003","urlAlias":"eminem","screenname":"Eminem"}],"date":"2016-03-08 15:40:00","__typename":"Article","idRaw":237984,"createdDate":"2016-03-08 11:16:22","modifiedDate":"2016-03-08 15:41:00","seoKeywords":"Eminem, The Slim Shady LP, Kassette, Tape, Re-Release, Wiederveröffentlichung, Tape, Jubiläum, 1999, My Name Is, Marshall Mathers, Album, Single, Song, Video, 2016","seoDescription":"Eminem präsentiert sein 1999 erschienenes zweites Studio-Album \"The Slim Shady LP\" noch einmal - auf Kassette. Erfahrt hier alles über die Wiederveröffentlichung des Rap-Klassikers.","copyright":"","links":[]},"_artist1CzD8d":{"idRaw":443379,"id":"QXJ0aXN0OjQ0MzM3OQ==","_products4cM781":{"edges":[{"node":{"id":"UHJvZHVjdDozMTA1MDE=","idRaw":310501,"versionTitle":null,"__typename":"Product","isBackstage":false,"headline":"Southpaw (Music from and Inspired By the Motion Picture)","artists":[{"color":null,"urlAlias":"southpaw-soundtrack","screenname":"Southpaw Soundtrack","image":{"imageUrlTemplate":"//images.universal-music.de/img/assets/368/368841/{ratio}/{width}/southpaw-soundtrack.jpg","headline":"Southpaw Soundtrack","id":"SW1hZ2U6MzY4ODQx"},"id":"QXJ0aXN0Ojg1NjQ3Mw=="},{"color":"","urlAlias":"various-artists","screenname":"Various Artists","image":null,"id":"QXJ0aXN0OjM5Mzc3Mg=="},{"color":"#c80003","urlAlias":"eminem","screenname":"Eminem","image":{"imageUrlTemplate":"//images.universal-music.de/img/assets/410/410297/{ratio}/{width}/eminem-2011.jpg","headline":"Eminem 2011","id":"SW1hZ2U6NDEwMjk3"},"id":"QXJ0aXN0OjQ0MzM3OQ=="}],"cover":{"headline":"OST Southpaw Cover","imageUrlTemplate":"//images.universal-music.de/img/assets/369/369910/{ratio}/{width}/ost-southpaw-cover.jpg","id":"SW1hZ2U6MzY5OTEw"},"seoKeywords":"","seoDescription":"Parallel zum US-amerikanischen Kinostart des Boxer-Epos \"Southpaw\", erscheint auch der Soundtrack zum Film. Das von Eminem und Shady Records produzierte","hasSoundfiles":true},"cursor":"MzEwNTAxKysrMjAxNS0wNy0yNA=="},{"node":{"id":"UHJvZHVjdDozMDY0MDQ=","idRaw":306404,"versionTitle":"","__typename":"Product","isBackstage":false,"headline":"Phenomenal","artists":[{"color":"#c80003","urlAlias":"eminem","screenname":"Eminem","image":{"imageUrlTemplate":"//images.universal-music.de/img/assets/410/410297/{ratio}/{width}/eminem-2011.jpg","headline":"Eminem 2011","id":"SW1hZ2U6NDEwMjk3"},"id":"QXJ0aXN0OjQ0MzM3OQ=="}],"cover":{"headline":"Eminem Phenomenal","imageUrlTemplate":"//images.universal-music.de/img/assets/368/368754/{ratio}/{width}/eminem-phenomenal.jpg","id":"SW1hZ2U6MzY4NzU0"},"seoKeywords":null,"seoDescription":"\"Phenomenal\" von Eminem ist die erste Single aus dem Soundtrack zum Kinofilm \"Southpaw\" (2015). Für den Soundtrack übernahm Marshall Mathers die Rolle des","hasSoundfiles":false},"cursor":"MzA2NDA0KysrMjAxNS0wNi0wMg=="},{"node":{"id":"UHJvZHVjdDoyMjU1MDE=","idRaw":225501,"versionTitle":null,"__typename":"Product","isBackstage":false,"headline":"SHADYXV","artists":[{"color":"#c80003","urlAlias":"eminem","screenname":"Eminem","image":{"imageUrlTemplate":"//images.universal-music.de/img/assets/410/410297/{ratio}/{width}/eminem-2011.jpg","headline":"Eminem 2011","id":"SW1hZ2U6NDEwMjk3"},"id":"QXJ0aXN0OjQ0MzM3OQ=="},{"color":"","urlAlias":"various-artists","screenname":"Various Artists","image":null,"id":"QXJ0aXN0OjM5Mzc3Mg=="}],"cover":{"headline":"ShadyXV","imageUrlTemplate":"//images.universal-music.de/img/assets/352/352317/{ratio}/{width}/shadyxv.jpg","id":"SW1hZ2U6MzUyMzE3"},"seoKeywords":null,"seoDescription":"Diese Compilation hat es in sich: Freut euch auf neun mal Eminem, weitere sechs Mal Yelawolf, auf ein fünffaches Gastspiel von 50 Cent und ein dreifaches von","hasSoundfiles":true},"cursor":"MjI1NTAxKysrMjAxNC0xMS0yNA=="},{"node":{"id":"UHJvZHVjdDoyMTg4OTc=","idRaw":218897,"versionTitle":"eSingle","__typename":"Product","isBackstage":false,"headline":"Guts Over Fear","artists":[{"color":"#c80003","urlAlias":"eminem","screenname":"Eminem","image":{"imageUrlTemplate":"//images.universal-music.de/img/assets/410/410297/{ratio}/{width}/eminem-2011.jpg","headline":"Eminem 2011","id":"SW1hZ2U6NDEwMjk3"},"id":"QXJ0aXN0OjQ0MzM3OQ=="},{"color":"","urlAlias":"sia","screenname":"Sia","image":{"imageUrlTemplate":"//images.universal-music.de/img/assets/286/286649/{ratio}/{width}/sia.jpg","headline":"Sia","id":"SW1hZ2U6Mjg2NjQ5"},"id":"QXJ0aXN0OjQ4NDc4Mw=="}],"cover":{"headline":"eminem Sia guts over fear","imageUrlTemplate":"//images.universal-music.de/img/assets/348/348572/{ratio}/{width}/eminem-sia-guts-over-fear.jpg","id":"SW1hZ2U6MzQ4NTcy"},"seoKeywords":"","seoDescription":"Eminem präsentiert seinen Song \"Guts Over Fear\" featuring Sia. Der Track unter anderem der Titelsong des Films \"The Equalizer\" mit Denzel Washington.","hasSoundfiles":true},"cursor":"MjE4ODk3KysrMjAxNC0wOC0yNA=="},{"node":{"id":"UHJvZHVjdDoxOTQzMDc=","idRaw":194307,"versionTitle":"","__typename":"Product","isBackstage":false,"headline":"The Monster","artists":[{"color":"#c80003","urlAlias":"eminem","screenname":"Eminem","image":{"imageUrlTemplate":"//images.universal-music.de/img/assets/410/410297/{ratio}/{width}/eminem-2011.jpg","headline":"Eminem 2011","id":"SW1hZ2U6NDEwMjk3"},"id":"QXJ0aXN0OjQ0MzM3OQ=="},{"color":"#e32026","urlAlias":"rihanna","screenname":"Rihanna","image":{"imageUrlTemplate":"//images.universal-music.de/img/assets/449/449987/{ratio}/{width}/rihanna-2016.jpg","headline":"Rihanna 2016","id":"SW1hZ2U6NDQ5OTg3"},"id":"QXJ0aXN0OjUyNTMzOA=="}],"cover":{"headline":"Eminem feat Rihanna The Monster","imageUrlTemplate":"//images.universal-music.de/img/assets/336/336204/{ratio}/{width}/eminem-feat-rihanna-the-monster.jpg","id":"SW1hZ2U6MzM2MjA0"},"seoKeywords":null,"seoDescription":"Eminem und Rihanna - das steht seit \"Love The Way You Lie\" für eine unfassbare Kombination. Auch auf dieser Single trifft Rihannas Sexyness auf Ems tighte","hasSoundfiles":true},"cursor":"MTk0MzA3KysrMjAxMy0xMS0xOA=="},{"node":{"id":"UHJvZHVjdDoxOTM4NDA=","idRaw":193840,"versionTitle":"Deluxe Edition","__typename":"Product","isBackstage":false,"headline":"The Marshall Mathers LP 2","artists":[{"color":"#c80003","urlAlias":"eminem","screenname":"Eminem","image":{"imageUrlTemplate":"//images.universal-music.de/img/assets/410/410297/{ratio}/{width}/eminem-2011.jpg","headline":"Eminem 2011","id":"SW1hZ2U6NDEwMjk3"},"id":"QXJ0aXN0OjQ0MzM3OQ=="}],"cover":{"headline":"MMLP 2 Cover Groß","imageUrlTemplate":"//images.universal-music.de/img/assets/330/330863/{ratio}/{width}/mmlp-2-cover-gross.jpg","id":"SW1hZ2U6MzMwODYz"},"seoKeywords":"","seoDescription":"Eminem meldet sich zurück und setzt eine Hommage an seinen musikalischen Anfänge: \"The Marshall Mathers LP 2\" (MMLP2) erinnert nicht nur vom Artwork sondern","hasSoundfiles":true},"cursor":"MTkzODQwKysrMjAxMy0xMS0wNQ=="},{"node":{"id":"UHJvZHVjdDoxOTMyNjk=","idRaw":193269,"versionTitle":"","__typename":"Product","isBackstage":false,"headline":"Berzerk","artists":[{"color":"#c80003","urlAlias":"eminem","screenname":"Eminem","image":{"imageUrlTemplate":"//images.universal-music.de/img/assets/410/410297/{ratio}/{width}/eminem-2011.jpg","headline":"Eminem 2011","id":"SW1hZ2U6NDEwMjk3"},"id":"QXJ0aXN0OjQ0MzM3OQ=="}],"cover":{"headline":"Eminem: Berzerk","imageUrlTemplate":"//images.universal-music.de/img/assets/327/327539/{ratio}/{width}/eminem-berzerk.jpg","id":"SW1hZ2U6MzI3NTM5"},"seoKeywords":null,"seoDescription":"Mit einer Zusammenarbeit mit Über-Producer Rick Rubin meldet sich Eminem zurück: Die neue Single \"Berzerk\" ist der Vorgeschmack auf sein Album \"The Marshall","hasSoundfiles":false},"cursor":"MTkzMjY5KysrMjAxMy0wOC0yNw=="}],"pageInfo":{"hasNextPage":true,"hasPreviousPage":false}},"_productsZBJev":{"edges":[{"node":{"id":"UHJvZHVjdDozMTA1MDE=","idRaw":310501},"cursor":"MzEwNTAxKysrMjAxNS0wNy0yNA=="}],"pageInfo":{"hasNextPage":true,"hasPreviousPage":false}}}}}},{"query":{"calls":[{"kind":"Call","name":"channel","metadata":{"type":"Int!"},"value":{"kind":"CallValue","callValue":10000}}],"children":[{"children":[{"calls":[{"kind":"Call","name":"urlAlias","metadata":{"type":null},"value":{"kind":"CallValue","callValue":"eminem"}}],"children":[{"calls":[],"children":[],"fieldName":"urlAlias","kind":"Field","metadata":{},"type":"String"},{"calls":[],"children":[],"fieldName":"screenname","kind":"Field","metadata":{},"type":"String"},{"calls":[],"children":[],"fieldName":"color","kind":"Field","metadata":{},"type":"String"},{"calls":[],"children":[],"fieldName":"themeType","kind":"Field","metadata":{},"type":"String"},{"calls":[],"children":[{"calls":[],"children":[],"fieldName":"name","kind":"Field","metadata":{},"type":"String"},{"calls":[],"children":[],"fieldName":"id","kind":"Field","metadata":{"isGenerated":true,"isRequisite":true},"type":"ID"}],"fieldName":"divisions","kind":"Field","metadata":{"canHaveSubselections":true,"isPlural":true},"type":"Division"},{"calls":[],"children":[{"calls":[],"children":[{"calls":[],"children":[],"fieldName":"name","kind":"Field","metadata":{},"type":"String"},{"calls":[],"children":[],"fieldName":"id","kind":"Field","metadata":{"isGenerated":true,"isRequisite":true},"type":"ID"}],"fieldName":"parentCategory","kind":"Field","metadata":{"canHaveSubselections":true},"type":"Category"},{"calls":[],"children":[],"fieldName":"id","kind":"Field","metadata":{"isGenerated":true,"isRequisite":true},"type":"ID"}],"fieldName":"subgenres","kind":"Field","metadata":{"canHaveSubselections":true,"isPlural":true},"type":"Category"},{"calls":[],"children":[],"fieldName":"id","kind":"Field","metadata":{"isGenerated":true,"isRequisite":true},"type":"ID"},{"children":[{"calls":[],"children":[],"fieldName":"screenname","kind":"Field","metadata":{},"type":"String"},{"calls":[],"children":[{"calls":[],"children":[],"fieldName":"type","kind":"Field","metadata":{},"type":"ExternalReferenceType"},{"calls":[],"children":[],"fieldName":"value","kind":"Field","metadata":{},"type":"String"},{"calls":[],"children":[],"fieldName":"id","kind":"Field","metadata":{"isGenerated":true,"isRequisite":true},"type":"ID"}],"fieldName":"externalReferences","kind":"Field","metadata":{"canHaveSubselections":true,"isPlural":true},"type":"ExternalReference"},{"calls":[],"children":[],"fieldName":"id","kind":"Field","metadata":{"isGenerated":true,"isRequisite":true},"type":"ID"},{"children":[{"calls":[],"children":[],"fieldName":"urlAlias","kind":"Field","metadata":{},"type":"String"},{"calls":[],"children":[],"fieldName":"themeType","kind":"Field","metadata":{},"type":"String"},{"alias":"news","calls":[{"kind":"Call","name":"first","metadata":{"type":"Int"},"value":{"kind":"CallValue","callValue":1}},{"kind":"Call","name":"type","metadata":{"type":"ArticleType"},"value":{"kind":"CallValue","callValue":"NEUIGKEIT"}}],"children":[{"calls":[],"children":[{"calls":[],"children":[{"calls":[],"children":[],"fieldName":"id","kind":"Field","metadata":{"isRequisite":true},"type":"ID"}],"fieldName":"node","kind":"Field","metadata":{"canHaveSubselections":true,"isRequisite":true},"type":"Article"},{"calls":[],"children":[],"fieldName":"cursor","kind":"Field","metadata":{"isGenerated":true,"isRequisite":true},"type":"String"}],"fieldName":"edges","kind":"Field","metadata":{"canHaveSubselections":true,"isPlural":true},"type":"ArticleEdge"},{"calls":[],"children":[{"calls":[],"children":[],"fieldName":"hasNextPage","kind":"Field","metadata":{"isGenerated":true,"isRequisite":true},"type":"Boolean"},{"calls":[],"children":[],"fieldName":"hasPreviousPage","kind":"Field","metadata":{"isGenerated":true,"isRequisite":true},"type":"Boolean"}],"fieldName":"pageInfo","kind":"Field","metadata":{"canHaveSubselections":true,"isGenerated":true,"isRequisite":true},"type":"PageInfo"}],"fieldName":"articles","kind":"Field","metadata":{"canHaveSubselections":true,"isConnection":true},"type":"ArticleConnection"},{"alias":"music","calls":[{"kind":"Call","name":"first","metadata":{"type":"Int"},"value":{"kind":"CallValue","callValue":1}}],"children":[{"calls":[],"children":[{"calls":[],"children":[{"calls":[],"children":[],"fieldName":"id","kind":"Field","metadata":{"isRequisite":true},"type":"ID"}],"fieldName":"node","kind":"Field","metadata":{"canHaveSubselections":true,"isRequisite":true},"type":"Product"},{"calls":[],"children":[],"fieldName":"cursor","kind":"Field","metadata":{"isGenerated":true,"isRequisite":true},"type":"String"}],"fieldName":"edges","kind":"Field","metadata":{"canHaveSubselections":true,"isPlural":true},"type":"ProductEdge"},{"calls":[],"children":[{"calls":[],"children":[],"fieldName":"hasNextPage","kind":"Field","metadata":{"isGenerated":true,"isRequisite":true},"type":"Boolean"},{"calls":[],"children":[],"fieldName":"hasPreviousPage","kind":"Field","metadata":{"isGenerated":true,"isRequisite":true},"type":"Boolean"}],"fieldName":"pageInfo","kind":"Field","metadata":{"canHaveSubselections":true,"isGenerated":true,"isRequisite":true},"type":"PageInfo"}],"fieldName":"products","kind":"Field","metadata":{"canHaveSubselections":true,"isConnection":true},"type":"ProductConnection"},{"calls":[{"kind":"Call","name":"first","metadata":{"type":"Int"},"value":{"kind":"CallValue","callValue":1}}],"children":[{"calls":[],"children":[{"calls":[],"children":[{"calls":[],"children":[],"fieldName":"id","kind":"Field","metadata":{"isRequisite":true},"type":"ID"}],"fieldName":"node","kind":"Field","metadata":{"canHaveSubselections":true,"isRequisite":true},"type":"Video"},{"calls":[],"children":[],"fieldName":"cursor","kind":"Field","metadata":{"isGenerated":true,"isRequisite":true},"type":"String"}],"fieldName":"edges","kind":"Field","metadata":{"canHaveSubselections":true,"isPlural":true},"type":"VideoEdge"},{"calls":[],"children":[{"calls":[],"children":[],"fieldName":"hasNextPage","kind":"Field","metadata":{"isGenerated":true,"isRequisite":true},"type":"Boolean"},{"calls":[],"children":[],"fieldName":"hasPreviousPage","kind":"Field","metadata":{"isGenerated":true,"isRequisite":true},"type":"Boolean"}],"fieldName":"pageInfo","kind":"Field","metadata":{"canHaveSubselections":true,"isGenerated":true,"isRequisite":true},"type":"PageInfo"}],"fieldName":"videos","kind":"Field","metadata":{"canHaveSubselections":true,"isConnection":true},"type":"VideoConnection"},{"calls":[{"kind":"Call","name":"first","metadata":{"type":"Int"},"value":{"kind":"CallValue","callValue":1}},{"kind":"Call","name":"dateFrom","metadata":{"type":null},"value":{"kind":"CallValue","callValue":"now"}},{"kind":"Call","name":"onlyGsaCountries","metadata":{"type":null},"value":{"kind":"CallValue","callValue":true}}],"children":[{"calls":[],"children":[{"calls":[],"children":[{"calls":[],"children":[],"fieldName":"id","kind":"Field","metadata":{"isRequisite":true},"type":"ID"}],"fieldName":"node","kind":"Field","metadata":{"canHaveSubselections":true,"isRequisite":true},"type":"LiveEvent"},{"calls":[],"children":[],"fieldName":"cursor","kind":"Field","metadata":{"isGenerated":true,"isRequisite":true},"type":"String"}],"fieldName":"edges","kind":"Field","metadata":{"canHaveSubselections":true,"isPlural":true},"type":"LiveEventEdge"},{"calls":[],"children":[{"calls":[],"children":[],"fieldName":"hasNextPage","kind":"Field","metadata":{"isGenerated":true,"isRequisite":true},"type":"Boolean"},{"calls":[],"children":[],"fieldName":"hasPreviousPage","kind":"Field","metadata":{"isGenerated":true,"isRequisite":true},"type":"Boolean"}],"fieldName":"pageInfo","kind":"Field","metadata":{"canHaveSubselections":true,"isGenerated":true,"isRequisite":true},"type":"PageInfo"}],"fieldName":"liveEvents","kind":"Field","metadata":{"canHaveSubselections":true,"isConnection":true},"type":"LiveEventConnection"},{"calls":[{"kind":"Call","name":"first","metadata":{"type":"Int"},"value":{"kind":"CallValue","callValue":1}},{"kind":"Call","name":"dateFrom","metadata":{"type":null},"value":{"kind":"CallValue","callValue":"now"}}],"children":[{"calls":[],"children":[{"calls":[],"children":[{"calls":[],"children":[],"fieldName":"id","kind":"Field","metadata":{"isRequisite":true},"type":"ID"}],"fieldName":"node","kind":"Field","metadata":{"canHaveSubselections":true,"isRequisite":true},"type":"MediaEvent"},{"calls":[],"children":[],"fieldName":"cursor","kind":"Field","metadata":{"isGenerated":true,"isRequisite":true},"type":"String"}],"fieldName":"edges","kind":"Field","metadata":{"canHaveSubselections":true,"isPlural":true},"type":"MediaEventEdge"},{"calls":[],"children":[{"calls":[],"children":[],"fieldName":"hasNextPage","kind":"Field","metadata":{"isGenerated":true,"isRequisite":true},"type":"Boolean"},{"calls":[],"children":[],"fieldName":"hasPreviousPage","kind":"Field","metadata":{"isGenerated":true,"isRequisite":true},"type":"Boolean"}],"fieldName":"pageInfo","kind":"Field","metadata":{"canHaveSubselections":true,"isGenerated":true,"isRequisite":true},"type":"PageInfo"}],"fieldName":"mediaEvents","kind":"Field","metadata":{"canHaveSubselections":true,"isConnection":true},"type":"MediaEventConnection"},{"calls":[{"kind":"Call","name":"first","metadata":{"type":"Int"},"value":{"kind":"CallValue","callValue":1}}],"children":[{"calls":[],"children":[{"calls":[],"children":[{"calls":[],"children":[],"fieldName":"id","kind":"Field","metadata":{"isRequisite":true},"type":"ID"},{"calls":[],"children":[{"calls":[],"children":[],"fieldName":"id","kind":"Field","metadata":{"isRequisite":true},"type":"ID"}],"fieldName":"image","kind":"Field","metadata":{"canHaveSubselections":true},"type":"Image"}],"fieldName":"node","kind":"Field","metadata":{"canHaveSubselections":true,"isRequisite":true},"type":"Collection"},{"calls":[],"children":[],"fieldName":"cursor","kind":"Field","metadata":{"isGenerated":true,"isRequisite":true},"type":"String"}],"fieldName":"edges","kind":"Field","metadata":{"canHaveSubselections":true,"isPlural":true},"type":"CollectionEdge"},{"calls":[],"children":[{"calls":[],"children":[],"fieldName":"hasNextPage","kind":"Field","metadata":{"isGenerated":true,"isRequisite":true},"type":"Boolean"},{"calls":[],"children":[],"fieldName":"hasPreviousPage","kind":"Field","metadata":{"isGenerated":true,"isRequisite":true},"type":"Boolean"}],"fieldName":"pageInfo","kind":"Field","metadata":{"canHaveSubselections":true,"isGenerated":true,"isRequisite":true},"type":"PageInfo"}],"fieldName":"imageCollections","kind":"Field","metadata":{"canHaveSubselections":true,"isConnection":true},"type":"CollectionConnection"},{"alias":"biography","calls":[{"kind":"Call","name":"first","metadata":{"type":"Int"},"value":{"kind":"CallValue","callValue":1}},{"kind":"Call","name":"type","metadata":{"type":"ArticleType"},"value":{"kind":"CallValue","callValue":"BIOGRAFIE"}}],"children":[{"calls":[],"children":[{"calls":[],"children":[{"calls":[],"children":[],"fieldName":"id","kind":"Field","metadata":{"isRequisite":true},"type":"ID"}],"fieldName":"node","kind":"Field","metadata":{"canHaveSubselections":true,"isRequisite":true},"type":"Article"},{"calls":[],"children":[],"fieldName":"cursor","kind":"Field","metadata":{"isGenerated":true,"isRequisite":true},"type":"String"}],"fieldName":"edges","kind":"Field","metadata":{"canHaveSubselections":true,"isPlural":true},"type":"ArticleEdge"},{"calls":[],"children":[{"calls":[],"children":[],"fieldName":"hasNextPage","kind":"Field","metadata":{"isGenerated":true,"isRequisite":true},"type":"Boolean"},{"calls":[],"children":[],"fieldName":"hasPreviousPage","kind":"Field","metadata":{"isGenerated":true,"isRequisite":true},"type":"Boolean"}],"fieldName":"pageInfo","kind":"Field","metadata":{"canHaveSubselections":true,"isGenerated":true,"isRequisite":true},"type":"PageInfo"}],"fieldName":"articles","kind":"Field","metadata":{"canHaveSubselections":true,"isConnection":true},"type":"ArticleConnection"},{"calls":[{"kind":"Call","name":"first","metadata":{"type":"Int"},"value":{"kind":"CallValue","callValue":2}}],"children":[{"calls":[],"children":[{"calls":[],"children":[{"calls":[],"children":[],"fieldName":"idRaw","kind":"Field","metadata":{},"type":"Int"},{"calls":[],"children":[],"fieldName":"headline","kind":"Field","metadata":{},"type":"String"},{"calls":[],"children":[],"fieldName":"id","kind":"Field","metadata":{"isGenerated":true,"isRequisite":true},"type":"ID"}],"fieldName":"node","kind":"Field","metadata":{"canHaveSubselections":true,"isRequisite":true},"type":"Action"},{"calls":[],"children":[],"fieldName":"cursor","kind":"Field","metadata":{"isGenerated":true,"isRequisite":true},"type":"String"}],"fieldName":"edges","kind":"Field","metadata":{"canHaveSubselections":true,"isPlural":true},"type":"ActionEdge"},{"calls":[],"children":[{"calls":[],"children":[],"fieldName":"hasNextPage","kind":"Field","metadata":{"isGenerated":true,"isRequisite":true},"type":"Boolean"},{"calls":[],"children":[],"fieldName":"hasPreviousPage","kind":"Field","metadata":{"isGenerated":true,"isRequisite":true},"type":"Boolean"}],"fieldName":"pageInfo","kind":"Field","metadata":{"canHaveSubselections":true,"isGenerated":true,"isRequisite":true},"type":"PageInfo"}],"fieldName":"actions","kind":"Field","metadata":{"canHaveSubselections":true,"isConnection":true},"type":"ActionConnection"},{"alias":"merch","calls":[{"kind":"Call","name":"first","metadata":{"type":"Int"},"value":{"kind":"CallValue","callValue":1}},{"kind":"Call","name":"group","metadata":{"type":"[ProductGroup]"},"value":[{"kind":"CallValue","callValue":"MERCH"}]}],"children":[{"calls":[],"children":[{"calls":[],"children":[{"calls":[],"children":[],"fieldName":"id","kind":"Field","metadata":{"isRequisite":true},"type":"ID"}],"fieldName":"node","kind":"Field","metadata":{"canHaveSubselections":true,"isRequisite":true},"type":"Product"},{"calls":[],"children":[],"fieldName":"cursor","kind":"Field","metadata":{"isGenerated":true,"isRequisite":true},"type":"String"}],"fieldName":"edges","kind":"Field","metadata":{"canHaveSubselections":true,"isPlural":true},"type":"ProductEdge"},{"calls":[],"children":[{"calls":[],"children":[],"fieldName":"hasNextPage","kind":"Field","metadata":{"isGenerated":true,"isRequisite":true},"type":"Boolean"},{"calls":[],"children":[],"fieldName":"hasPreviousPage","kind":"Field","metadata":{"isGenerated":true,"isRequisite":true},"type":"Boolean"}],"fieldName":"pageInfo","kind":"Field","metadata":{"canHaveSubselections":true,"isGenerated":true,"isRequisite":true},"type":"PageInfo"}],"fieldName":"products","kind":"Field","metadata":{"canHaveSubselections":true,"isConnection":true},"type":"ProductConnection"},{"calls":[],"children":[],"fieldName":"id","kind":"Field","metadata":{"isGenerated":true,"isRequisite":true},"type":"ID"},{"children":[{"calls":[],"children":[],"fieldName":"screenname","kind":"Field","metadata":{},"type":"String"},{"calls":[],"children":[],"fieldName":"urlAlias","kind":"Field","metadata":{},"type":"String"},{"calls":[],"children":[],"fieldName":"id","kind":"Field","metadata":{"isGenerated":true,"isRequisite":true},"type":"ID"}],"id":"40P::client","kind":"Fragment","metadata":{"isAbstract":false,"plural":false},"name":"Index_ArtistRelayQL","type":"Artist"}],"id":"40Q::client","kind":"Fragment","metadata":{"isAbstract":false,"plural":false},"name":"ArtistNavBar_ArtistRelayQL","type":"Artist"}],"id":"40R::client","kind":"Fragment","metadata":{"isAbstract":false,"plural":false},"name":"ArtistHeader_ArtistRelayQL","type":"Artist"},{"children":[{"calls":[],"children":[],"fieldName":"id","kind":"Field","metadata":{"isGenerated":true,"isRequisite":true},"type":"ID"},{"children":[{"calls":[],"children":[],"fieldName":"id","kind":"Field","metadata":{"isRequisite":true},"type":"ID"},{"calls":[],"children":[],"fieldName":"screenname","kind":"Field","metadata":{},"type":"String"},{"children":[{"calls":[],"children":[],"fieldName":"id","kind":"Field","metadata":{"isRequisite":true},"type":"ID"},{"calls":[],"children":[],"fieldName":"idRaw","kind":"Field","metadata":{},"type":"Int"}],"id":"40S::client","kind":"Fragment","metadata":{"isAbstract":false,"plural":false},"name":"LikeUnlikeMutation_ArtistRelayQL","type":"Artist"}],"id":"40T::client","kind":"Fragment","metadata":{"isAbstract":false,"plural":false},"name":"LikeableArtistContainer_ArtistRelayQL","type":"Artist"}],"id":"40U::client","kind":"Fragment","metadata":{"isAbstract":false,"plural":false},"name":"AutoLikeArtist_ArtistRelayQL","type":"Artist"}],"fieldName":"artist","kind":"Field","metadata":{"canHaveSubselections":true},"type":"Artist"}],"id":"40V::client","kind":"Fragment","metadata":{"isAbstract":false,"plural":false},"name":"ArtistWrapper_ApiRelayQL","type":"UniversalMusic"}],"directives":[],"fieldName":"universalMusic","isDeferred":false,"kind":"Query","metadata":{"identifyingArgName":"channel","identifyingArgType":"Int!","isAbstract":false,"isPlural":false},"name":"Api","type":"UniversalMusic"},"response":{"universalMusic":{"_artist1CzD8d":{"urlAlias":"eminem","screenname":"Eminem","color":"#c80003","themeType":"contributor","divisions":[{"name":"Universal Music International","id":"RGl2aXNpb246Mw=="}],"subgenres":[{"parentCategory":{"name":"URBAN","id":"Q2F0ZWdvcnk6MTM1OQ=="},"id":"Q2F0ZWdvcnk6MTM2MA=="}],"id":"QXJ0aXN0OjQ0MzM3OQ==","externalReferences":[{"type":"COREMAILER_NWLT_LISTE","value":"eminem","id":"RXh0ZXJuYWxSZWZlcmVuY2U6MjkyOTY="},{"type":"TWITTER","value":"Eminem","id":"RXh0ZXJuYWxSZWZlcmVuY2U6MzI4NTY="},{"type":"UMUSIC","value":"Eminem","id":"RXh0ZXJuYWxSZWZlcmVuY2U6MzI5MTc="},{"type":"FACEBOOK","value":"222208194472849","id":"RXh0ZXJuYWxSZWZlcmVuY2U6NDM0NDA="},{"type":"GOOGLE_PLUS_PUBLISHER_ID","value":"107657203217841076006","id":"RXh0ZXJuYWxSZWZlcmVuY2U6NDY3OTM="}],"_articles2XqS9l":{"edges":[{"node":{"id":"QXJ0aWNsZToyNDUzOTI="},"cursor":"MjQ1MzkyKysrMjAxNy0xMC0xNlQxNDoxMDowMA=="}],"pageInfo":{"hasNextPage":true,"hasPreviousPage":false}},"_products2PRCo":{"edges":[{"node":{"id":"UHJvZHVjdDozMTA1MDE="},"cursor":"MzEwNTAxKysrMjAxNS0wNy0yNA=="}],"pageInfo":{"hasNextPage":true,"hasPreviousPage":false}},"_videos2Tn6C2":{"edges":[{"node":{"id":"VmlkZW86MzY4ODIw"},"cursor":"MzY4ODIwKysrMjAxNS0wNy0xMFQxMjowNTowMA=="}],"pageInfo":{"hasNextPage":true,"hasPreviousPage":false}},"_liveEvents2n1GpM":{"edges":[],"pageInfo":{"hasNextPage":false,"hasPreviousPage":false}},"_mediaEvents1TyUCF":{"edges":[],"pageInfo":{"hasNextPage":false,"hasPreviousPage":false}},"_imageCollections3eCGj7":{"edges":[{"node":{"id":"Q29sbGVjdGlvbjozNDMxOQ==","image":null},"cursor":"MzQzMTkrKysyMDE0LTExLTI3VDE1OjMxOjQz"}],"pageInfo":{"hasNextPage":true,"hasPreviousPage":false}},"_articlesAy9tt":{"edges":[{"node":{"id":"QXJ0aWNsZToyMzE5MDA="},"cursor":"MjMxOTAwKysrMjAxNS0wMS0yN1QxMDoxOTowMA=="}],"pageInfo":{"hasNextPage":true,"hasPreviousPage":false}},"_actions3OWk1f":{"edges":[{"node":{"idRaw":3041,"headline":"Gewinnspiel: Eminem hat Geburtstag - ihr bekommt die Geschenke","id":"QWN0aW9uOjMwNDE="},"cursor":"MzA0MSsrKzIwMTctMTAtMzA="}],"pageInfo":{"hasNextPage":false,"hasPreviousPage":false}},"_productsdx8Oq":{"edges":[],"pageInfo":{"hasNextPage":false,"hasPreviousPage":false}},"idRaw":443379}}}}]
Eminem | News | Limitierte Neuauflage: Eminem veröffentlicht "The Slim Shady LP" auf Kassette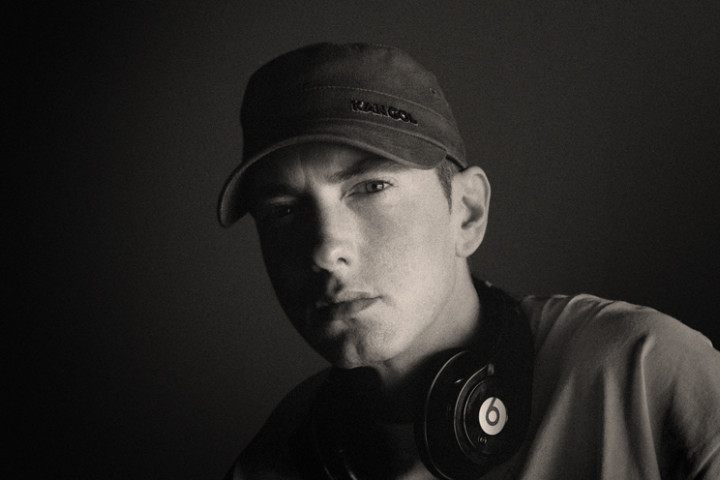 08.03.2016
Limitierte Neuauflage: Eminem veröffentlicht "The Slim Shady LP" auf Kassette
Vor 17 Jahren
veröffentlichte
Eminem
sein bahnbrechendes
zweites Studio-Album
"
The Slim Shady LP
". Die Platte verwandelte den damals noch relativ unbekannten Rapper über Nacht in einen Mega-Star und wurde mit einem
Grammy Award
als
Bestes Rap-Album
ausgezeichnet. Für alle Fans und Nostalgiker gibt es nun eine ganz besondere Wiederveröffentlichung des HipHop-Klassikers: "The Slim Shady LP" als
Kassette
.
Slim Shady LP
Go back to when I first didn't give F's with the #SSLP Cassette Re-issue: http://shady.sr/SSLPBundleIf these are gone before you cop one, its not My Fault…
Posted by
Eminem
on Monday, 7 March 2016
Das Tape, auf dem sich Hits wie "
My Name Is
" oder "
Role Model
" finden, ist lila. Auf der Hülle prangt ein
3D–Wackelbild
. Für einen Gesamtpreis von 40 US–Dollar plus Versandkosten erhaltet ihr außerdem ein cooles
T–Shirt mit einem ikonischen "Slim Shady"-Aufdruck
. Da es sich um eine
stark limitierte Auflage
handelt, solltet ihr schnell zuschlagen und euch die Kassette für eure Sammlung bestellen.
#SSLP Cassette re-issue coming soon shady.sr/SSLP
Posted by
Eminem
on Friday, 4 March 2016