\n\n

\n

Und was erwartet euch nun auf \"Loma Vista\"? Nun, lasst es uns mit einem Zitat beschreiben: \"They made the sunrise for people like us. So we have an excuse to watch it come up\", heißt es treffend im Opening-Track \"The Stairs\". Und damit wäre auch schon in wenigen Worten der Spirit beschrieben, dem das kalifornische Indie-Pop-Quartett mit jeder gesungenen Zeile huldigt: Dem der grenzenlosen Freiheit, der positiven Energie, der unbändigen Lust nach Leben. Mit dem unbedingten Wunsch, jeden Tag mit der gleichen Leidenschaft, Intensität und Freude zu leben, als wäre es der letzte, präsentieren sie nun mit \"Loma Vista\" den luftig-leichten Poprock-Soundtrack zum goldenen Herbstanfang.

\n
\"Loma Vista\": Das Family Of The Year Album ist in verschiedenen Formaten erhältlich
\n

Ab sofort verwöhnen uns Family Of The Year nun also mit ihrer lebhaften Wellness-Mischung aus Indie-Pop, Dance, Folk und Psych-Rock in Albumlänge auf \"Loma Vista\". Das Album ist als klassische CD und digital zum Runterladen erhältlich. Außerdem könnt ihr es natürlich beim Streamingdienst eurer Wahl anhören. Wir haben hier eine kleine Übersicht für euch vorbereitet:

\n","teaserText":"

Family Of The Year präsentieren ab sofort eine Neuauflage ihres Albums \"Loma Vista\" inklusive neuer Songs. Hier könnt ihr in alle Albumtracks reinhören und mehr erfahren.

","teaserImage":{"imageUrlTemplate":"//images.universal-music.de/img/assets/327/327596/{ratio}/{width}/family-of-the-year-loma-vista.jpg","id":"SW1hZ2U6MzI3NTk2"},"images":[],"artists":[{"idRaw":678694,"image":{"imageUrlTemplate":"//images.universal-music.de/img/assets/411/411502/{ratio}/{width}/family-of-the-year-2015.jpg","headline":"Family Of The Year 2015","id":"SW1hZ2U6NDExNTAy"},"id":"QXJ0aXN0OjY3ODY5NA==","color":"#FCEB99","urlAlias":"family-of-the-year","screenname":"Family Of The Year"}],"date":"2013-09-27 11:00:00","__typename":"Article","idRaw":224582,"createdDate":"2013-09-26 14:45:47","modifiedDate":"2013-09-27 11:34:31","seoKeywords":"loma vista, family of the year, neues album, neue songs, bonustracks, family of the year album, hero","seoDescription":"Family Of The Year präsentieren ab sofort eine Neuauflage ihres Albums \"Loma Vista\" inklusive neuer Songs. Hier könnt ihr in alle Albumtracks reinhören und mehr erfahren.","copyright":"","links":[{"id":"TGluazoyMDkyNTg=","headline":"Family Of The Year Album \"Loma Vista\" hier informieren","url":"http://www.universal-music.de/family-of-the-year/diskografie/detail/product:192991/loma-vista"},{"id":"TGluazoyMDkyNTk=","headline":"Family Of The Year Video \"Hero\" hier ansehen","url":"http://www.universal-music.de/family-of-the-year/videos/detail/video:323374/hero"}]},"_artist3ljImT":{"idRaw":678694,"id":"QXJ0aXN0OjY3ODY5NA==","_products4cM781":{"edges":[{"node":{"id":"UHJvZHVjdDozNTAxMTc=","idRaw":350117,"versionTitle":null,"__typename":"Product","isBackstage":false,"headline":"Carry Me","artists":[{"color":"#FCEB99","urlAlias":"family-of-the-year","screenname":"Family Of The Year","image":{"imageUrlTemplate":"//images.universal-music.de/img/assets/411/411502/{ratio}/{width}/family-of-the-year-2015.jpg","headline":"Family Of The Year 2015","id":"SW1hZ2U6NDExNTAy"},"id":"QXJ0aXN0OjY3ODY5NA=="}],"cover":{"headline":"Carry Me","imageUrlTemplate":"//images.universal-music.de/img/assets/404/404321/{ratio}/{width}/carry-me.jpg","id":"SW1hZ2U6NDA0MzIx"},"seoKeywords":null,"seoDescription":"Family Of The Year präsentieren ihren Song \"Carry Me\" vom Album \"Family Of The Year\" in akustischem Gewand. Unterstützt wurden sie dabei von Sängerin Z Berg","hasSoundfiles":true},"cursor":"MzUwMTE3KysrMjAxNi0wNi0yNA=="},{"node":{"id":"UHJvZHVjdDozMTA3NjE=","idRaw":310761,"versionTitle":null,"__typename":"Product","isBackstage":false,"headline":"Family Of The Year","artists":[{"color":"#FCEB99","urlAlias":"family-of-the-year","screenname":"Family Of The Year","image":{"imageUrlTemplate":"//images.universal-music.de/img/assets/411/411502/{ratio}/{width}/family-of-the-year-2015.jpg","headline":"Family Of The Year 2015","id":"SW1hZ2U6NDExNTAy"},"id":"QXJ0aXN0OjY3ODY5NA=="}],"cover":{"headline":"Family Of The Year - Album - 2015","imageUrlTemplate":"//images.universal-music.de/img/assets/369/369089/{ratio}/{width}/family-of-the-year-album-2015.jpg","id":"SW1hZ2U6MzY5MDg5"},"seoKeywords":"","seoDescription":"Mit ihrer ersten Singleauskopplung \"Make You Mine\", einem sommerleichten Indie/Folk-Track, gaben Family Of The Year den Startschuss auf ihr Mitte August","hasSoundfiles":true},"cursor":"MzEwNzYxKysrMjAxNS0wOC0wNw=="},{"node":{"id":"UHJvZHVjdDozMDczNzY=","idRaw":307376,"versionTitle":null,"__typename":"Product","isBackstage":false,"headline":"Make You Mine","artists":[{"color":"#FCEB99","urlAlias":"family-of-the-year","screenname":"Family Of The Year","image":{"imageUrlTemplate":"//images.universal-music.de/img/assets/411/411502/{ratio}/{width}/family-of-the-year-2015.jpg","headline":"Family Of The Year 2015","id":"SW1hZ2U6NDExNTAy"},"id":"QXJ0aXN0OjY3ODY5NA=="}],"cover":{"headline":"Family Of The Year - Make You Mine","imageUrlTemplate":"//images.universal-music.de/img/assets/368/368821/{ratio}/{width}/family-of-the-year-make-you-mine.jpg","id":"SW1hZ2U6MzY4ODIx"},"seoKeywords":"Family Of The Year Single Make You Mine","seoDescription":"Family Of The Year Single Make You Mine","hasSoundfiles":true},"cursor":"MzA3Mzc2KysrMjAxNS0wNi0xOQ=="},{"node":{"id":"UHJvZHVjdDoxOTk5Nzc=","idRaw":199977,"versionTitle":null,"__typename":"Product","isBackstage":false,"headline":"St. Croix","artists":[{"color":"#FCEB99","urlAlias":"family-of-the-year","screenname":"Family Of The Year","image":{"imageUrlTemplate":"//images.universal-music.de/img/assets/411/411502/{ratio}/{width}/family-of-the-year-2015.jpg","headline":"Family Of The Year 2015","id":"SW1hZ2U6NDExNTAy"},"id":"QXJ0aXN0OjY3ODY5NA=="}],"cover":{"headline":"St. Croix Cover Family Of The Year","imageUrlTemplate":"//images.universal-music.de/img/assets/339/339158/{ratio}/{width}/st-croix-cover-family-of-the-year.jpg","id":"SW1hZ2U6MzM5MTU4"},"seoKeywords":"Family Of The Year, Single, St. Croix, Loma Vista","seoDescription":"Family Of The Year Single St. Croix","hasSoundfiles":true},"cursor":"MTk5OTc3KysrMjAxNC0wNC0wNA=="},{"node":{"id":"UHJvZHVjdDoxOTI5OTE=","idRaw":192991,"versionTitle":null,"__typename":"Product","isBackstage":false,"headline":"Loma Vista","artists":[{"color":"#FCEB99","urlAlias":"family-of-the-year","screenname":"Family Of The Year","image":{"imageUrlTemplate":"//images.universal-music.de/img/assets/411/411502/{ratio}/{width}/family-of-the-year-2015.jpg","headline":"Family Of The Year 2015","id":"SW1hZ2U6NDExNTAy"},"id":"QXJ0aXN0OjY3ODY5NA=="}],"cover":{"headline":"Family Of The Year - Loma Vista","imageUrlTemplate":"//images.universal-music.de/img/assets/326/326440/{ratio}/{width}/family-of-the-year-loma-vista.jpg","id":"SW1hZ2U6MzI2NDQw"},"seoKeywords":null,"seoDescription":"Liebhaber von Indie-Musik sind von Family Of The Year bereits so begeistert, wie Steve Tyler von Aerosmith. Er bezeichnete das US-amerikanische Quartett","hasSoundfiles":true},"cursor":"MTkyOTkxKysrMjAxMy0wOS0yNw=="},{"node":{"id":"UHJvZHVjdDoxOTM4MzQ=","idRaw":193834,"versionTitle":null,"__typename":"Product","isBackstage":false,"headline":"Hero","artists":[{"color":"#FCEB99","urlAlias":"family-of-the-year","screenname":"Family Of The Year","image":{"imageUrlTemplate":"//images.universal-music.de/img/assets/411/411502/{ratio}/{width}/family-of-the-year-2015.jpg","headline":"Family Of The Year 2015","id":"SW1hZ2U6NDExNTAy"},"id":"QXJ0aXN0OjY3ODY5NA=="}],"cover":{"headline":"Family Of The Year Hero Cover","imageUrlTemplate":"//images.universal-music.de/img/assets/326/326345/{ratio}/{width}/family-of-the-year-hero-cover.jpg","id":"SW1hZ2U6MzI2MzQ1"},"seoKeywords":"family of the year, family off the year, single, video, hero, loma vista","seoDescription":"Family Of The Year Single \"Hero\"","hasSoundfiles":true},"cursor":"MTkzODM0KysrMjAxMy0wOC0yMw=="}],"pageInfo":{"hasNextPage":false,"hasPreviousPage":false}},"_productsZBJev":{"edges":[{"node":{"id":"UHJvZHVjdDozMTA3NjE=","idRaw":310761},"cursor":"MzEwNzYxKysrMjAxNS0wOC0wNw=="}],"pageInfo":{"hasNextPage":true,"hasPreviousPage":false}}}}}},{"query":{"calls":[{"kind":"Call","name":"channel","metadata":{"type":"Int!"},"value":{"kind":"CallValue","callValue":10000}}],"children":[{"children":[{"calls":[{"kind":"Call","name":"urlAlias","metadata":{"type":null},"value":{"kind":"CallValue","callValue":"family-of-the-year"}}],"children":[{"calls":[],"children":[],"fieldName":"urlAlias","kind":"Field","metadata":{},"type":"String"},{"calls":[],"children":[],"fieldName":"screenname","kind":"Field","metadata":{},"type":"String"},{"calls":[],"children":[],"fieldName":"color","kind":"Field","metadata":{},"type":"String"},{"calls":[],"children":[],"fieldName":"themeType","kind":"Field","metadata":{},"type":"String"},{"calls":[],"children":[{"calls":[],"children":[],"fieldName":"name","kind":"Field","metadata":{},"type":"String"},{"calls":[],"children":[],"fieldName":"id","kind":"Field","metadata":{"isGenerated":true,"isRequisite":true},"type":"ID"}],"fieldName":"divisions","kind":"Field","metadata":{"canHaveSubselections":true,"isPlural":true},"type":"Division"},{"calls":[],"children":[{"calls":[],"children":[{"calls":[],"children":[],"fieldName":"name","kind":"Field","metadata":{},"type":"String"},{"calls":[],"children":[],"fieldName":"id","kind":"Field","metadata":{"isGenerated":true,"isRequisite":true},"type":"ID"}],"fieldName":"parentCategory","kind":"Field","metadata":{"canHaveSubselections":true},"type":"Category"},{"calls":[],"children":[],"fieldName":"id","kind":"Field","metadata":{"isGenerated":true,"isRequisite":true},"type":"ID"}],"fieldName":"subgenres","kind":"Field","metadata":{"canHaveSubselections":true,"isPlural":true},"type":"Category"},{"calls":[],"children":[],"fieldName":"id","kind":"Field","metadata":{"isGenerated":true,"isRequisite":true},"type":"ID"},{"children":[{"calls":[],"children":[],"fieldName":"screenname","kind":"Field","metadata":{},"type":"String"},{"calls":[],"children":[{"calls":[],"children":[],"fieldName":"type","kind":"Field","metadata":{},"type":"ExternalReferenceType"},{"calls":[],"children":[],"fieldName":"value","kind":"Field","metadata":{},"type":"String"},{"calls":[],"children":[],"fieldName":"id","kind":"Field","metadata":{"isGenerated":true,"isRequisite":true},"type":"ID"}],"fieldName":"externalReferences","kind":"Field","metadata":{"canHaveSubselections":true,"isPlural":true},"type":"ExternalReference"},{"calls":[],"children":[],"fieldName":"id","kind":"Field","metadata":{"isGenerated":true,"isRequisite":true},"type":"ID"},{"children":[{"calls":[],"children":[],"fieldName":"urlAlias","kind":"Field","metadata":{},"type":"String"},{"calls":[],"children":[],"fieldName":"themeType","kind":"Field","metadata":{},"type":"String"},{"alias":"news","calls":[{"kind":"Call","name":"first","metadata":{"type":"Int"},"value":{"kind":"CallValue","callValue":1}},{"kind":"Call","name":"type","metadata":{"type":"ArticleType"},"value":{"kind":"CallValue","callValue":"NEUIGKEIT"}}],"children":[{"calls":[],"children":[{"calls":[],"children":[{"calls":[],"children":[],"fieldName":"id","kind":"Field","metadata":{"isRequisite":true},"type":"ID"}],"fieldName":"node","kind":"Field","metadata":{"canHaveSubselections":true,"isRequisite":true},"type":"Article"},{"calls":[],"children":[],"fieldName":"cursor","kind":"Field","metadata":{"isGenerated":true,"isRequisite":true},"type":"String"}],"fieldName":"edges","kind":"Field","metadata":{"canHaveSubselections":true,"isPlural":true},"type":"ArticleEdge"},{"calls":[],"children":[{"calls":[],"children":[],"fieldName":"hasNextPage","kind":"Field","metadata":{"isGenerated":true,"isRequisite":true},"type":"Boolean"},{"calls":[],"children":[],"fieldName":"hasPreviousPage","kind":"Field","metadata":{"isGenerated":true,"isRequisite":true},"type":"Boolean"}],"fieldName":"pageInfo","kind":"Field","metadata":{"canHaveSubselections":true,"isGenerated":true,"isRequisite":true},"type":"PageInfo"}],"fieldName":"articles","kind":"Field","metadata":{"canHaveSubselections":true,"isConnection":true},"type":"ArticleConnection"},{"alias":"music","calls":[{"kind":"Call","name":"first","metadata":{"type":"Int"},"value":{"kind":"CallValue","callValue":1}}],"children":[{"calls":[],"children":[{"calls":[],"children":[{"calls":[],"children":[],"fieldName":"id","kind":"Field","metadata":{"isRequisite":true},"type":"ID"}],"fieldName":"node","kind":"Field","metadata":{"canHaveSubselections":true,"isRequisite":true},"type":"Product"},{"calls":[],"children":[],"fieldName":"cursor","kind":"Field","metadata":{"isGenerated":true,"isRequisite":true},"type":"String"}],"fieldName":"edges","kind":"Field","metadata":{"canHaveSubselections":true,"isPlural":true},"type":"ProductEdge"},{"calls":[],"children":[{"calls":[],"children":[],"fieldName":"hasNextPage","kind":"Field","metadata":{"isGenerated":true,"isRequisite":true},"type":"Boolean"},{"calls":[],"children":[],"fieldName":"hasPreviousPage","kind":"Field","metadata":{"isGenerated":true,"isRequisite":true},"type":"Boolean"}],"fieldName":"pageInfo","kind":"Field","metadata":{"canHaveSubselections":true,"isGenerated":true,"isRequisite":true},"type":"PageInfo"}],"fieldName":"products","kind":"Field","metadata":{"canHaveSubselections":true,"isConnection":true},"type":"ProductConnection"},{"calls":[{"kind":"Call","name":"first","metadata":{"type":"Int"},"value":{"kind":"CallValue","callValue":1}}],"children":[{"calls":[],"children":[{"calls":[],"children":[{"calls":[],"children":[],"fieldName":"id","kind":"Field","metadata":{"isRequisite":true},"type":"ID"}],"fieldName":"node","kind":"Field","metadata":{"canHaveSubselections":true,"isRequisite":true},"type":"Video"},{"calls":[],"children":[],"fieldName":"cursor","kind":"Field","metadata":{"isGenerated":true,"isRequisite":true},"type":"String"}],"fieldName":"edges","kind":"Field","metadata":{"canHaveSubselections":true,"isPlural":true},"type":"VideoEdge"},{"calls":[],"children":[{"calls":[],"children":[],"fieldName":"hasNextPage","kind":"Field","metadata":{"isGenerated":true,"isRequisite":true},"type":"Boolean"},{"calls":[],"children":[],"fieldName":"hasPreviousPage","kind":"Field","metadata":{"isGenerated":true,"isRequisite":true},"type":"Boolean"}],"fieldName":"pageInfo","kind":"Field","metadata":{"canHaveSubselections":true,"isGenerated":true,"isRequisite":true},"type":"PageInfo"}],"fieldName":"videos","kind":"Field","metadata":{"canHaveSubselections":true,"isConnection":true},"type":"VideoConnection"},{"calls":[{"kind":"Call","name":"first","metadata":{"type":"Int"},"value":{"kind":"CallValue","callValue":1}},{"kind":"Call","name":"dateFrom","metadata":{"type":null},"value":{"kind":"CallValue","callValue":"now"}},{"kind":"Call","name":"onlyGsaCountries","metadata":{"type":null},"value":{"kind":"CallValue","callValue":true}}],"children":[{"calls":[],"children":[{"calls":[],"children":[{"calls":[],"children":[],"fieldName":"id","kind":"Field","metadata":{"isRequisite":true},"type":"ID"}],"fieldName":"node","kind":"Field","metadata":{"canHaveSubselections":true,"isRequisite":true},"type":"LiveEvent"},{"calls":[],"children":[],"fieldName":"cursor","kind":"Field","metadata":{"isGenerated":true,"isRequisite":true},"type":"String"}],"fieldName":"edges","kind":"Field","metadata":{"canHaveSubselections":true,"isPlural":true},"type":"LiveEventEdge"},{"calls":[],"children":[{"calls":[],"children":[],"fieldName":"hasNextPage","kind":"Field","metadata":{"isGenerated":true,"isRequisite":true},"type":"Boolean"},{"calls":[],"children":[],"fieldName":"hasPreviousPage","kind":"Field","metadata":{"isGenerated":true,"isRequisite":true},"type":"Boolean"}],"fieldName":"pageInfo","kind":"Field","metadata":{"canHaveSubselections":true,"isGenerated":true,"isRequisite":true},"type":"PageInfo"}],"fieldName":"liveEvents","kind":"Field","metadata":{"canHaveSubselections":true,"isConnection":true},"type":"LiveEventConnection"},{"calls":[{"kind":"Call","name":"first","metadata":{"type":"Int"},"value":{"kind":"CallValue","callValue":1}},{"kind":"Call","name":"dateFrom","metadata":{"type":null},"value":{"kind":"CallValue","callValue":"now"}}],"children":[{"calls":[],"children":[{"calls":[],"children":[{"calls":[],"children":[],"fieldName":"id","kind":"Field","metadata":{"isRequisite":true},"type":"ID"}],"fieldName":"node","kind":"Field","metadata":{"canHaveSubselections":true,"isRequisite":true},"type":"MediaEvent"},{"calls":[],"children":[],"fieldName":"cursor","kind":"Field","metadata":{"isGenerated":true,"isRequisite":true},"type":"String"}],"fieldName":"edges","kind":"Field","metadata":{"canHaveSubselections":true,"isPlural":true},"type":"MediaEventEdge"},{"calls":[],"children":[{"calls":[],"children":[],"fieldName":"hasNextPage","kind":"Field","metadata":{"isGenerated":true,"isRequisite":true},"type":"Boolean"},{"calls":[],"children":[],"fieldName":"hasPreviousPage","kind":"Field","metadata":{"isGenerated":true,"isRequisite":true},"type":"Boolean"}],"fieldName":"pageInfo","kind":"Field","metadata":{"canHaveSubselections":true,"isGenerated":true,"isRequisite":true},"type":"PageInfo"}],"fieldName":"mediaEvents","kind":"Field","metadata":{"canHaveSubselections":true,"isConnection":true},"type":"MediaEventConnection"},{"calls":[{"kind":"Call","name":"first","metadata":{"type":"Int"},"value":{"kind":"CallValue","callValue":1}}],"children":[{"calls":[],"children":[{"calls":[],"children":[{"calls":[],"children":[],"fieldName":"id","kind":"Field","metadata":{"isRequisite":true},"type":"ID"},{"calls":[],"children":[{"calls":[],"children":[],"fieldName":"id","kind":"Field","metadata":{"isRequisite":true},"type":"ID"}],"fieldName":"image","kind":"Field","metadata":{"canHaveSubselections":true},"type":"Image"}],"fieldName":"node","kind":"Field","metadata":{"canHaveSubselections":true,"isRequisite":true},"type":"Collection"},{"calls":[],"children":[],"fieldName":"cursor","kind":"Field","metadata":{"isGenerated":true,"isRequisite":true},"type":"String"}],"fieldName":"edges","kind":"Field","metadata":{"canHaveSubselections":true,"isPlural":true},"type":"CollectionEdge"},{"calls":[],"children":[{"calls":[],"children":[],"fieldName":"hasNextPage","kind":"Field","metadata":{"isGenerated":true,"isRequisite":true},"type":"Boolean"},{"calls":[],"children":[],"fieldName":"hasPreviousPage","kind":"Field","metadata":{"isGenerated":true,"isRequisite":true},"type":"Boolean"}],"fieldName":"pageInfo","kind":"Field","metadata":{"canHaveSubselections":true,"isGenerated":true,"isRequisite":true},"type":"PageInfo"}],"fieldName":"imageCollections","kind":"Field","metadata":{"canHaveSubselections":true,"isConnection":true},"type":"CollectionConnection"},{"alias":"biography","calls":[{"kind":"Call","name":"first","metadata":{"type":"Int"},"value":{"kind":"CallValue","callValue":1}},{"kind":"Call","name":"type","metadata":{"type":"ArticleType"},"value":{"kind":"CallValue","callValue":"BIOGRAFIE"}}],"children":[{"calls":[],"children":[{"calls":[],"children":[{"calls":[],"children":[],"fieldName":"id","kind":"Field","metadata":{"isRequisite":true},"type":"ID"}],"fieldName":"node","kind":"Field","metadata":{"canHaveSubselections":true,"isRequisite":true},"type":"Article"},{"calls":[],"children":[],"fieldName":"cursor","kind":"Field","metadata":{"isGenerated":true,"isRequisite":true},"type":"String"}],"fieldName":"edges","kind":"Field","metadata":{"canHaveSubselections":true,"isPlural":true},"type":"ArticleEdge"},{"calls":[],"children":[{"calls":[],"children":[],"fieldName":"hasNextPage","kind":"Field","metadata":{"isGenerated":true,"isRequisite":true},"type":"Boolean"},{"calls":[],"children":[],"fieldName":"hasPreviousPage","kind":"Field","metadata":{"isGenerated":true,"isRequisite":true},"type":"Boolean"}],"fieldName":"pageInfo","kind":"Field","metadata":{"canHaveSubselections":true,"isGenerated":true,"isRequisite":true},"type":"PageInfo"}],"fieldName":"articles","kind":"Field","metadata":{"canHaveSubselections":true,"isConnection":true},"type":"ArticleConnection"},{"calls":[{"kind":"Call","name":"first","metadata":{"type":"Int"},"value":{"kind":"CallValue","callValue":2}}],"children":[{"calls":[],"children":[{"calls":[],"children":[{"calls":[],"children":[],"fieldName":"idRaw","kind":"Field","metadata":{},"type":"Int"},{"calls":[],"children":[],"fieldName":"headline","kind":"Field","metadata":{},"type":"String"},{"calls":[],"children":[],"fieldName":"id","kind":"Field","metadata":{"isGenerated":true,"isRequisite":true},"type":"ID"}],"fieldName":"node","kind":"Field","metadata":{"canHaveSubselections":true,"isRequisite":true},"type":"Action"},{"calls":[],"children":[],"fieldName":"cursor","kind":"Field","metadata":{"isGenerated":true,"isRequisite":true},"type":"String"}],"fieldName":"edges","kind":"Field","metadata":{"canHaveSubselections":true,"isPlural":true},"type":"ActionEdge"},{"calls":[],"children":[{"calls":[],"children":[],"fieldName":"hasNextPage","kind":"Field","metadata":{"isGenerated":true,"isRequisite":true},"type":"Boolean"},{"calls":[],"children":[],"fieldName":"hasPreviousPage","kind":"Field","metadata":{"isGenerated":true,"isRequisite":true},"type":"Boolean"}],"fieldName":"pageInfo","kind":"Field","metadata":{"canHaveSubselections":true,"isGenerated":true,"isRequisite":true},"type":"PageInfo"}],"fieldName":"actions","kind":"Field","metadata":{"canHaveSubselections":true,"isConnection":true},"type":"ActionConnection"},{"alias":"merch","calls":[{"kind":"Call","name":"first","metadata":{"type":"Int"},"value":{"kind":"CallValue","callValue":1}},{"kind":"Call","name":"group","metadata":{"type":"[ProductGroup]"},"value":[{"kind":"CallValue","callValue":"MERCH"}]}],"children":[{"calls":[],"children":[{"calls":[],"children":[{"calls":[],"children":[],"fieldName":"id","kind":"Field","metadata":{"isRequisite":true},"type":"ID"}],"fieldName":"node","kind":"Field","metadata":{"canHaveSubselections":true,"isRequisite":true},"type":"Product"},{"calls":[],"children":[],"fieldName":"cursor","kind":"Field","metadata":{"isGenerated":true,"isRequisite":true},"type":"String"}],"fieldName":"edges","kind":"Field","metadata":{"canHaveSubselections":true,"isPlural":true},"type":"ProductEdge"},{"calls":[],"children":[{"calls":[],"children":[],"fieldName":"hasNextPage","kind":"Field","metadata":{"isGenerated":true,"isRequisite":true},"type":"Boolean"},{"calls":[],"children":[],"fieldName":"hasPreviousPage","kind":"Field","metadata":{"isGenerated":true,"isRequisite":true},"type":"Boolean"}],"fieldName":"pageInfo","kind":"Field","metadata":{"canHaveSubselections":true,"isGenerated":true,"isRequisite":true},"type":"PageInfo"}],"fieldName":"products","kind":"Field","metadata":{"canHaveSubselections":true,"isConnection":true},"type":"ProductConnection"},{"calls":[],"children":[],"fieldName":"id","kind":"Field","metadata":{"isGenerated":true,"isRequisite":true},"type":"ID"},{"children":[{"calls":[],"children":[],"fieldName":"screenname","kind":"Field","metadata":{},"type":"String"},{"calls":[],"children":[],"fieldName":"urlAlias","kind":"Field","metadata":{},"type":"String"},{"calls":[],"children":[],"fieldName":"id","kind":"Field","metadata":{"isGenerated":true,"isRequisite":true},"type":"ID"}],"id":"5sX::client","kind":"Fragment","metadata":{"isAbstract":false,"plural":false},"name":"Index_ArtistRelayQL","type":"Artist"}],"id":"5sY::client","kind":"Fragment","metadata":{"isAbstract":false,"plural":false},"name":"ArtistNavBar_ArtistRelayQL","type":"Artist"}],"id":"5sZ::client","kind":"Fragment","metadata":{"isAbstract":false,"plural":false},"name":"ArtistHeader_ArtistRelayQL","type":"Artist"},{"children":[{"calls":[],"children":[],"fieldName":"id","kind":"Field","metadata":{"isGenerated":true,"isRequisite":true},"type":"ID"},{"children":[{"calls":[],"children":[],"fieldName":"id","kind":"Field","metadata":{"isRequisite":true},"type":"ID"},{"calls":[],"children":[],"fieldName":"screenname","kind":"Field","metadata":{},"type":"String"},{"children":[{"calls":[],"children":[],"fieldName":"id","kind":"Field","metadata":{"isRequisite":true},"type":"ID"},{"calls":[],"children":[],"fieldName":"idRaw","kind":"Field","metadata":{},"type":"Int"}],"id":"5t0::client","kind":"Fragment","metadata":{"isAbstract":false,"plural":false},"name":"LikeUnlikeMutation_ArtistRelayQL","type":"Artist"}],"id":"5t1::client","kind":"Fragment","metadata":{"isAbstract":false,"plural":false},"name":"LikeableArtistContainer_ArtistRelayQL","type":"Artist"}],"id":"5t2::client","kind":"Fragment","metadata":{"isAbstract":false,"plural":false},"name":"AutoLikeArtist_ArtistRelayQL","type":"Artist"}],"fieldName":"artist","kind":"Field","metadata":{"canHaveSubselections":true},"type":"Artist"}],"id":"5t3::client","kind":"Fragment","metadata":{"isAbstract":false,"plural":false},"name":"ArtistWrapper_ApiRelayQL","type":"UniversalMusic"}],"directives":[],"fieldName":"universalMusic","isDeferred":false,"kind":"Query","metadata":{"identifyingArgName":"channel","identifyingArgType":"Int!","isAbstract":false,"isPlural":false},"name":"Api","type":"UniversalMusic"},"response":{"universalMusic":{"_artist3ljImT":{"urlAlias":"family-of-the-year","screenname":"Family Of The Year","color":"#FCEB99","themeType":"contributor","divisions":[{"name":"Universal Music Domestic Polydor/Island","id":"RGl2aXNpb246Mg=="}],"subgenres":[{"parentCategory":{"name":"POP","id":"Q2F0ZWdvcnk6MTMxNg=="},"id":"Q2F0ZWdvcnk6MTMxNw=="}],"id":"QXJ0aXN0OjY3ODY5NA==","externalReferences":[{"type":"GOOGLE_ANALYTICS","value":"UA-37142686-48","id":"RXh0ZXJuYWxSZWZlcmVuY2U6NTk4MjU="},{"type":"FACEBOOK","value":"113385972660","id":"RXh0ZXJuYWxSZWZlcmVuY2U6NTk4MjY="},{"type":"TWITTER","value":"FamilyoftheYear","id":"RXh0ZXJuYWxSZWZlcmVuY2U6NTk4Mjc="}],"_articles2XqS9l":{"edges":[{"node":{"id":"QXJ0aWNsZToyMzU3MTg="},"cursor":"MjM1NzE4KysrMjAxNS0wOS0yNlQyMDowMDowMA=="}],"pageInfo":{"hasNextPage":true,"hasPreviousPage":false}},"_products2PRCo":{"edges":[{"node":{"id":"UHJvZHVjdDozNTAxMTc="},"cursor":"MzUwMTE3KysrMjAxNi0wNi0yNA=="}],"pageInfo":{"hasNextPage":true,"hasPreviousPage":false}},"_videos2Tn6C2":{"edges":[{"node":{"id":"VmlkZW86MzcwNzUz"},"cursor":"MzcwNzUzKysrMjAxNS0wNy0yNFQxNTozMDo0Mw=="}],"pageInfo":{"hasNextPage":true,"hasPreviousPage":false}},"_liveEvents2n1GpM":{"edges":[],"pageInfo":{"hasNextPage":false,"hasPreviousPage":false}},"_mediaEvents1TyUCF":{"edges":[],"pageInfo":{"hasNextPage":false,"hasPreviousPage":false}},"_imageCollections3eCGj7":{"edges":[{"node":{"id":"Q29sbGVjdGlvbjozMzU4NA==","image":null},"cursor":"MzM1ODQrKysyMDEzLTA3LTIyVDE1OjEzOjQw"}],"pageInfo":{"hasNextPage":false,"hasPreviousPage":false}},"_articlesAy9tt":{"edges":[{"node":{"id":"QXJ0aWNsZToyMzQ2MTk="},"cursor":"MjM0NjE5KysrMjAxNS0wNy0yMlQxMjozNDowMA=="}],"pageInfo":{"hasNextPage":true,"hasPreviousPage":false}},"_actions3OWk1f":{"edges":[],"pageInfo":{"hasNextPage":false,"hasPreviousPage":false}},"_productsdx8Oq":{"edges":[],"pageInfo":{"hasNextPage":false,"hasPreviousPage":false}},"idRaw":678694}}}}]
Family Of The Year | News | "Loma Vista": Family Of The Year haben neue Version ihres Albums veröffentlicht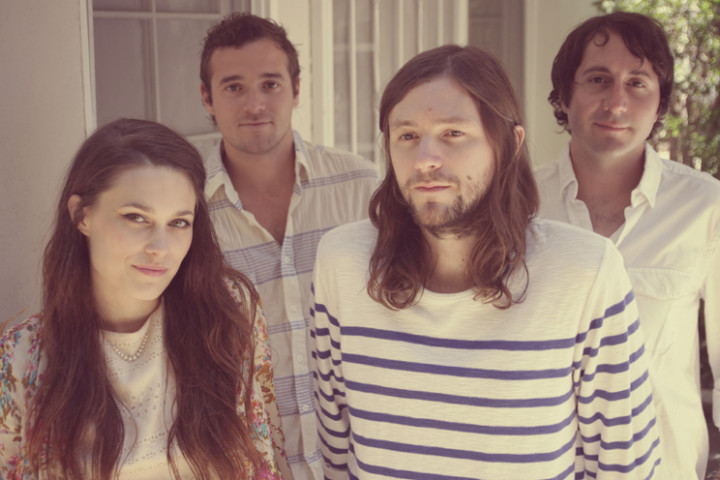 27.09.2013
"Loma Vista": Family Of The Year haben neue Version ihres Albums veröffentlicht
Liebhaber von Indie-Musik sind von
Family Of The Year
bereits begeistert. Sie wissen auch, dass die musikalische Patchwork-Familie ihr
Album
"Loma Vista"
 hierzulande bereits in 2012 veröffentlicht hat. Nun erwarten
James Buckey, Christina Schroeter 
und die Brüder
Joe
und
Sebastian Keefe 
ihre deutschen Fans – und alle die es werden wollen – mit einer
Neuauflage
, die zwei komplett
neue Bonustracks
namens
"6 A.M."
und
"She Wants To Talk"
 beinhaltet. Ihr kennt
Family Of The Year
noch nicht? Dann nutzt die Gelegenheit und hört über diesem Artikel schon einmal in alle Albumtracks von
"Loma Vista"
rein, bevor euch unter diesem Artikel die Shoplinks erwarten.  
"Hero": Erster Vorbote aus dem Album "Loma Vista" von Family Of The Year
Als ersten Vorboten zur
Neuauflage des Albums "Loma Vista"
, haben
Familiy Of The Year
bereits Ende August ihre
Single "Hero"
veröffentlicht. Ihr nachdenklicher, aber aufmunternder Folkpop kam gut an:
"Hero"
stieg direkt am Releasetag in den USA auf Platz 14 der Billboard Alternative Charts ein, lief im Abspann des Leinwandstreifens
"Thanks For Sharing"
und war in der amerikanischen HBO–Kult-Comedyserie
"Girls"
zu hören. Ein passendes Video über einen echten Helden gibt es auch: Es geht um den amerikanischen Rodeohelden
Nicolas Sartor
, der sich nach seinem schweren Reitunfall vom Koma zurück ins Leben kämpfte. Aber schaut mal selbst: 
Und was erwartet euch nun auf "Loma Vista"? Nun, lasst es uns mit einem Zitat beschreiben: "They made the sunrise for people like us. So we have an excuse to watch it come up", heißt es treffend im Opening-Track "The Stairs". Und damit wäre auch schon in wenigen Worten der Spirit beschrieben, dem das kalifornische Indie-Pop-Quartett mit jeder gesungenen Zeile huldigt: Dem der grenzenlosen Freiheit, der positiven Energie, der unbändigen Lust nach Leben. Mit dem unbedingten Wunsch, jeden Tag mit der gleichen Leidenschaft, Intensität und Freude zu leben, als wäre es der letzte, präsentieren sie nun mit "Loma Vista" den luftig-leichten Poprock-Soundtrack zum goldenen Herbstanfang.
"Loma Vista": Das Family Of The Year Album ist in verschiedenen Formaten erhältlich
Ab sofort verwöhnen uns Family Of The Year nun also mit ihrer lebhaften Wellness-Mischung aus Indie-Pop, Dance, Folk und Psych-Rock in Albumlänge auf "Loma Vista". Das Album ist als klassische CD und digital zum Runterladen erhältlich. Außerdem könnt ihr es natürlich beim Streamingdienst eurer Wahl anhören. Wir haben hier eine kleine Übersicht für euch vorbereitet: