\n","teaserText":"

Ihr wollt mehr über die drei sympathischen Folk-Rocker von The Lumineers erfahren? Im Interview teilt die Band ein paar Details von der Tour mit ihren Fans.

","teaserImage":{"imageUrlTemplate":"//images.universal-music.de/img/assets/280/280831/{ratio}/{width}/the-lumineers-2012-3.jpg","id":"SW1hZ2U6MjgwODMx"},"images":[{"imageUrlTemplate":"//images.universal-music.de/img/assets/280/280831/{ratio}/{width}/the-lumineers-2012-3.jpg","headline":"The Lumineers_2012_3","id":"SW1hZ2U6MjgwODMx"}],"artists":[{"idRaw":666381,"image":{"imageUrlTemplate":"//images.universal-music.de/img/assets/394/394028/{ratio}/{width}/the-lumineers-2016.jpg","headline":"The Lumineers 2016","id":"SW1hZ2U6Mzk0MDI4"},"id":"QXJ0aXN0OjY2NjM4MQ==","color":"#888888","urlAlias":"the-lumineers","screenname":"The Lumineers"}],"date":"2012-10-19 16:55:00","__typename":"Article","idRaw":210278,"createdDate":"2012-10-19 17:18:12","modifiedDate":"2012-10-19 18:07:26","seoKeywords":"The Lumineers, Interview, Video","seoDescription":"Ihr wollt mehr über die drei sympathischen Folk-Rocker von The Lumineers erfahren? Im Interview teilt die Band ein paar Details von der Tour mit ihren Fans.","copyright":"","links":[]},"_artist2gANBm":{"idRaw":666381,"id":"QXJ0aXN0OjY2NjM4MQ==","_products4cM781":{"edges":[{"node":{"id":"UHJvZHVjdDozMzY0NjM=","idRaw":336463,"versionTitle":null,"__typename":"Product","isBackstage":false,"headline":"Cleopatra","artists":[{"color":"#888888","urlAlias":"the-lumineers","screenname":"The Lumineers","image":{"imageUrlTemplate":"//images.universal-music.de/img/assets/394/394028/{ratio}/{width}/the-lumineers-2016.jpg","headline":"The Lumineers 2016","id":"SW1hZ2U6Mzk0MDI4"},"id":"QXJ0aXN0OjY2NjM4MQ=="}],"cover":{"headline":"The Lumineers Cleopatra Albumcover","imageUrlTemplate":"//images.universal-music.de/img/assets/393/393716/{ratio}/{width}/the-lumineers-cleopatra-albumcover.jpg","id":"SW1hZ2U6MzkzNzE2"},"seoKeywords":"","seoDescription":"The Lumineers präsentieren ihr zweites Studio-Album \"Cleopatra\", das von den jahrelangen Tour-Erfahrungen der Band inspiriert wurde. Der Nachfolger ihres","hasSoundfiles":true},"cursor":"MzM2NDYzKysrMjAxNi0wNC0wOA=="},{"node":{"id":"UHJvZHVjdDozMzYyODY=","idRaw":336286,"versionTitle":null,"__typename":"Product","isBackstage":false,"headline":"Ophelia","artists":[{"color":"#888888","urlAlias":"the-lumineers","screenname":"The Lumineers","image":{"imageUrlTemplate":"//images.universal-music.de/img/assets/394/394028/{ratio}/{width}/the-lumineers-2016.jpg","headline":"The Lumineers 2016","id":"SW1hZ2U6Mzk0MDI4"},"id":"QXJ0aXN0OjY2NjM4MQ=="}],"cover":{"headline":"The Lumineers Ophelia Singlecover","imageUrlTemplate":"//images.universal-music.de/img/assets/393/393719/{ratio}/{width}/the-lumineers-ophelia-singlecover.jpg","id":"SW1hZ2U6MzkzNzE5"},"seoKeywords":null,"seoDescription":"The Lumineers melden sich mit der Single \"Ophelia\" zurück. Der Song ist der erste Sound-Vorbote aus dem zweiten Studio-Album \"Cleopatra\". Der Nachfolger ihres","hasSoundfiles":true},"cursor":"MzM2Mjg2KysrMjAxNi0wMi0wNQ=="},{"node":{"id":"UHJvZHVjdDoxOTM2Mzc=","idRaw":193637,"versionTitle":"Deluxe Edition","__typename":"Product","isBackstage":false,"headline":"The Lumineers","artists":[{"color":"#888888","urlAlias":"the-lumineers","screenname":"The Lumineers","image":{"imageUrlTemplate":"//images.universal-music.de/img/assets/394/394028/{ratio}/{width}/the-lumineers-2016.jpg","headline":"The Lumineers 2016","id":"SW1hZ2U6Mzk0MDI4"},"id":"QXJ0aXN0OjY2NjM4MQ=="}],"cover":{"headline":"The Lumineers","imageUrlTemplate":"//images.universal-music.de/img/assets/331/331973/{ratio}/{width}/the-lumineers.jpg","id":"SW1hZ2U6MzMxOTcz"},"seoKeywords":"","seoDescription":"The Lumineers präsentieren ihr selbstbetiteltes Debütalbum im neuen Gewand: Die Deluxe Edition von \"The Lumineers\" liefert neben erfolgreichen Folk-Rock Songs","hasSoundfiles":true},"cursor":"MTkzNjM3KysrMjAxMy0xMi0wNg=="},{"node":{"id":"UHJvZHVjdDoxOTExMzA=","idRaw":191130,"versionTitle":"","__typename":"Product","isBackstage":false,"headline":"Ho Hey","artists":[{"color":"#888888","urlAlias":"the-lumineers","screenname":"The Lumineers","image":{"imageUrlTemplate":"//images.universal-music.de/img/assets/394/394028/{ratio}/{width}/the-lumineers-2016.jpg","headline":"The Lumineers 2016","id":"SW1hZ2U6Mzk0MDI4"},"id":"QXJ0aXN0OjY2NjM4MQ=="}],"cover":{"headline":"Ho Hey von The Lumineers","imageUrlTemplate":"//images.universal-music.de/img/assets/321/321078/{ratio}/{width}/ho-hey-von-the-lumineers.jpg","id":"SW1hZ2U6MzIxMDc4"},"seoKeywords":null,"seoDescription":"\"Ho Hey\" von The Lumineers ist der ultimative Song zum Mitsingen. Der Song stammt von dem Debütalbum, das neben der Hitsingle weitere tolle Folk-Rock Tracks","hasSoundfiles":false},"cursor":"MTkxMTMwKysrMjAxMi0xMS0xNg=="}],"pageInfo":{"hasNextPage":false,"hasPreviousPage":false}},"_productsZBJev":{"edges":[{"node":{"id":"UHJvZHVjdDozMzY0NjM=","idRaw":336463},"cursor":"MzM2NDYzKysrMjAxNi0wNC0wOA=="}],"pageInfo":{"hasNextPage":true,"hasPreviousPage":false}}}}}}]
The Lumineers | News | Anschauen: The Lumineers im Interview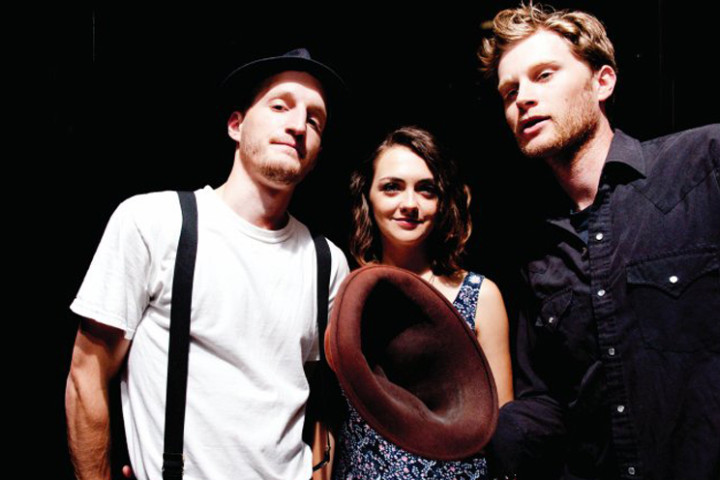 19.10.2012
Anschauen: The Lumineers im Interview
The Lumineers sind derzeit auf Tour unterwegs. Im Interview erzählt die Band ein wenig über sich selbst und verrät, wo sie am liebsten spielen würden.
Die Band um Wesley Schultz, Jeremiah Fraites und Neyla Pekarek erlebt in ihrer Heimat derzeit eine einzigartige Erfolgsgeschichte. Die New York Times verglich die drei Musiker gar mit den grandiosen Arcade Fire. Kein Wunder, denn ihre instrumentale Mischung aus Folkmusik und Alternative Rock wirkt autenthisch und mitreißend. Bei ihren ausverkauften Konzerten in den USA übertragen The Lumineers diese Energie auch auf das Publikum.
Heute hat das Folk-Trio auch bis über den Atlantik eine große Fanbase. Im Interview erzählen die Drei Multi-Instrumentalisten, welche Orte sie besonders gerne mögen und warum sich gerade Wesley in Berlin zu Hause fühlt. Ein wenig Deutsch sprechen The Lumineers sogar auch schon, wie sie in dem Video charmant demonstrieren.