\n\n

Den Musikclip zu Volbeats aktueller Single \"Cape Of Our Hero\" haben wir euch kürzlich bereits präsentiert. Nun möchten wir euch zeigen, was hinter den Kulissen des Videodrehs alles passierte - um euch die Wartezeit bis zum Albumrelease am 5. April weiter zu verkürzen. Oben seht ihr Teil 1 des Making Ofs vom \"Cape Of Our Hero\" Video und hier folgt Teil zwei auf dem Fuße:

\n

\n

\n\n

\n

\n

Weil Vorher-Nachher-Effekte immer spannend zu beobachten sind, haben wir hier noch einmal den fertigen Clip für euch rausgesucht. \"Cape Of Our Hero\" ist bereits als Single erhältlich und wird ebenfalls auf dem am 5. April erscheinenden Album \"Outlaw Gentleman & Shady Ladies\" enthalten sein.

\n

\n

\n\n

\n

\n

Weitere Videos von Volbeat findet ihr hier.

","teaserText":"

Den Musikclip zu Volbeats aktueller Single \"Cape Of Our Hero\" haben wir euch kürzlich bereits präsentiert. Nun möchten wir euch zeigen, was hinter den Kulissen des Videodrehs alles passierte.

","teaserImage":{"imageUrlTemplate":"//images.universal-music.de/img/assets/314/314199/{ratio}/{width}/volbeat-cape-of-our-hero-video-making-of.jpg","id":"SW1hZ2U6MzE0MTk5"},"images":[],"artists":[{"idRaw":650775,"image":{"imageUrlTemplate":"//images.universal-music.de/img/assets/406/406554/{ratio}/{width}/volbeat-2016.jpg","headline":"Volbeat 2016","id":"SW1hZ2U6NDA2NTU0"},"id":"QXJ0aXN0OjY1MDc3NQ==","color":"#A59B66","urlAlias":"volbeat","screenname":"Volbeat"}],"date":"2013-03-25 14:12:00","__typename":"Article","idRaw":221238,"createdDate":"2013-03-25 14:12:43","modifiedDate":"2013-03-25 14:48:43","seoKeywords":"volbeat, making of, video, cape of our hero, neue single, neues album, Outlaw Gentlemen & Shady Ladies","seoDescription":"Den Musikclip zu Volbeats aktueller Single \"Cape Of Our Hero\" haben wir euch kürzlich bereits präsentiert. Nun möchten wir euch zeigen, was hinter den Kulissen des Videodrehs alles passierte","copyright":"","links":[{"id":"TGluazoyMDg4MTY=","headline":"Volbeat Video \"Cape Of Our Hero\" hier ansehen","url":"http://www.universal-music.de/volbeat/videos/detail/video:291615/cape-of-our-hero"},{"id":"TGluazoyMDg4MTU=","headline":"Volbeat Album \"Outlaw Gentlemen & Shady Ladies\" hier informieren","url":"http://www.universal-music.de/volbeat/diskografie/detail/product:186471/outlaw-gentlemen-shady-ladies"}]},"_artist2wLGj6":{"idRaw":650775,"id":"QXJ0aXN0OjY1MDc3NQ==","_products4cM781":{"edges":[{"node":{"id":"UHJvZHVjdDozNDMyMjU=","idRaw":343225,"versionTitle":null,"__typename":"Product","isBackstage":false,"headline":"Seal The Deal & Let's Boogie","artists":[{"color":"#A59B66","urlAlias":"volbeat","screenname":"Volbeat","image":{"imageUrlTemplate":"//images.universal-music.de/img/assets/406/406554/{ratio}/{width}/volbeat-2016.jpg","headline":"Volbeat 2016","id":"SW1hZ2U6NDA2NTU0"},"id":"QXJ0aXN0OjY1MDc3NQ=="}],"cover":{"headline":"Seal The Deal & Let's Boogie","imageUrlTemplate":"//images.universal-music.de/img/assets/398/398107/{ratio}/{width}/seal-the-deal-lets-boogie.jpg","id":"SW1hZ2U6Mzk4MTA3"},"seoKeywords":null,"seoDescription":"\"Seal The Deal & Let's Boogie\" ist das mittlerweile sechste Studioalbum von Volbeat und wartet mit einem Danko Jones-Duett, einer Performance des legendären","hasSoundfiles":true},"cursor":"MzQzMjI1KysrMjAxNi0wNi0wMw=="},{"node":{"id":"UHJvZHVjdDozNDQ3MzA=","idRaw":344730,"versionTitle":null,"__typename":"Product","isBackstage":false,"headline":"For Evigt","artists":[{"color":"#A59B66","urlAlias":"volbeat","screenname":"Volbeat","image":{"imageUrlTemplate":"//images.universal-music.de/img/assets/406/406554/{ratio}/{width}/volbeat-2016.jpg","headline":"Volbeat 2016","id":"SW1hZ2U6NDA2NTU0"},"id":"QXJ0aXN0OjY1MDc3NQ=="}],"cover":{"headline":"For Evigt","imageUrlTemplate":"//images.universal-music.de/img/assets/399/399504/{ratio}/{width}/for-evigt.jpg","id":"SW1hZ2U6Mzk5NTA0"},"seoKeywords":null,"seoDescription":"\"For Evigt\" ist die erste offizielle Single aus dem Volbeat Album \"Seal The Deal & Let's Boogie\" und hält für Fans der Dänen ein Dèjá-vu-Erlebnis bereit:","hasSoundfiles":true},"cursor":"MzQ0NzMwKysrMjAxNi0wNC0yOQ=="},{"node":{"id":"UHJvZHVjdDozNDIxODc=","idRaw":342187,"versionTitle":null,"__typename":"Product","isBackstage":false,"headline":"The Devil's Bleeding Crown","artists":[{"color":"#A59B66","urlAlias":"volbeat","screenname":"Volbeat","image":{"imageUrlTemplate":"//images.universal-music.de/img/assets/406/406554/{ratio}/{width}/volbeat-2016.jpg","headline":"Volbeat 2016","id":"SW1hZ2U6NDA2NTU0"},"id":"QXJ0aXN0OjY1MDc3NQ=="}],"cover":{"headline":"The Devil's Bleeding Crown","imageUrlTemplate":"//images.universal-music.de/img/assets/397/397036/{ratio}/{width}/the-devils-bleeding-crown.jpg","id":"SW1hZ2U6Mzk3MDM2"},"seoKeywords":null,"seoDescription":"","hasSoundfiles":true},"cursor":"MzQyMTg3KysrMjAxNi0wNC0wOA=="},{"node":{"id":"UHJvZHVjdDoxOTQwMDI=","idRaw":194002,"versionTitle":null,"__typename":"Product","isBackstage":false,"headline":"Outlaw Gentlemen & Shady Ladies (Ltd.Tour-Edt.)","artists":[{"color":"#A59B66","urlAlias":"volbeat","screenname":"Volbeat","image":{"imageUrlTemplate":"//images.universal-music.de/img/assets/406/406554/{ratio}/{width}/volbeat-2016.jpg","headline":"Volbeat 2016","id":"SW1hZ2U6NDA2NTU0"},"id":"QXJ0aXN0OjY1MDc3NQ=="}],"cover":{"headline":"Outlaw Gentlemen & Shady Ladies (Ltd.Tour-Edt.)","imageUrlTemplate":"//images.universal-music.de/img/assets/331/331112/{ratio}/{width}/outlaw-gentlemen-shady-ladies-ltdtour-edt.jpg","id":"SW1hZ2U6MzMxMTEy"},"seoKeywords":null,"seoDescription":"Bereits im April 2013 veröffentlichte die dänische Band Volbeat ihr fünftes Studioalbum \"Outlaw Gentlemen & Shady Ladies\". Nach einer Nummer 1 Platzierung","hasSoundfiles":true},"cursor":"MTk0MDAyKysrMjAxMy0xMS0wMQ=="},{"node":{"id":"UHJvZHVjdDoxODY0NzE=","idRaw":186471,"versionTitle":null,"__typename":"Product","isBackstage":false,"headline":"Outlaw Gentlemen & Shady Ladies","artists":[{"color":"#A59B66","urlAlias":"volbeat","screenname":"Volbeat","image":{"imageUrlTemplate":"//images.universal-music.de/img/assets/406/406554/{ratio}/{width}/volbeat-2016.jpg","headline":"Volbeat 2016","id":"SW1hZ2U6NDA2NTU0"},"id":"QXJ0aXN0OjY1MDc3NQ=="}],"cover":{"headline":"Volbeat Outlwar Gentlemen & Shady Ladies Cover","imageUrlTemplate":"//images.universal-music.de/img/assets/291/291296/{ratio}/{width}/volbeat-outlwar-gentlemen-shady-ladies-cover.jpg","id":"SW1hZ2U6MjkxMjk2"},"seoKeywords":"Volbeat, Outlaw Gentlemen and Shady Ladies,Outlaw Gentlemen Shady Ladies, Outlaw Gentlemen, neues Album, Album 2013, Volbeat Album","seoDescription":"\"Outlaw Gentlemen & Shady Ladies\" ist das fünfte Studioalbum der dänischen Band Volbeat. Stammproduzent Jacob Hansen hat das neue Album zusammen mit dem","hasSoundfiles":true},"cursor":"MTg2NDcxKysrMjAxMy0wNC0wNQ=="},{"node":{"id":"UHJvZHVjdDoxODY3MDI=","idRaw":186702,"versionTitle":"","__typename":"Product","isBackstage":false,"headline":"Cape Of Our Hero","artists":[{"color":"#A59B66","urlAlias":"volbeat","screenname":"Volbeat","image":{"imageUrlTemplate":"//images.universal-music.de/img/assets/406/406554/{ratio}/{width}/volbeat-2016.jpg","headline":"Volbeat 2016","id":"SW1hZ2U6NDA2NTU0"},"id":"QXJ0aXN0OjY1MDc3NQ=="}],"cover":{"headline":"Volbeat Cape Of Our Hero","imageUrlTemplate":"//images.universal-music.de/img/assets/291/291768/{ratio}/{width}/volbeat-cape-of-our-hero.jpg","id":"SW1hZ2U6MjkxNzY4"},"seoKeywords":"","seoDescription":"Volbeat haben ein neues Album aufgenommen, das alle ihre Einflüsse zusammenbringt und daraus etwas Glanzvolles und Neues kreiert. \"Outlaw Gentlemen & Shady","hasSoundfiles":false},"cursor":"MTg2NzAyKysrMjAxMy0wMy0xNQ=="},{"node":{"id":"UHJvZHVjdDoxNzg2MjA=","idRaw":178620,"versionTitle":null,"__typename":"Product","isBackstage":false,"headline":"Live From Beyond Hell / Above Heaven","artists":[{"color":"#A59B66","urlAlias":"volbeat","screenname":"Volbeat","image":{"imageUrlTemplate":"//images.universal-music.de/img/assets/406/406554/{ratio}/{width}/volbeat-2016.jpg","headline":"Volbeat 2016","id":"SW1hZ2U6NDA2NTU0"},"id":"QXJ0aXN0OjY1MDc3NQ=="}],"cover":{"headline":"Live From Beyond Hell / Above Heaven","imageUrlTemplate":"//images.universal-music.de/img/assets/265/265482/{ratio}/{width}/live-from-beyond-hell-above-heaven.jpg","id":"SW1hZ2U6MjY1NDgy"},"seoKeywords":"","seoDescription":"Heavy Metal-Außenseiter, Rock-Rebellen, Gitarren-Gangster. Sie halten sich nicht an Rock'n'Roll-Gesetze, Riff-Konventionen oder Metal-Beschränkungen. Sie","hasSoundfiles":true},"cursor":"MTc4NjIwKysrMjAxMS0xMS0yNQ=="}],"pageInfo":{"hasNextPage":true,"hasPreviousPage":false}},"_productsZBJev":{"edges":[{"node":{"id":"UHJvZHVjdDozNDMyMjU=","idRaw":343225},"cursor":"MzQzMjI1KysrMjAxNi0wNi0wMw=="}],"pageInfo":{"hasNextPage":true,"hasPreviousPage":false}}}}}},{"query":{"calls":[{"kind":"Call","name":"channel","metadata":{"type":"Int!"},"value":{"kind":"CallValue","callValue":10000}}],"children":[{"children":[{"calls":[{"kind":"Call","name":"urlAlias","metadata":{"type":null},"value":{"kind":"CallValue","callValue":"volbeat"}}],"children":[{"calls":[],"children":[],"fieldName":"urlAlias","kind":"Field","metadata":{},"type":"String"},{"calls":[],"children":[],"fieldName":"screenname","kind":"Field","metadata":{},"type":"String"},{"calls":[],"children":[],"fieldName":"color","kind":"Field","metadata":{},"type":"String"},{"calls":[],"children":[],"fieldName":"themeType","kind":"Field","metadata":{},"type":"String"},{"calls":[],"children":[{"calls":[],"children":[],"fieldName":"name","kind":"Field","metadata":{},"type":"String"},{"calls":[],"children":[],"fieldName":"id","kind":"Field","metadata":{"isGenerated":true,"isRequisite":true},"type":"ID"}],"fieldName":"divisions","kind":"Field","metadata":{"canHaveSubselections":true,"isPlural":true},"type":"Division"},{"calls":[],"children":[{"calls":[],"children":[{"calls":[],"children":[],"fieldName":"name","kind":"Field","metadata":{},"type":"String"},{"calls":[],"children":[],"fieldName":"id","kind":"Field","metadata":{"isGenerated":true,"isRequisite":true},"type":"ID"}],"fieldName":"parentCategory","kind":"Field","metadata":{"canHaveSubselections":true},"type":"Category"},{"calls":[],"children":[],"fieldName":"id","kind":"Field","metadata":{"isGenerated":true,"isRequisite":true},"type":"ID"}],"fieldName":"subgenres","kind":"Field","metadata":{"canHaveSubselections":true,"isPlural":true},"type":"Category"},{"calls":[],"children":[],"fieldName":"id","kind":"Field","metadata":{"isGenerated":true,"isRequisite":true},"type":"ID"},{"children":[{"calls":[],"children":[],"fieldName":"screenname","kind":"Field","metadata":{},"type":"String"},{"calls":[],"children":[{"calls":[],"children":[],"fieldName":"type","kind":"Field","metadata":{},"type":"ExternalReferenceType"},{"calls":[],"children":[],"fieldName":"value","kind":"Field","metadata":{},"type":"String"},{"calls":[],"children":[],"fieldName":"id","kind":"Field","metadata":{"isGenerated":true,"isRequisite":true},"type":"ID"}],"fieldName":"externalReferences","kind":"Field","metadata":{"canHaveSubselections":true,"isPlural":true},"type":"ExternalReference"},{"calls":[],"children":[],"fieldName":"id","kind":"Field","metadata":{"isGenerated":true,"isRequisite":true},"type":"ID"},{"children":[{"calls":[],"children":[],"fieldName":"urlAlias","kind":"Field","metadata":{},"type":"String"},{"calls":[],"children":[],"fieldName":"themeType","kind":"Field","metadata":{},"type":"String"},{"alias":"news","calls":[{"kind":"Call","name":"first","metadata":{"type":"Int"},"value":{"kind":"CallValue","callValue":1}},{"kind":"Call","name":"type","metadata":{"type":"ArticleType"},"value":{"kind":"CallValue","callValue":"NEUIGKEIT"}}],"children":[{"calls":[],"children":[{"calls":[],"children":[{"calls":[],"children":[],"fieldName":"id","kind":"Field","metadata":{"isRequisite":true},"type":"ID"}],"fieldName":"node","kind":"Field","metadata":{"canHaveSubselections":true,"isRequisite":true},"type":"Article"},{"calls":[],"children":[],"fieldName":"cursor","kind":"Field","metadata":{"isGenerated":true,"isRequisite":true},"type":"String"}],"fieldName":"edges","kind":"Field","metadata":{"canHaveSubselections":true,"isPlural":true},"type":"ArticleEdge"},{"calls":[],"children":[{"calls":[],"children":[],"fieldName":"hasNextPage","kind":"Field","metadata":{"isGenerated":true,"isRequisite":true},"type":"Boolean"},{"calls":[],"children":[],"fieldName":"hasPreviousPage","kind":"Field","metadata":{"isGenerated":true,"isRequisite":true},"type":"Boolean"}],"fieldName":"pageInfo","kind":"Field","metadata":{"canHaveSubselections":true,"isGenerated":true,"isRequisite":true},"type":"PageInfo"}],"fieldName":"articles","kind":"Field","metadata":{"canHaveSubselections":true,"isConnection":true},"type":"ArticleConnection"},{"alias":"music","calls":[{"kind":"Call","name":"first","metadata":{"type":"Int"},"value":{"kind":"CallValue","callValue":1}}],"children":[{"calls":[],"children":[{"calls":[],"children":[{"calls":[],"children":[],"fieldName":"id","kind":"Field","metadata":{"isRequisite":true},"type":"ID"}],"fieldName":"node","kind":"Field","metadata":{"canHaveSubselections":true,"isRequisite":true},"type":"Product"},{"calls":[],"children":[],"fieldName":"cursor","kind":"Field","metadata":{"isGenerated":true,"isRequisite":true},"type":"String"}],"fieldName":"edges","kind":"Field","metadata":{"canHaveSubselections":true,"isPlural":true},"type":"ProductEdge"},{"calls":[],"children":[{"calls":[],"children":[],"fieldName":"hasNextPage","kind":"Field","metadata":{"isGenerated":true,"isRequisite":true},"type":"Boolean"},{"calls":[],"children":[],"fieldName":"hasPreviousPage","kind":"Field","metadata":{"isGenerated":true,"isRequisite":true},"type":"Boolean"}],"fieldName":"pageInfo","kind":"Field","metadata":{"canHaveSubselections":true,"isGenerated":true,"isRequisite":true},"type":"PageInfo"}],"fieldName":"products","kind":"Field","metadata":{"canHaveSubselections":true,"isConnection":true},"type":"ProductConnection"},{"calls":[{"kind":"Call","name":"first","metadata":{"type":"Int"},"value":{"kind":"CallValue","callValue":1}}],"children":[{"calls":[],"children":[{"calls":[],"children":[{"calls":[],"children":[],"fieldName":"id","kind":"Field","metadata":{"isRequisite":true},"type":"ID"}],"fieldName":"node","kind":"Field","metadata":{"canHaveSubselections":true,"isRequisite":true},"type":"Video"},{"calls":[],"children":[],"fieldName":"cursor","kind":"Field","metadata":{"isGenerated":true,"isRequisite":true},"type":"String"}],"fieldName":"edges","kind":"Field","metadata":{"canHaveSubselections":true,"isPlural":true},"type":"VideoEdge"},{"calls":[],"children":[{"calls":[],"children":[],"fieldName":"hasNextPage","kind":"Field","metadata":{"isGenerated":true,"isRequisite":true},"type":"Boolean"},{"calls":[],"children":[],"fieldName":"hasPreviousPage","kind":"Field","metadata":{"isGenerated":true,"isRequisite":true},"type":"Boolean"}],"fieldName":"pageInfo","kind":"Field","metadata":{"canHaveSubselections":true,"isGenerated":true,"isRequisite":true},"type":"PageInfo"}],"fieldName":"videos","kind":"Field","metadata":{"canHaveSubselections":true,"isConnection":true},"type":"VideoConnection"},{"calls":[{"kind":"Call","name":"first","metadata":{"type":"Int"},"value":{"kind":"CallValue","callValue":1}},{"kind":"Call","name":"dateFrom","metadata":{"type":null},"value":{"kind":"CallValue","callValue":"now"}},{"kind":"Call","name":"onlyGsaCountries","metadata":{"type":null},"value":{"kind":"CallValue","callValue":true}}],"children":[{"calls":[],"children":[{"calls":[],"children":[{"calls":[],"children":[],"fieldName":"id","kind":"Field","metadata":{"isRequisite":true},"type":"ID"}],"fieldName":"node","kind":"Field","metadata":{"canHaveSubselections":true,"isRequisite":true},"type":"LiveEvent"},{"calls":[],"children":[],"fieldName":"cursor","kind":"Field","metadata":{"isGenerated":true,"isRequisite":true},"type":"String"}],"fieldName":"edges","kind":"Field","metadata":{"canHaveSubselections":true,"isPlural":true},"type":"LiveEventEdge"},{"calls":[],"children":[{"calls":[],"children":[],"fieldName":"hasNextPage","kind":"Field","metadata":{"isGenerated":true,"isRequisite":true},"type":"Boolean"},{"calls":[],"children":[],"fieldName":"hasPreviousPage","kind":"Field","metadata":{"isGenerated":true,"isRequisite":true},"type":"Boolean"}],"fieldName":"pageInfo","kind":"Field","metadata":{"canHaveSubselections":true,"isGenerated":true,"isRequisite":true},"type":"PageInfo"}],"fieldName":"liveEvents","kind":"Field","metadata":{"canHaveSubselections":true,"isConnection":true},"type":"LiveEventConnection"},{"calls":[{"kind":"Call","name":"first","metadata":{"type":"Int"},"value":{"kind":"CallValue","callValue":1}},{"kind":"Call","name":"dateFrom","metadata":{"type":null},"value":{"kind":"CallValue","callValue":"now"}}],"children":[{"calls":[],"children":[{"calls":[],"children":[{"calls":[],"children":[],"fieldName":"id","kind":"Field","metadata":{"isRequisite":true},"type":"ID"}],"fieldName":"node","kind":"Field","metadata":{"canHaveSubselections":true,"isRequisite":true},"type":"MediaEvent"},{"calls":[],"children":[],"fieldName":"cursor","kind":"Field","metadata":{"isGenerated":true,"isRequisite":true},"type":"String"}],"fieldName":"edges","kind":"Field","metadata":{"canHaveSubselections":true,"isPlural":true},"type":"MediaEventEdge"},{"calls":[],"children":[{"calls":[],"children":[],"fieldName":"hasNextPage","kind":"Field","metadata":{"isGenerated":true,"isRequisite":true},"type":"Boolean"},{"calls":[],"children":[],"fieldName":"hasPreviousPage","kind":"Field","metadata":{"isGenerated":true,"isRequisite":true},"type":"Boolean"}],"fieldName":"pageInfo","kind":"Field","metadata":{"canHaveSubselections":true,"isGenerated":true,"isRequisite":true},"type":"PageInfo"}],"fieldName":"mediaEvents","kind":"Field","metadata":{"canHaveSubselections":true,"isConnection":true},"type":"MediaEventConnection"},{"calls":[{"kind":"Call","name":"first","metadata":{"type":"Int"},"value":{"kind":"CallValue","callValue":1}}],"children":[{"calls":[],"children":[{"calls":[],"children":[{"calls":[],"children":[],"fieldName":"id","kind":"Field","metadata":{"isRequisite":true},"type":"ID"},{"calls":[],"children":[{"calls":[],"children":[],"fieldName":"id","kind":"Field","metadata":{"isRequisite":true},"type":"ID"}],"fieldName":"image","kind":"Field","metadata":{"canHaveSubselections":true},"type":"Image"}],"fieldName":"node","kind":"Field","metadata":{"canHaveSubselections":true,"isRequisite":true},"type":"Collection"},{"calls":[],"children":[],"fieldName":"cursor","kind":"Field","metadata":{"isGenerated":true,"isRequisite":true},"type":"String"}],"fieldName":"edges","kind":"Field","metadata":{"canHaveSubselections":true,"isPlural":true},"type":"CollectionEdge"},{"calls":[],"children":[{"calls":[],"children":[],"fieldName":"hasNextPage","kind":"Field","metadata":{"isGenerated":true,"isRequisite":true},"type":"Boolean"},{"calls":[],"children":[],"fieldName":"hasPreviousPage","kind":"Field","metadata":{"isGenerated":true,"isRequisite":true},"type":"Boolean"}],"fieldName":"pageInfo","kind":"Field","metadata":{"canHaveSubselections":true,"isGenerated":true,"isRequisite":true},"type":"PageInfo"}],"fieldName":"imageCollections","kind":"Field","metadata":{"canHaveSubselections":true,"isConnection":true},"type":"CollectionConnection"},{"alias":"biography","calls":[{"kind":"Call","name":"first","metadata":{"type":"Int"},"value":{"kind":"CallValue","callValue":1}},{"kind":"Call","name":"type","metadata":{"type":"ArticleType"},"value":{"kind":"CallValue","callValue":"BIOGRAFIE"}}],"children":[{"calls":[],"children":[{"calls":[],"children":[{"calls":[],"children":[],"fieldName":"id","kind":"Field","metadata":{"isRequisite":true},"type":"ID"}],"fieldName":"node","kind":"Field","metadata":{"canHaveSubselections":true,"isRequisite":true},"type":"Article"},{"calls":[],"children":[],"fieldName":"cursor","kind":"Field","metadata":{"isGenerated":true,"isRequisite":true},"type":"String"}],"fieldName":"edges","kind":"Field","metadata":{"canHaveSubselections":true,"isPlural":true},"type":"ArticleEdge"},{"calls":[],"children":[{"calls":[],"children":[],"fieldName":"hasNextPage","kind":"Field","metadata":{"isGenerated":true,"isRequisite":true},"type":"Boolean"},{"calls":[],"children":[],"fieldName":"hasPreviousPage","kind":"Field","metadata":{"isGenerated":true,"isRequisite":true},"type":"Boolean"}],"fieldName":"pageInfo","kind":"Field","metadata":{"canHaveSubselections":true,"isGenerated":true,"isRequisite":true},"type":"PageInfo"}],"fieldName":"articles","kind":"Field","metadata":{"canHaveSubselections":true,"isConnection":true},"type":"ArticleConnection"},{"calls":[{"kind":"Call","name":"first","metadata":{"type":"Int"},"value":{"kind":"CallValue","callValue":2}}],"children":[{"calls":[],"children":[{"calls":[],"children":[{"calls":[],"children":[],"fieldName":"idRaw","kind":"Field","metadata":{},"type":"Int"},{"calls":[],"children":[],"fieldName":"headline","kind":"Field","metadata":{},"type":"String"},{"calls":[],"children":[],"fieldName":"id","kind":"Field","metadata":{"isGenerated":true,"isRequisite":true},"type":"ID"}],"fieldName":"node","kind":"Field","metadata":{"canHaveSubselections":true,"isRequisite":true},"type":"Action"},{"calls":[],"children":[],"fieldName":"cursor","kind":"Field","metadata":{"isGenerated":true,"isRequisite":true},"type":"String"}],"fieldName":"edges","kind":"Field","metadata":{"canHaveSubselections":true,"isPlural":true},"type":"ActionEdge"},{"calls":[],"children":[{"calls":[],"children":[],"fieldName":"hasNextPage","kind":"Field","metadata":{"isGenerated":true,"isRequisite":true},"type":"Boolean"},{"calls":[],"children":[],"fieldName":"hasPreviousPage","kind":"Field","metadata":{"isGenerated":true,"isRequisite":true},"type":"Boolean"}],"fieldName":"pageInfo","kind":"Field","metadata":{"canHaveSubselections":true,"isGenerated":true,"isRequisite":true},"type":"PageInfo"}],"fieldName":"actions","kind":"Field","metadata":{"canHaveSubselections":true,"isConnection":true},"type":"ActionConnection"},{"alias":"merch","calls":[{"kind":"Call","name":"first","metadata":{"type":"Int"},"value":{"kind":"CallValue","callValue":1}},{"kind":"Call","name":"group","metadata":{"type":"[ProductGroup]"},"value":[{"kind":"CallValue","callValue":"MERCH"}]}],"children":[{"calls":[],"children":[{"calls":[],"children":[{"calls":[],"children":[],"fieldName":"id","kind":"Field","metadata":{"isRequisite":true},"type":"ID"}],"fieldName":"node","kind":"Field","metadata":{"canHaveSubselections":true,"isRequisite":true},"type":"Product"},{"calls":[],"children":[],"fieldName":"cursor","kind":"Field","metadata":{"isGenerated":true,"isRequisite":true},"type":"String"}],"fieldName":"edges","kind":"Field","metadata":{"canHaveSubselections":true,"isPlural":true},"type":"ProductEdge"},{"calls":[],"children":[{"calls":[],"children":[],"fieldName":"hasNextPage","kind":"Field","metadata":{"isGenerated":true,"isRequisite":true},"type":"Boolean"},{"calls":[],"children":[],"fieldName":"hasPreviousPage","kind":"Field","metadata":{"isGenerated":true,"isRequisite":true},"type":"Boolean"}],"fieldName":"pageInfo","kind":"Field","metadata":{"canHaveSubselections":true,"isGenerated":true,"isRequisite":true},"type":"PageInfo"}],"fieldName":"products","kind":"Field","metadata":{"canHaveSubselections":true,"isConnection":true},"type":"ProductConnection"},{"calls":[],"children":[],"fieldName":"id","kind":"Field","metadata":{"isGenerated":true,"isRequisite":true},"type":"ID"},{"children":[{"calls":[],"children":[],"fieldName":"screenname","kind":"Field","metadata":{},"type":"String"},{"calls":[],"children":[],"fieldName":"urlAlias","kind":"Field","metadata":{},"type":"String"},{"calls":[],"children":[],"fieldName":"id","kind":"Field","metadata":{"isGenerated":true,"isRequisite":true},"type":"ID"}],"id":"ZX::client","kind":"Fragment","metadata":{"isAbstract":false,"plural":false},"name":"Index_ArtistRelayQL","type":"Artist"}],"id":"ZY::client","kind":"Fragment","metadata":{"isAbstract":false,"plural":false},"name":"ArtistNavBar_ArtistRelayQL","type":"Artist"}],"id":"ZZ::client","kind":"Fragment","metadata":{"isAbstract":false,"plural":false},"name":"ArtistHeader_ArtistRelayQL","type":"Artist"},{"children":[{"calls":[],"children":[],"fieldName":"id","kind":"Field","metadata":{"isGenerated":true,"isRequisite":true},"type":"ID"},{"children":[{"calls":[],"children":[],"fieldName":"id","kind":"Field","metadata":{"isRequisite":true},"type":"ID"},{"calls":[],"children":[],"fieldName":"screenname","kind":"Field","metadata":{},"type":"String"},{"children":[{"calls":[],"children":[],"fieldName":"id","kind":"Field","metadata":{"isRequisite":true},"type":"ID"},{"calls":[],"children":[],"fieldName":"idRaw","kind":"Field","metadata":{},"type":"Int"}],"id":"100::client","kind":"Fragment","metadata":{"isAbstract":false,"plural":false},"name":"LikeUnlikeMutation_ArtistRelayQL","type":"Artist"}],"id":"101::client","kind":"Fragment","metadata":{"isAbstract":false,"plural":false},"name":"LikeableArtistContainer_ArtistRelayQL","type":"Artist"}],"id":"102::client","kind":"Fragment","metadata":{"isAbstract":false,"plural":false},"name":"AutoLikeArtist_ArtistRelayQL","type":"Artist"}],"fieldName":"artist","kind":"Field","metadata":{"canHaveSubselections":true},"type":"Artist"}],"id":"103::client","kind":"Fragment","metadata":{"isAbstract":false,"plural":false},"name":"ArtistWrapper_ApiRelayQL","type":"UniversalMusic"}],"directives":[],"fieldName":"universalMusic","isDeferred":false,"kind":"Query","metadata":{"identifyingArgName":"channel","identifyingArgType":"Int!","isAbstract":false,"isPlural":false},"name":"Api","type":"UniversalMusic"},"response":{"universalMusic":{"_artist2wLGj6":{"urlAlias":"volbeat","screenname":"Volbeat","color":"#A59B66","themeType":"contributor","divisions":[{"name":"Universal Music Domestic Vertigo/Capitol","id":"RGl2aXNpb246MQ=="}],"subgenres":[{"parentCategory":{"name":"ROCK","id":"Q2F0ZWdvcnk6MTMzMw=="},"id":"Q2F0ZWdvcnk6MTMzNA=="}],"id":"QXJ0aXN0OjY1MDc3NQ==","externalReferences":[{"type":"COREMAILER_NWLT_LISTE","value":"volbeat","id":"RXh0ZXJuYWxSZWZlcmVuY2U6Mjk2NTU="},{"type":"FACEBOOK","value":"153722023672","id":"RXh0ZXJuYWxSZWZlcmVuY2U6MzI3ODg="},{"type":"TWITTER","value":"VOLBEAT","id":"RXh0ZXJuYWxSZWZlcmVuY2U6NDU3Nzc="},{"type":"GOOGLE_ANALYTICS","value":"UA-18800538-81","id":"RXh0ZXJuYWxSZWZlcmVuY2U6NTUwMTA="}],"_articles2XqS9l":{"edges":[{"node":{"id":"QXJ0aWNsZToyNDQ5ODg="},"cursor":"MjQ0OTg4KysrMjAxNy0wOS0xMVQxNDoxNTowMA=="}],"pageInfo":{"hasNextPage":true,"hasPreviousPage":false}},"_products2PRCo":{"edges":[{"node":{"id":"UHJvZHVjdDozNDMyMjU="},"cursor":"MzQzMjI1KysrMjAxNi0wNi0wMw=="}],"pageInfo":{"hasNextPage":true,"hasPreviousPage":false}},"_videos2Tn6C2":{"edges":[{"node":{"id":"VmlkZW86NDQ2MDk1"},"cursor":"NDQ2MDk1KysrMjAxNy0wOC0xN1QxMzowMTowNg=="}],"pageInfo":{"hasNextPage":true,"hasPreviousPage":false}},"_liveEvents2n1GpM":{"edges":[],"pageInfo":{"hasNextPage":false,"hasPreviousPage":false}},"_mediaEvents1TyUCF":{"edges":[],"pageInfo":{"hasNextPage":false,"hasPreviousPage":false}},"_imageCollections3eCGj7":{"edges":[{"node":{"id":"Q29sbGVjdGlvbjozNDk1Ng==","image":null},"cursor":"MzQ5NTYrKysyMDE2LTA0LTA2VDE2OjIyOjI1"}],"pageInfo":{"hasNextPage":false,"hasPreviousPage":false}},"_articlesAy9tt":{"edges":[{"node":{"id":"QXJ0aWNsZToyMzg2NTI="},"cursor":"MjM4NjUyKysrMjAxNi0wNC0yOFQxMzozNTowMA=="}],"pageInfo":{"hasNextPage":true,"hasPreviousPage":false}},"_actions3OWk1f":{"edges":[],"pageInfo":{"hasNextPage":false,"hasPreviousPage":false}},"_productsdx8Oq":{"edges":[{"node":{"id":"UHJvZHVjdDo0MTI2Njg="},"cursor":"NDEyNjY4KysrMjAxNy0wNy0xNA=="}],"pageInfo":{"hasNextPage":true,"hasPreviousPage":false}},"idRaw":650775}}}}]
Volbeat | News | Seht hier das Making Of des Videos "Cape Of Our Hero" von Volbeat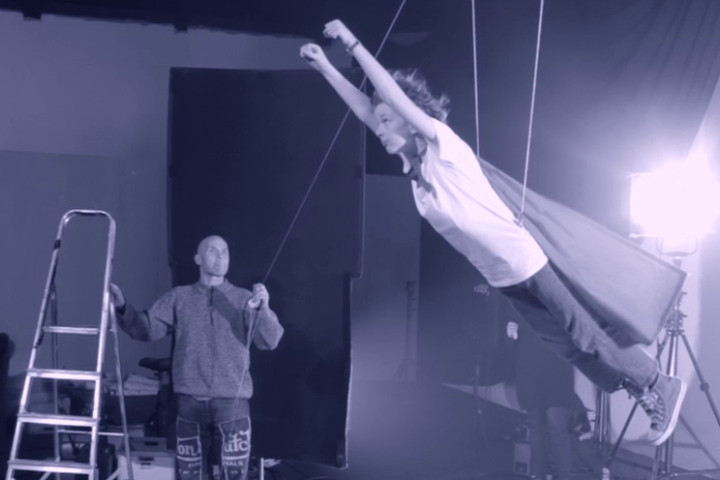 25.03.2013
Seht hier das Making Of des Videos "Cape Of Our Hero" von Volbeat
Den Musikclip zu Volbeats aktueller Single "Cape Of Our Hero" haben wir euch kürzlich bereits präsentiert. Nun möchten wir euch zeigen, was hinter den Kulissen des Videodrehs alles passierte – um euch die Wartezeit bis zum Albumrelease am 5. April weiter zu verkürzen. Oben seht ihr Teil 1 des Making Ofs vom "Cape Of Our Hero" Video und hier folgt Teil zwei auf dem Fuße: 
Weil Vorher-Nachher-Effekte immer spannend zu beobachten sind, haben wir hier noch einmal den fertigen Clip für euch rausgesucht.
"Cape Of Our Hero"
ist bereits als Single erhältlich und wird ebenfalls auf dem am 5. April erscheinenden
Album "Outlaw Gentleman & Shady Ladies"
enthalten sein.