\n\n

Sam Smith singt im Video zu \"Leave Your Lover\" aus seinem Album \"In The Lonely Hour\" über ganz große Gefühle - die leider nicht erwidert werden. Im Clip macht Sam mit einem befreundeten Pärchen Paris unsicher. Doch die Stadt der Liebe scheint kein gutes Omen für den jungen Briten zu sein.

\n
Hier das Video \"Leave Your Lover\" von Sam Smith aus dem Album \"In The Lonely Hour\" sehen
\n

Hinter viel Spaß, einer City-Tour und einer Party steckt eine tragische Geschichte. Das Freundes-Trio steckt in einem Liebes-Dreieck, denn Sam hat sich in den Freund seiner Freundin (Model Daisy Lowe) verliebt. \"Pack up and leave everything, don't you see what I can bring\", singt er in der Hoffnung, etwas bewegen zu können. Doch die Story nimmt ein gänzlich unerwartetes Ende. Wie alles ausgeht, erfahrt ihr im Video.

\n

>>> Hier weitere Videos von Sam Smith sehen

","teaserText":"

Sam Smith berührt uns mit seinem herzzerreißenden Video zu \"Leave Your Lover\" aus dem Album \"In The Lonely Hour\".

","teaserImage":{"imageUrlTemplate":"//images.universal-music.de/img/assets/342/342463/{ratio}/{width}/sam-smith.jpg","id":"SW1hZ2U6MzQyNDYz"},"images":[],"artists":[{"idRaw":669827,"image":{"imageUrlTemplate":"//images.universal-music.de/img/assets/447/447767/{ratio}/{width}/sam-smith-2017.jpg","headline":"Sam Smith 2017","id":"SW1hZ2U6NDQ3NzY3"},"id":"QXJ0aXN0OjY2OTgyNw==","color":"#777777","urlAlias":"sam-smith","screenname":"Sam Smith"}],"date":"2014-05-23 14:55:00","__typename":"Article","idRaw":228306,"createdDate":"2014-05-23 15:19:31","modifiedDate":"2014-05-23 15:30:47","seoKeywords":"sam smith, leave your lover, in the lonely hour, album, single, video, 2014","seoDescription":"Sam Smith berührt uns mit seinem herzzerreißenden Video zu \"Leave Your Lover\" aus dem Album \"In The Lonely Hour\".","copyright":"","links":[]},"_artist36mufA":{"idRaw":669827,"id":"QXJ0aXN0OjY2OTgyNw==","_products4cM781":{"edges":[{"node":{"id":"UHJvZHVjdDo0MjA2MzU=","idRaw":420635,"versionTitle":null,"__typename":"Product","isBackstage":false,"headline":"The Thrill Of It All","artists":[{"color":"#777777","urlAlias":"sam-smith","screenname":"Sam Smith","image":{"imageUrlTemplate":"//images.universal-music.de/img/assets/447/447767/{ratio}/{width}/sam-smith-2017.jpg","headline":"Sam Smith 2017","id":"SW1hZ2U6NDQ3NzY3"},"id":"QXJ0aXN0OjY2OTgyNw=="}],"cover":{"headline":"Sam smith the thrill of it all cover","imageUrlTemplate":"//images.universal-music.de/img/assets/450/450687/{ratio}/{width}/sam-smith-the-thrill-of-it-all-cover.jpg","id":"SW1hZ2U6NDUwNjg3"},"seoKeywords":"","seoDescription":"Mit \"The Thrill Of It All\" veröffentlicht Sam Smith sein zweites Studioalbum. Der Nachfolger seines Mega-Debüts \"In The Lonely Hour\" begeistert mit Songs, die","hasSoundfiles":false},"cursor":"NDIwNjM1KysrMjAxNy0xMS0wMw=="},{"node":{"id":"UHJvZHVjdDo0MTQwMTg=","idRaw":414018,"versionTitle":"","__typename":"Product","isBackstage":false,"headline":"Too Good At Goodbyes","artists":[{"color":"#777777","urlAlias":"sam-smith","screenname":"Sam Smith","image":{"imageUrlTemplate":"//images.universal-music.de/img/assets/447/447767/{ratio}/{width}/sam-smith-2017.jpg","headline":"Sam Smith 2017","id":"SW1hZ2U6NDQ3NzY3"},"id":"QXJ0aXN0OjY2OTgyNw=="}],"cover":{"headline":"Too Good At Goodbyes","imageUrlTemplate":"//images.universal-music.de/img/assets/447/447766/{ratio}/{width}/too-good-at-goodbyes.jpg","id":"SW1hZ2U6NDQ3NzY2"},"seoKeywords":null,"seoDescription":"Nachdem der Grammy- und Oscar-Gewinner Sam Smith mit seinem James-Bond-Titelsong an den Sensationserfolg seines Debütalbums \"In The Lonely Hour\" angeknüpft","hasSoundfiles":true},"cursor":"NDE0MDE4KysrMjAxNy0wOS0wOA=="},{"node":{"id":"UHJvZHVjdDozMjQwNjc=","idRaw":324067,"versionTitle":null,"__typename":"Product","isBackstage":false,"headline":"In The Lonely Hour (Drowning Shadows Edition)","artists":[{"color":"#777777","urlAlias":"sam-smith","screenname":"Sam Smith","image":{"imageUrlTemplate":"//images.universal-music.de/img/assets/447/447767/{ratio}/{width}/sam-smith-2017.jpg","headline":"Sam Smith 2017","id":"SW1hZ2U6NDQ3NzY3"},"id":"QXJ0aXN0OjY2OTgyNw=="}],"cover":{"headline":"Sam Smith Drowning Shadows Edition Cover","imageUrlTemplate":"//images.universal-music.de/img/assets/383/383344/{ratio}/{width}/sam-smith-drowning-shadows-edition-cover.jpg","id":"SW1hZ2U6MzgzMzQ0"},"seoKeywords":"","seoDescription":"Sam Smith präsentiert sein Debüt-Album in einer erweiterten Neuauflage: \"In The Lonely Hour (Drowning Shadows Edition)\" besteht aus den Songs des Originals","hasSoundfiles":true},"cursor":"MzI0MDY3KysrMjAxNS0xMS0wNg=="},{"node":{"id":"UHJvZHVjdDozMjA5NTE=","idRaw":320951,"versionTitle":null,"__typename":"Product","isBackstage":false,"headline":"Writing's On The Wall","artists":[{"color":"#777777","urlAlias":"sam-smith","screenname":"Sam Smith","image":{"imageUrlTemplate":"//images.universal-music.de/img/assets/447/447767/{ratio}/{width}/sam-smith-2017.jpg","headline":"Sam Smith 2017","id":"SW1hZ2U6NDQ3NzY3"},"id":"QXJ0aXN0OjY2OTgyNw=="}],"cover":{"headline":"Writing's On The Wall","imageUrlTemplate":"//images.universal-music.de/img/assets/382/382573/{ratio}/{width}/writings-on-the-wall.jpg","id":"SW1hZ2U6MzgyNTcz"},"seoKeywords":null,"seoDescription":"Mit \"Writing's On The Wall\" präsentiert Sam Smith den Titelsong zum neuesten James Bond Film \"007 - Spectre\" und ist damit der erste männliche britische","hasSoundfiles":true},"cursor":"MzIwOTUxKysrMjAxNS0xMC0yMw=="},{"node":{"id":"UHJvZHVjdDoyNjExNTc=","idRaw":261157,"versionTitle":null,"__typename":"Product","isBackstage":false,"headline":"Lay Me Down feat. John Legend","artists":[{"color":"#777777","urlAlias":"sam-smith","screenname":"Sam Smith","image":{"imageUrlTemplate":"//images.universal-music.de/img/assets/447/447767/{ratio}/{width}/sam-smith-2017.jpg","headline":"Sam Smith 2017","id":"SW1hZ2U6NDQ3NzY3"},"id":"QXJ0aXN0OjY2OTgyNw=="}],"cover":{"headline":"Sam Smith John Legend Lay Me Down Cover","imageUrlTemplate":"//images.universal-music.de/img/assets/363/363160/{ratio}/{width}/sam-smith-john-legend-lay-me-down-cover.jpg","id":"SW1hZ2U6MzYzMTYw"},"seoKeywords":"","seoDescription":"Für den Red Nose Day 2015 - eine Spendenaktion der britischen Charity Comic Relief - hat Sam Smith seine Single \"Lay Me Down\" neu aufgenommen und sich dazu","hasSoundfiles":false},"cursor":"MjYxMTU3KysrMjAxNS0wMy0xMA=="},{"node":{"id":"UHJvZHVjdDoyMjk3ODQ=","idRaw":229784,"versionTitle":null,"__typename":"Product","isBackstage":false,"headline":"Have Yourself A Merry Little Christmas","artists":[{"color":"#777777","urlAlias":"sam-smith","screenname":"Sam Smith","image":{"imageUrlTemplate":"//images.universal-music.de/img/assets/447/447767/{ratio}/{width}/sam-smith-2017.jpg","headline":"Sam Smith 2017","id":"SW1hZ2U6NDQ3NzY3"},"id":"QXJ0aXN0OjY2OTgyNw=="}],"cover":{"headline":"Sam Smith Have Yourself A Merry Little Christmas","imageUrlTemplate":"//images.universal-music.de/img/assets/355/355431/{ratio}/{width}/sam-smith-have-yourself-a-merry-little-christmas.jpg","id":"SW1hZ2U6MzU1NDMx"},"seoKeywords":"sam smith, have yourself a merry little christmas, 2014, cover","seoDescription":"In seiner Interpretation von \"Have Yourself A Merry Little Christmas\" setzt Sam Smith auf Minimalismus und Emotionalität. Hier erfahrt ihr mehr.","hasSoundfiles":true},"cursor":"MjI5Nzg0KysrMjAxNC0xMi0wNQ=="},{"node":{"id":"UHJvZHVjdDoyMjEwNjE=","idRaw":221061,"versionTitle":null,"__typename":"Product","isBackstage":false,"headline":"I'm Not The Only One","artists":[{"color":"#777777","urlAlias":"sam-smith","screenname":"Sam Smith","image":{"imageUrlTemplate":"//images.universal-music.de/img/assets/447/447767/{ratio}/{width}/sam-smith-2017.jpg","headline":"Sam Smith 2017","id":"SW1hZ2U6NDQ3NzY3"},"id":"QXJ0aXN0OjY2OTgyNw=="}],"cover":{"headline":"Sam Smith","imageUrlTemplate":"//images.universal-music.de/img/assets/350/350025/{ratio}/{width}/sam-smith.jpg","id":"SW1hZ2U6MzUwMDI1"},"seoKeywords":"sam smith, i'm not the only one, in the lonely hour, album, single, song, video, a$ap rocky, 2014","seoDescription":"Sam Smith stellt seine gefühlvolle Single \"I'm Not The Only One\" featuring A$AP Rocky aus seinem Debütalbum \"In The Lonely Hour\" vor.","hasSoundfiles":true},"cursor":"MjIxMDYxKysrMjAxNC0xMC0zMQ=="}],"pageInfo":{"hasNextPage":true,"hasPreviousPage":false}},"_productsZBJev":{"edges":[{"node":{"id":"UHJvZHVjdDo0MjA2MzU=","idRaw":420635},"cursor":"NDIwNjM1KysrMjAxNy0xMS0wMw=="}],"pageInfo":{"hasNextPage":true,"hasPreviousPage":false}}}}}}]
Sam Smith | News | Hier das bewegende Video zu "Leave Your Lover" von Sam Smith sehen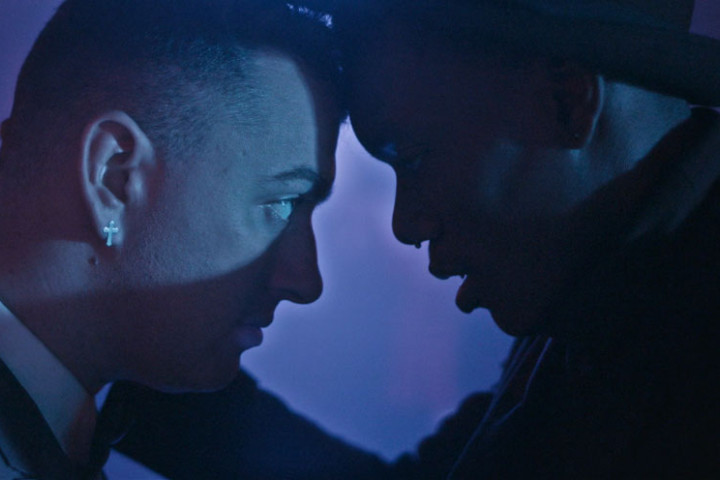 23.05.2014
Hier das bewegende Video zu "Leave Your Lover" von Sam Smith sehen
Sam Smith
singt im Video zu "
Leave Your Lover
" aus seinem Album "
In The Lonely Hour
" über ganz große Gefühle – die leider nicht erwidert werden. Im Clip macht Sam mit einem befreundeten Pärchen Paris unsicher. Doch die Stadt der Liebe scheint kein gutes Omen für den jungen Briten zu sein.
Hier das Video "Leave Your Lover" von Sam Smith aus dem Album "In The Lonely Hour" sehen
Hinter viel Spaß, einer City-Tour und einer Party steckt eine tragische Geschichte. Das Freundes-Trio steckt in einem Liebes-Dreieck, denn Sam hat sich in den Freund seiner Freundin (Model Daisy Lowe) verliebt. "Pack up and leave everything, don't you see what I can bring", singt er in der Hoffnung, etwas bewegen zu können. Doch die Story nimmt ein gänzlich unerwartetes Ende. Wie alles ausgeht, erfahrt ihr im Video.